Learn about the options for small kitchen cabinets to see how you can accommodate even the smallest kitchens with much needed storage and great design.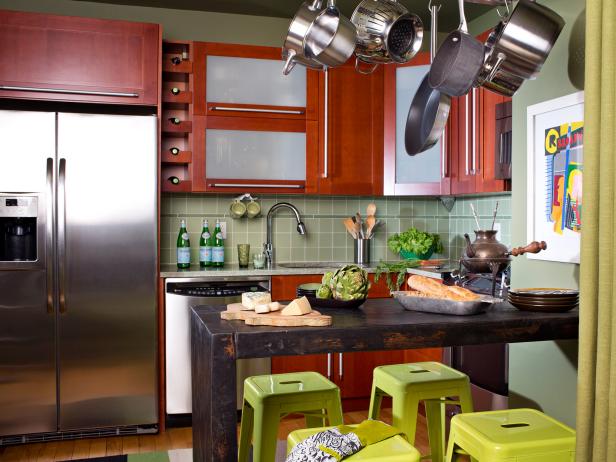 Contemporary Kitchen With Green Bar Stools
Thanks to the wall-mounted bar-height table and clever storage solutions throughout the cabinets and drawers, this kitchen now doubles as an eat-in dining space.
Kitchen cabinets take up a huge amount of real estate in your kitchen, so it goes without saying that if the blueprint of your kitchen is small, then small kitchen cabinets will be needed.
In general, base kitchen cabinets are 24 inches deep and 36 inches high. They sit directly on the floor or rest upon a four-inch toe kick riser. Their width can vary depending on what's sitting on top of them, including sinks, cooktops or countertops. Wall cabinets are usually 24 inches high and 12 to 16 inches deep. The standard width for two-door wall cabinets is 30 to 36 inches.
If the area you're working with might not accommodate cabinets in standard sizes, an option is to have custom cabinets built in your kitchen to provide you with the storage you need in your tight space. Custom cabinets are individually crafted according to the homeowner's specific design requests. They are typically built by local cabinetmakers or carpenters hired by the homeowner. The labor costs of custom cabinetry are significant, as nothing is pre-built and every cabinet part must be built from scratch, assembled and then installed. This laborious process takes time and in turn costs money.
From a design standpoint, small kitchen cabinets can be made to look larger using several design tips. First, try painting small cabinets white. White rooms appear bigger, and if you paint your small kitchen cabinets white or another light-reflective color, the space will appear bigger. Small kitchen cabinets can also be left open without doors—or given glass-paneled doors to make them (and your overall space) appear bigger.
Homeowners with large kitchens also may seek out some small cabinets to fill in spaces around appliances or to provide unique storage such as spice cabinets or wine cabinets.
Whether your kitchen requires small cabinetry to fit into a small space or you are looking for specific cabinets to provide storage for certain kitchen items, cabinets can be custom made smaller than standard sizes in any design to provide functional storage in a style that reflects your taste and personality.
More Kitchen Cabinet Options
Kitchen Cabinet Inspiration