8 Lessons From a Kitchen Remodel
With three kitchen renos under their belt, this couple knows all the tricks for a no-drama overhaul, and they shared them with HGTV Magazine.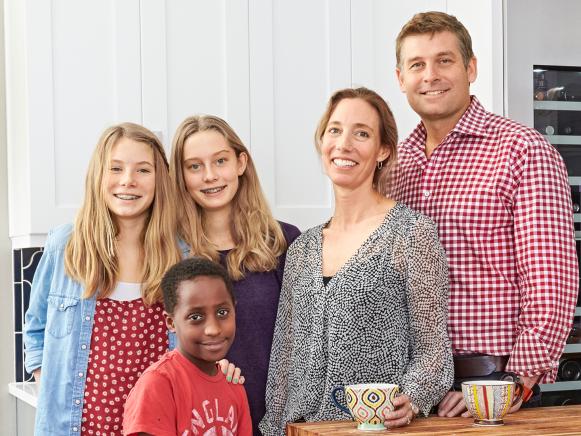 Family in New Kitchen
Penelope and Keith Boettiger with their kids, from left, Anna, 13, Owen, 10, and Lindsay, 14
Kim Cornelison
Penelope and Keith Boettiger with their kids, from left, Anna, 13, Owen, 10, and Lindsay, 14
There were no budget-busting revisions or agonized second-guessing when Penelope and Keith Boettiger remodeled the dated kitchen of their 1980s home in Austin, TX. The secret to their stress-free redo: The couple had already tackled three major kitchen makeovers in the past 12 years as they relocated for Keith's job. With know-how gained from overhauling cook spaces in Maine, Maryland, and North Carolina, the pair orchestrated a kitchen transformation with minimum fuss. Penelope shares what they learned from the family's latest—but definitely not last—renovation.
Kim Cornelison
The Boettiger's kitchen after

1. Undercabinet lights are nonnegotiable.
Penelope always installs below-cabinet lights to illuminate counters. "The extra lights also show off the backsplash," she says. Here LEDs cast a glow on the navy glaze of the lantern-shaped tiles from Fireclay Tile.
2. Invest in appliances with all the bells and whistles.
A pro-quality Thermador fridge can withstand the near-constant use and abuse it gets from a family of five. The add-on wine fridge has a 56-bottle capacity.
Kim Cornelison
The Boettiger's kitchen before
3. Induction cooktops will change your life.
The high-tech Thermador electromagnetic cooktop heats a pan almost instantly—it's 50% faster than a gas cooktop—while using less energy. And the smooth surface is easy to clean.
4. Wood-top islands are more practical than you think.
While wood's not always a top choice, it's actually repairable—deep stains and gouges can be sanded right out. The 2½-inch-thick Texas pecan hardwood the Boettigers chose is also ecofriendly: It's from locally sourced, drought-felled trees.
5. Pick a faucet with personality.
"Standard faucets are a missed opportunity to add style," says Penelope. Arcing more than 2 feet high, this Axor head-turner transforms what could have been a nothing-special sink into a focal point. Plus, the pullout sprayer makes pot-filling simple.
6. Don't paint all the cabinets the same color.
"We wanted to do two different colors for the cabinets—and also do some frosted doors—so it's not just row after row of sameness," says Penelope. For this reno, they chose a combo of white and gray paints (Ceiling Bright White and Cityscape, both Sherwin-Williams).
7. Customizing furniture isn't a huge deal.
Once almost 20 feet long, this former conference table supposedly belonged to the GM of the Baltimore Orioles. Scarred with cigar burns and stains, it languished in an antiques shop because other shoppers thought it wasn't practical—but the Boettigers knew better. "We just had it cut down to 8 feet," says Penelope.
8. Throw in a curveball with lighting.
A traditional dining table, Windsor-inspired chairs, and an Oriental rug would usually call for classic lighting—but Penelope and Keith went contemporary. This sleek bronze-finished-steel pendant from Restoration Hardware offers a fun contrast to the timeless furnishings.