10 Decorating Ideas for Kids' Rooms
Designer Dan Vickery shares his favorite tips for designing and organizing a playful, creative kid's room.
1. To help your kids stay organized, keep things at their height. Closet storage, benches and coat racks will all be used more often if kids can get to them easily. Try adding a few bins to conceal their toys and other items.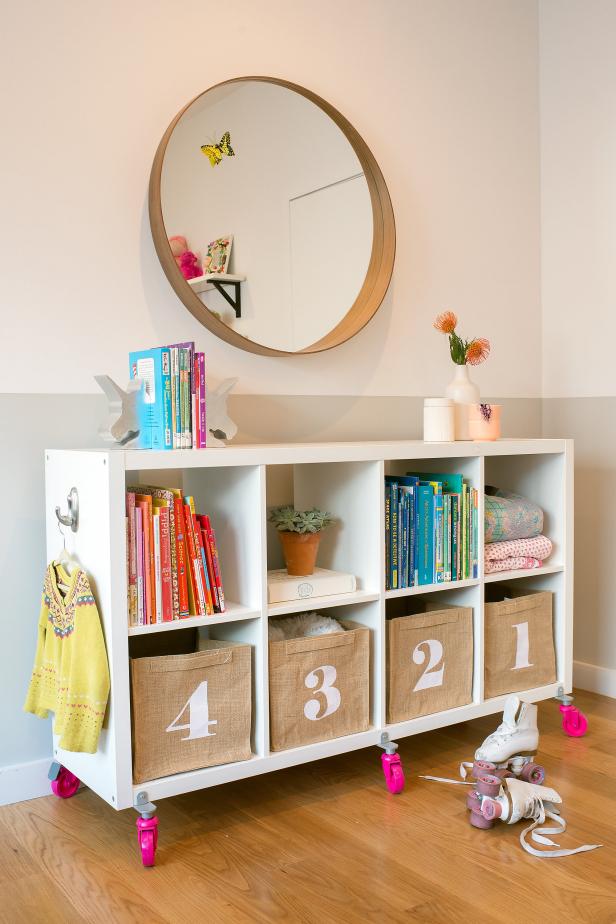 Cubby Shelves for Kids Room
A cubby-style bookshelf keeps books, toys and other accessories stowed away in this kids room. Numbered storage containers organize the bottom row of the bookshelf.
2. Most craft and hobby stores sell an additive to paint that allows it to glow in the dark. Try painting stars and a moon on your child's ceiling or a cityscape around the edge of the room. This will get them excited about turning out the lights at night.
3. Try creating a continuous art center by painting a wall with chalkboard paint. You can get chalkboard paint in the color of your choice.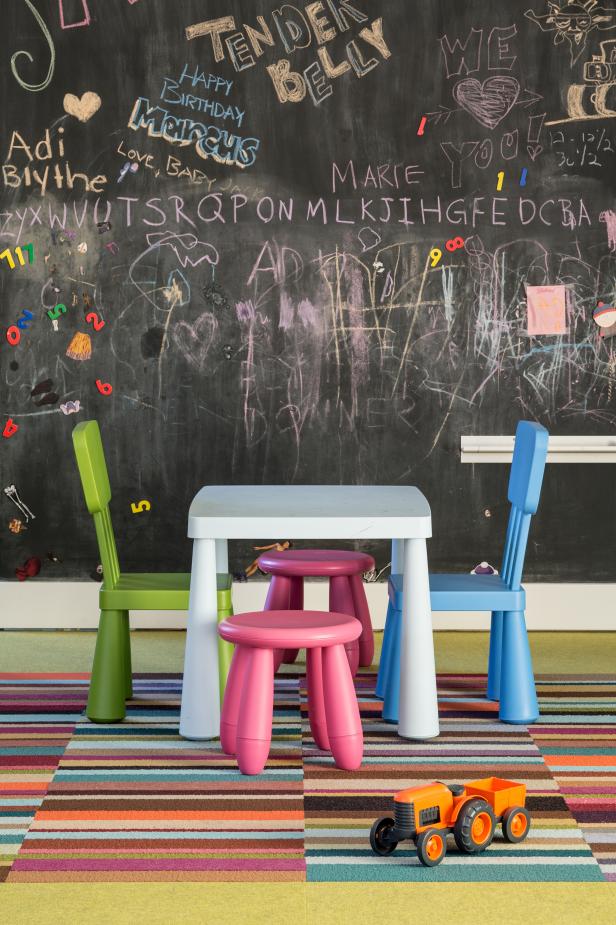 Contemporary Playroom With Engaging Chalkboard Wall
Design Platform created this playroom for a child's heart and imagination with the cleverly designed chalkboard wall. Colorful plastic chairs and a white table complete the look.
4. Removable wall decals are becoming increasingly affordable and the range of patterns and styles grows every day. Call them temporary wall tattoos and let your kid have fun decorating their room in a way you know you won't have to fix later.
5. Kids are collectors, so make collecting easy. Pictures and postcards don't always have to be stuck to a corkboard. Try hanging them from strings in front of a window or clipping them to a string along the wall to create an interactive border in a room.
Purple Tween Room With Polka Dot Bedding
Lavender walls make a serene background for this tween bedroom. Playful patterns and metallic decals bring in personality and fun.
6. All kids want display space. Galvanized metal is fairly inexpensive and can be purchased in sheets at most home improvement stores. Just mount on the wall and you have an instant magnetic board.
7. Check your local art and crafts store for peel-and-stick cork. You can cut out any shape, simply peel off the backing and attach to any wall for fun pin-up space. If you want to create a particularly elaborate design, try using a pumpkin carving stencil, a transparency sheet and a projector, as seen in HGTV Magazine.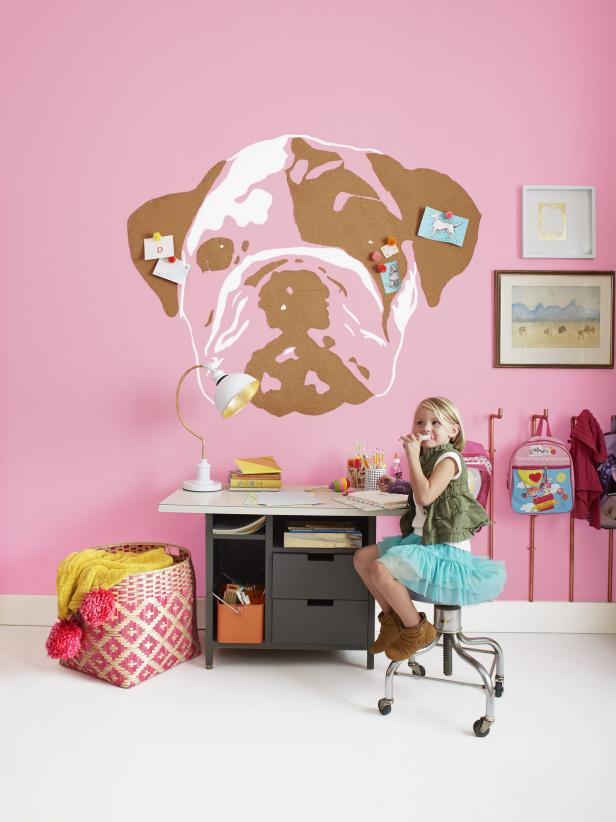 Bulldog Cork Art Makes for Puppy Play on a Child's Wall
HGTV Magazine: To fulfill her daughter Dylan's "puppy" request, Mandi Gubler projected a pumpkin carving stencil onto the wall, then tacked sheets of cork (joann.com) to the wall to cover certain parts of the image. Next, she traced the design onto the cork and the wall, shaped the cork with a crafts knife, and secured it with tiny copper nails. She filled in the rest with white paint. Check out HGTV Magazine for step-by-step instructions on this project.
8. Rather than a traditional growth chart put a border around the room. Each month you can use non-toxic, water-based paint to put the child's handprint in the border. Watch them grow together.
9. Be sure to include multiple kinds of lighting in a kid's room. Overall lighting is a necessity but so is a reading light. It may even help them find the bathroom in the middle of the night.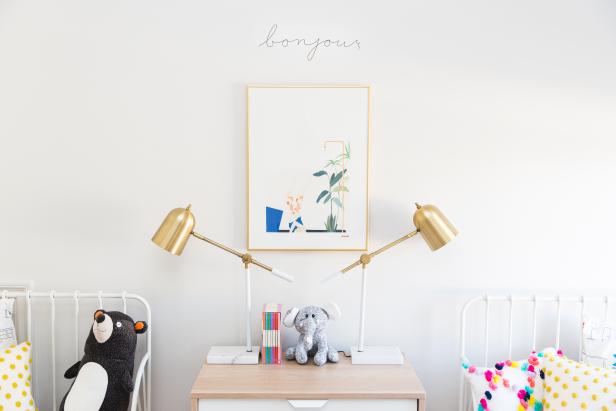 Multicolored Girls' Bedroom With Nightstand
Brass reading lights (a Target find) help draw attention to the simple, graphic artwork and wall decor. The bear and pom-pom pillows decorating the bed are also from Target.
Surabhi Agrawal - Third Eye Chic Studio
10. If you are painting a dresser or other furniture you know the child will grow out of be sure to let them help. The child could also put their signature on it with personal handprints or fingerprints for a polka-dot design.
More: Make Your Own Decor
Add a personal touch to your little one's lair with these DIY decor projects. They'll love our fun furniture upgrades, playful wall art and colorful accessories.