Color Schemes for Kids' Rooms
Follow top designers' tips and tricks for selecting the perfect color palette for your kid's room. Plus, their favorite color combinations for boys', girls' and gender-neutral rooms.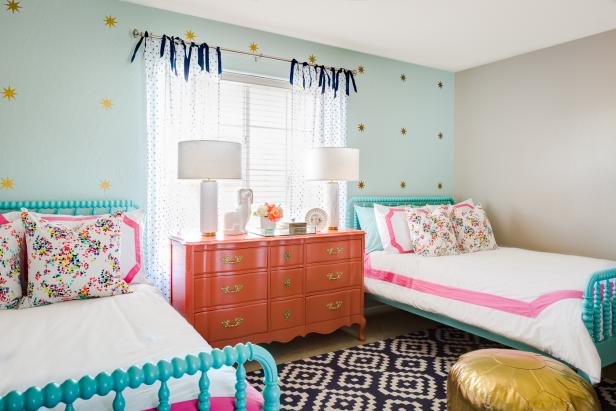 Shared Girl's Room With Aqua Accent Wall and Coral Dresser
A light aqua wall with starburst wall decor brings a beautiful and fun accent to this girl's room. The matching beds feature bright aqua bed frames and white linens with a bold pink border. A coral dresser adds even more color and a unique element to the feminine design.
John Woodcock Photography
Picking a color scheme for a kid's room can be a lot of fun since spaces for little ones allow for more creative freedom. Whether your children are playful and energetic, calm and sweet or a mixture of the two, explore their personalities to discover the right color scheme for their rooms.
If your child is old enough to have an opinion, make sure to include him in the design process. Designer Liz Carroll of Liz Carroll Interiors finds that children as young as two have an opinion, so ask your child what favorite color he wants to incorporate into the room.
For nurseries, focus more on the feeling you want to have in the room since you'll be spending hours upon hours in the space. Designer Sherri Blum of Jack and Jill Interiors says the room should reflect your taste since baby only requires a safe, warm environment. The space needs to feel special for both parents and child.
Kids grow up quickly and their tastes change even quicker, so Carroll suggests to select a scheme that has some longevity to it, "Kids grow up so fast and nurseries become big boy or girl rooms before you know it. It's nice to have a color scheme that will transition with your child so they can grow into the room, rather than having to redo it after a few years."
Designer Joanna Gick of J&J Design Group also suggests sticking with more sophisticated colors. Her solution: paint three walls a neutral shade and have one focal wall that brings in the fun color choice. The bonus with this option is when you or your child is ready for a change, you only have to redo one wall.
Consider the Rest of the House
Not only does the color scheme for your child's room need to fit their personality, but it also needs to work with the style of your home. Designer Laura McCroskey of McCroskey Interiors says to ask yourself, "Does it flow with the style of my home?" For example, if your home is traditional and your girl wants a pink room, choose a more muted hue of pink rather than a contemporary, brightly saturated shade.
The most exciting part and usually the kicking off point to a kid's room design is selecting the actual color scheme. We asked designers to share their favorite tried-and-true color combinations to get you started.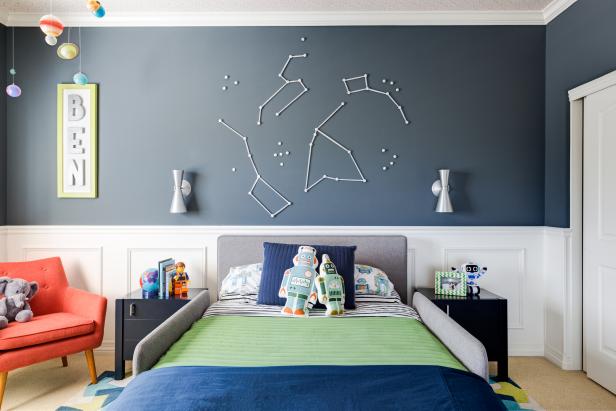 Boys Space Inspired Bedroom With Constellation Wall
Constellations adorn a gray wall in this space inspired boys bedroom. A planet mobile and robot throw pillow add fun furnishings to the eclectic space.
John Woodcock Photography
Blum loves navy blue, white, khaki and punches of orange for a boy's room, since it has a timeless, classic appeal and works well for all ages.
Carroll tends to stick with classic blue for boys' rooms, but for a new and fresh twist she'll combine aqua with tangerine. Navy and apple green is another favorite combination that is young and fun.
Designer Jennifer Duneier of Duneier Design loves navy blue mixed with camels, chocolate brown, reds and whites for a boy's room since the colors are both masculine and fun.
McCroskey prefers cool colors, like muted blues, grays or navy with a splash of bright orange or red.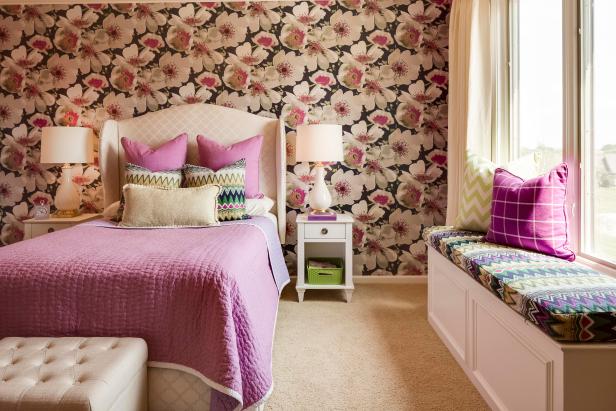 Pre-Teen Bedroom With Floral Wallpaper and Padded Headboard
This pre-teen girl's bedroom was redone in bright raspberry and purple hues, along with a bold accent wall with floral wallpaper. A funky design covers the window seat, and a padded headboard gives the bed a touch of elegance.
Pale pink, creamy white and aqua are a top pick for Blum, "I love these retro colors because they remind me of my own childhood dresses and retro phones and appliances."
Carroll hasn't met a little girl yet who doesn't like pink, whether it be coral, hot pink, raspberry or another shade. She suggests using raspberry and gray with orange accents to incorporate pink in a new way or classic ballet slipper pink can be combined with aqua, white and gold for a fun mix that will grow with any little girl.
"For a girl almost anything goes," says Duneier, "but I love turquoise mixed with browns, corals and creams."
McCroskey likes the warmth of blush pink or lavender with an accent of teal or soft green for girls' rooms.
Blum opts for baby blue, light pumpkin and white for gender-neutral spaces since it can easily go boyish by adding brown touches or girly by adding bright pink.
McCroskey suggests using a soft wheat for gender-neutral rooms or painting the walls in gold or green tones.
Duneier likes to mix chocolate brown with either turquoise or cream for gender-neutral spaces.
Whether you want to incorporate a theme in a small way or go completely over the top, we asked designers for their top tips to creating a themed kid's room.