Utilities in an Outdoor Kitchen
Running electricity, plumbing and gas is an integral part of building an outdoor kitchen. Make sure to plan for the utilities in advance.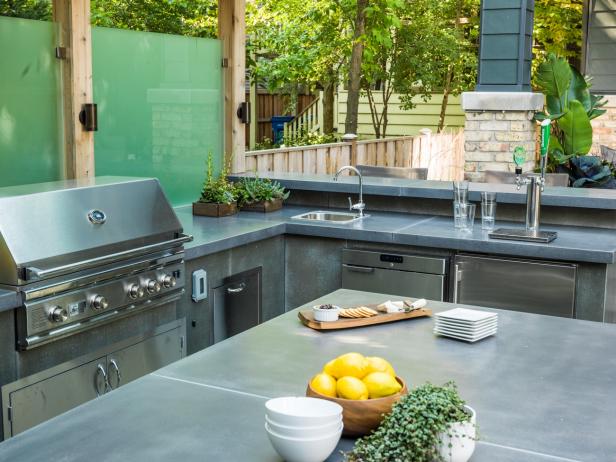 Modern Outdoor Space for a Minimalist
This outdoor kitchen is party-ready and comes complete with stainless steel appliances, a sink and even a beer tap. The L-shaped concrete counter provides ample space for cooking, and a mobile island offers both seating and additional room for spreading out party supplies. A glass and wood structure shelters the space and creates a backsplash.
Chicago Roof Deck and Garden
So you've found the perfect site and designed an efficient layout with plenty of storage, now you need to lay the groundwork to make the outdoor kitchen work. It's time to address your utilities, power, water and gas. This is where it really pays to bring in the professionals, and you'll probably have to in order to get the inspections necessary for your building permits.
Electricity is essential in any outdoor kitchen. If you're planning to install a grill, you'll need to wire for task lighting or for an outlet to plug in a light fixture. You may wish to plug in appliances like an ice maker, refrigerator or outdoor dishwasher.
An experienced electrician will not only know the codes inside and out they'll know about the requirements of GFCI (ground fault circuit interrupter) outlets. It's a good idea to put the outdoor kitchen on its own GFCI circuit board inside your house because it's far simpler to reset the system from indoors than trying to crawl behind an under an appliance to hit the reset button on a buried outlet.
Most outdoor kitchen designers suggest including a sink in your plans. "Even if you only run cold water to it, a sink helps a lot when it comes to resale," says landscape architect Richard Gibney of Gibney Design Groups. "If you do run hot water, you'll have to insulate the entire run of pipe."
Depending on the length of the pipe run and which type of winterization and drainage systems you include, incorporating plumbing in your plans will probably add about $1,800 to the project, estimates landscape architect Steve Chepurny of Beechwood Landscape Architecture.
When you're talking to plumbers or finalizing details with your contractor, remember that in cold climates winterization is key. There are two main options: using an ejector pump to flush the water from the lines at the end of the season or installing a gravity-based system with the pipes running to an insulated, below-grade space, so you can open the valve and empty the pipe. Which works best for you depends on your particular site.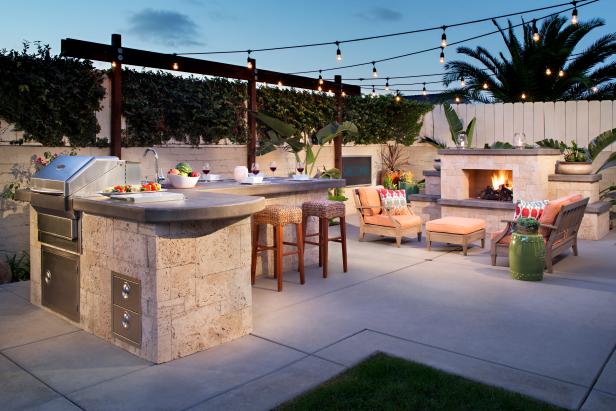 Backyard With BBQ Island and Outdoor Fireplace
Although this backyard is a small space, it still features lots of potential. A BBQ island adds a grill, sink and plenty of counter space to the mix. An outdoor fireplace serves as a warm spot to gather with friends.
Unless you plan to grill exclusively with charcoal, you'll need to fuel your barbecue with gas. If you live in an area where natural gas is available, you may want to run a gas line to the grill. Imagine never again running out of gas midway through dinner prep.
Expect to pay $500 or $600, plus the monthly cost of natural gas, for this convenience, estimates Mark Allen, president of Outdoor Kitchens by Design.
If natural gas isn't an option, Mark encourages investing in a second propane tank, so one is always full and ready when the other runs low. "You could go with a buried propane tank but it's a big expense," says Mark. "You'll pay at least $1,500 to $2,000 for the tank, plus the price of propane." Many gas companies want you to lease the tank and buy your propane from that company, even if theirs isn't the best price.
Stick with individual propane tanks and spend your money elsewhere. If you go the buried-tank route, be sure to have it checked every several years, because tanks can leak and the lines can corrode.
Explore beautiful outdoor kitchen design ideas for inspiration for your own backyard cooking space.
Aesthetics are important but when it comes to building an outdoor kitchen, functionality and durability reign supreme. Read our professional tips to budget, plan and design an outdoor kitchen that will add value to your home and lifestyle.