Maximum Home Value Kitchen Projects: Cabinets and Hardware
Follow these style and trend tips to update—and make buyers fall in love with—your kitchen.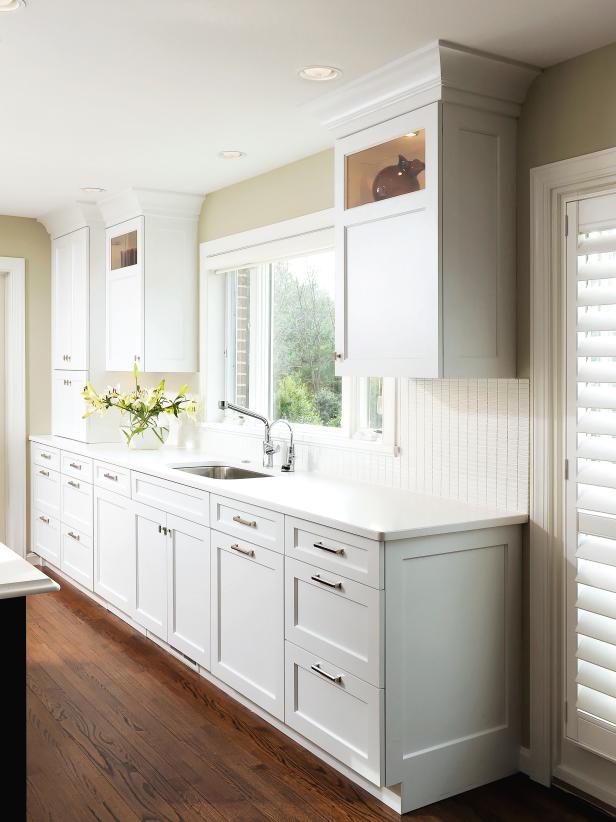 White Cottage Kitchen With Wood Floors
This beautiful white cottage kitchen features a stunning hardwood floor which adds depth to the space, while a gorgeous white beadboard backsplash adds interest and texture.
Photography by Bob Narod for Jennifer Gilmer Kitchen and Bath
Cabinets are such an important part of the kitchen that their look and layout can make or break the room. And when it comes to value, function and form go hand in hand.
Cabinets tend to eat up the bulk of a kitchen remodeling budget, so before you rip them out, see whether new paint and hardware can give you the updated look you desire. If you need to replace them entirely, find the style that fits your home and budget, and explore different cabinet layouts.
Custom wood. Wood-finished cabinets are the most common, with cherry and maple woods the perennial favorites.
Specialty storage. Simple shelves have been replaced by functional storage areas with swivel or swing-out shelves, lazy Susans, roll trays, adjustable dividers and pull-out baskets. Built-in trash compactors and recycling bins also add value. Learn more about kitchen storage and organization solutions.
Less is more. Your kitchen should feel airy and free of clutter. Minimize the number of wall cabinets and opt for storage under counters, or build a pantry if you store large amounts of food.
"The biggest mistake people make is gutting the kitchen and starting over with the cabinetry," says appraisal expert Leslie Sellers. "If the cabinets are substandard or dated to the point where they cannot be brought up to date by other means, you should replace them. But oftentimes you can just paint them or add new doors."
On a Budget: Check the structural condition of the cabinet boxes. Replace outdated hardware with stylish pulls, knobs and handles. When you're shopping for new cabinets, stock cabinets are the least expensive.
Mid-Range: If paint and hardware aren't enough, get a more dramatic makeover by replacing the doors and drawer fronts.

When shopping for new cabinets, semi-custom cabinets offer more choices for style and storage than stock. Value-added features include an appliance garage, pull-out shelves and bins, a wine rack and vertical dividers for trays and serving plates.

High-End: Custom cabinets allow you to design specifically for your kitchen layout, style and storage needs. Create a budget and decide on the material, finish, panel and drawer styles and storage accessories. Be creative: use architectural features to disguise drawers, like a narrow drawer near the stove for cooking-oil bottles. If you don't already have one, build a walk-in pantry.
From high-tech gadgets to space-saving solutions, these clever kitchen updates will streamline your cooking and cleaning routine.