Maximum Home Value Bathroom Projects: Counters and Vanity
Add value to your home and grab buyers' attention when it's time to sell by giving an outdated vanity and countertops a makeover.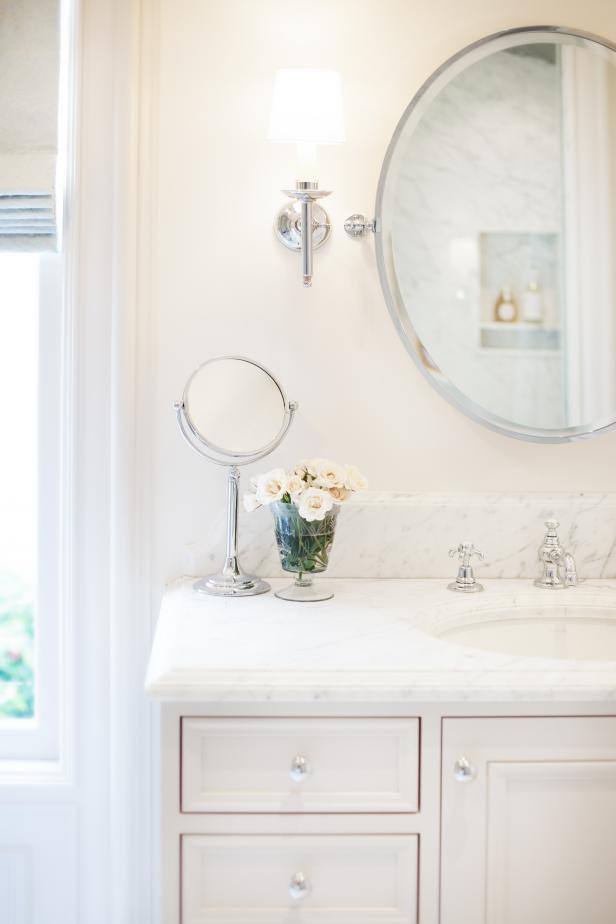 White Bathroom Vanity With Marble Countertop
An elegant traditional vanity gets a luxurious finish with a white marble countertop. A large oval mirror and stainless sconce complete the space.
Countertops and cabinets are crucial to your bathroom's design, so be sure they make a positive statement. Unlike with the kitchen, you have more freedom to play with high-end materials, like marble, since you won't need as much of it with a smaller space.
Natural stone counters. Not only are these materials durable, but they also give bathrooms a luxurious look and feel. Granite, marble, limestone and soapstone are popular choices.
Separate vanities. In addition to dual sinks, more homeowners want separate vanities, especially in the master bath. It allows each person to have his or her own space and storage.
Vanities that look like furniture. Vanities now look like furniture you'd find in the living room, giving your bathroom a warm, cozy feel. Medium and dark woods are popular. Dark glazes, like black, sable and eggplant, are also in demand. Add an area rug -- or even use carpet as flooring -- and you've got the perfect retreat.
Smart use of space. Clutter is an eyesore in a small space like the bathroom. Homeowners want storage to hide their toiletries, medicine and personal items. Many medicine and vanity cabinets come with flexible shelving, small drawers, dividers and even hidden outlets for your electric shaver or hair dryer. Vertical storage, such as a tower, can be both stylish and functional.
"Don't overdo it," advises Leslie Sellers, president of the Appraisal Institute. If you put in marble counters and an expensive vanity, don't assume you'll get your entire investment back when you sell.
"The cost of tearing out and preparing the area before doing any construction is more than the cost of putting things in," Sellers explains. "You may not get all your money back, but you do increase the marketability of your home."
On a Budget: If your countertops are in good shape and not terribly outdated, all they may need is a good scrub-down. Otherwise, look into solid-surface counters, which look like natural stone at a fraction of the cost. Restain wood cabinets and replace outdated handles.
Mid-Range: Upgrade to granite counters if you don't already have them. Update a tired vanity with a modern glaze that matches your style. If you have one vanity and sink, consider adding a second.
High-End: If you're feeling adventurous, marble and quartz are great alternatives to granite. Make high-end vanities work for you. Choose from all kinds of luxury features, including towel warming drawers, anti-fog mirrors and built-in lighting.