Learn about kitchen wall cabinets, and explore materials and designs that will create a kitchen that fits your personal style.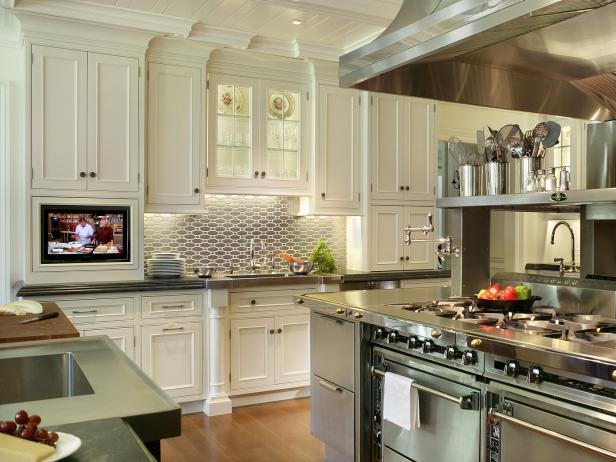 White Transitional Chef Kitchen With Stainless Range
In this gourmet kitchen, a backsplash made of gray-and-white oval tiles is a sophisticated contemporary counterpoint to the white cabinets and wood paneled ceiling. A huge stainless steel range stands at the ready to assist in culinary masterpieces.
The range of options for kitchen wall cabinets can initially seem overwhelming, but you'll have some early choices to make that will narrow the field a bit.
Your first decision when considering kitchen wall cabinet options will be construction-related. If you've got a very specific design in mind—or a particularly unique space—you may want to consider hiring a cabinetmaker to create fully customized kitchen wall cabinets. Otherwise, you can explore a range of pre-fabricated, in-stock and semi-stock wall cabinet options from home improvement or design stores. The custom, semi-custom and pre-fabricated options all have advantages and disadvantages.
Custom kitchen wall cabinets will be built to your exact specifications in terms of materials, design and colors, but they're far and away the most expensive option. In-stock cabinets are economical, but you'll need to choose from a somewhat limited range of designs and colors. Falling somewhere in the middle, semi-stock cabinets offer a balance of design and color flexibility alongside the ability to mix and match some appearance options and then have a ready-made cabinet set delivered—but they're more expensive and will take longer to deliver than in-stock kitchen wall cabinets.
When it comes to materials for your kitchen wall cabinets, wood still reigns supreme in terms of popularity. Oak, maple, cherry and hickory are popular options for kitchen cabinets. Veneers over plywood are another, more economical option. And if wood's not your first choice, laminate, stainless steel or industrial metal cabinets can add a modern touch to any kitchen.
Other Kitchen Cabinet Components and Accessories
More Kitchen Cabinet Ideas