Creating a Kitchen for Entertaining
Add specialty features and choose a layout that allows you to interact with guests.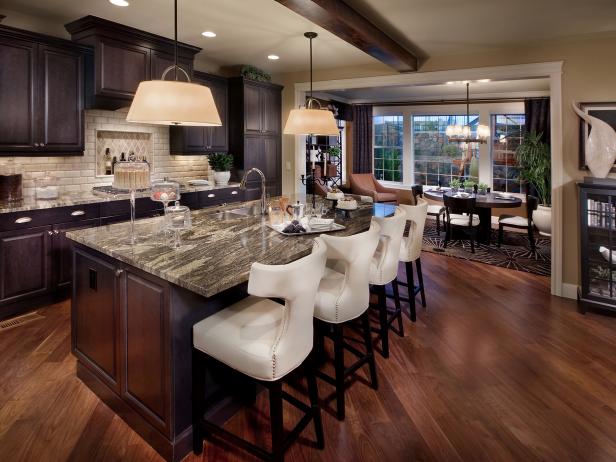 Traditional Dark Wood Kitchen With White Contemporary Bar Chairs
The beautiful dark wood cabinets and kitchen island create a warm feeling in this calm, traditional kitchen. Gray marble countertop adds texture against the neutral walls and hardwood floor. A beige tile backsplash with cubby storage creates a background for the stove. Contemporary white bar chairs with nailhead finish provide an eat-in option.
Denver Parade of Homes; Photo by Jeffrey Aron Photography
The party is at your house—and specifically, in your kitchen. Ever notice how no matter the size of your kitchen, that's where everyone gathers? A home can have an ample dining room and living area, but a crowd will choose to congregate in a narrow Pullman kitchen.
Size is certainly not a prerequisite for a great entertaining kitchen—though square footage will determine whether you can include features like an island or butler's pantry, if you're not the cook for your parties. When designing a kitchen that functions as an effective entertaining space, it's all about the specialty features that are integrated in the space to make serving food and beverage easy.
What kind of events do you host (casual, formal, buffet, sit-down, etc)?
How many people do you generally entertain at one time?
How do you serve food? Do guests serve themselves in the kitchen or do you plate food and serve it in another space?
Do you cook food yourself, or do you hire caterers for parties?
Is cooking part of the entertainment (as in cooking clubs)?
How many people cook at one time while you entertain?
Sleek appliances. You probably don't need to purchase the professional grade equipment unless you plan to seriously cook for guests. "I encounter a lot of clients that never cook but they like to entertain in the kitchen, and I usually get appliances that are good quality—they look beautiful and they work well," says Jorge Castillo of Jorge Castillo Designs in Miami, Fla., and Shaker Heights, Ohio. Stainless steel is a priority for most homeowners, and it's practically a necessity at resale.
Point-of-service refrigeration. Refrigerator drawers and specialty units, such as wine coolers, give the host and guests better access to beverages and foods waiting to be served.
Warming drawers. A must for entertainers for keeping food warm and maintaining its quality.
Double dishwashers. Secondary dishwashers might be drawer configuration or half-size, or full-size depending on the type of entertaining you do.
Flat-screen television. You'll sacrifice storage space for a flat-screen in the kitchen, but if your often entertain during sports events, for example, and the kitchen is where your crew likes to hang out, then this "appliance" is a necessity.
Island. "This doesn't always work—it depends on the space you are working with," warns Castillo.
Raised countertops. An island or peninsula with a raised countertop can hide dishes and serve as a cooking station on the "lower" host side, and on the higher portion, give guests a surface to gather around in the kitchen. It can serve as a snack bar, the dining table or just a place to lean and set down beverages.
Catering workspace. If you tend to bring in catering staff and you have the space to build a butler's pantry equipped with key appliances (oven, warming drawer, sink, dish washer, refrigeration).
Glass cabinets to show off beautiful dishware
Wine cooler
Espresso machine/high-end coffee maker
Glass range exhaust hood so views are not blocked
Wet bars in the media center with compact appliances
Add features like accessible food storage, durable surfaces and an open floor plan