Find out what type of lighting works best in your child's room.
Lighting is possibly the most overlooked element in any room's design — and also one of the most important, particularly in a multifunctional space like a child's room.
3 Basic Types of Lighting
Ambient lighting creates a pleasing overall glow. Overhead fixtures, both ceiling-mounted and recessed, provide ambient light.
Task lighting illuminates specific activities such as homework or reading. Sconces and lamps offer task lighting.
Accent lighting highlights architectural and design elements. A recessed ceiling fixture positioned to shine on a favorite piece of artwork is an example of accent lighting.
Every room must have both ambient and task lighting. Accent lighting is the icing on the cake, the element that makes all the hard work you put into choosing the right wall hangings, hand-painted murals, showstopping window treatments and more shine through.
You'll need to think about safety as you choose your lighting fixtures and lamps. Designer and mother of boys Terry Ervin advises, "go with lighting that isn't breakable — wood lamps, not glass or pottery. And recessed lighting is safer than ceiling or wall fixtures that can be hit with balls and paper airplanes. Be attuned to things that could fly through the air."
Try to imagine what a curious toddler might topple. "Babies can easily pull floor lamps over," says Pam Ginocchio, co-founder of Project Nursery. "Be sure to secure lamp cords to the leg of a table, or to the wall."
When you're ready to shop, remember that lamps and lighting fixtures can be strong decorative elements.
"Don't go too small," says Susanna Salk, designer and author of Room for Children. "People tend to think tiny for a child's room, but bold, chunky lamps — especially in pairs, like on each end of a dresser — look really great."
And, remember function. "Reading lights should be adjustable," says Nancy Barrett, designer of Decorating Den Interiors. "So you can direct the beam right where you need it. And, three-way lamps, which have three levels of illumination controlled at the switch, are great. Even better: Install dimmers at all your wall switches."
The lampshade you choose is another important decision, and an opportunity to personalize your lamp. "I love to buy inexpensive lamps and have the kids decorate the lampshade with trim, tassels, paint or decoupage. It's an easy way to get them involved in the design," says Barbara Tabak, designer of Decorating Den Interiors.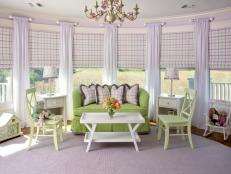 Think about safety and light control when adding a playful window treatment to your child's bedroom.