10 Hidden Costs of Remodeling Your Home
While you can't always predict those pesky budget busters, you can plan for hidden costs during your home remodel. Expert remodelers share how to prepare.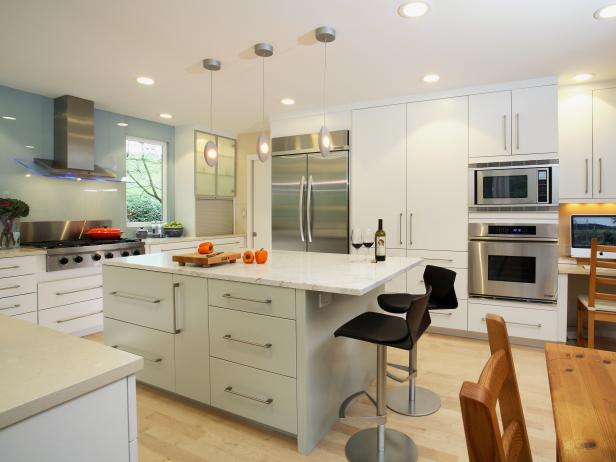 Contemporary White and Gray Kitchen with Sage Gray Island
This contemporary white and gray kitchen is an airy space with light wood floors and a sage gray island with place to eat for two. Small pendant lights add a modern industrial feel while stainless steel appliances compliment the clean, sleek lines of the space. Multiple storage underneath make the center island both stylish and functional.
Embarking on a home remodel can be messy, inconvenient and at times pull-your-hair-out frustrating. The last thing you want is a higher price tag than your contractor's initial bid. So, how do you keep your sanity and your pocket change while remodeling your home?
"Being realistic and communicating constantly with your remodeler is the number one thing you can do to avoid these hidden costs," says Judy Mozen, president of Handcrafted Homes, Inc. in Metro Atlanta, and president of the National Association of the Remodeling Industry. Here we reveal 10 hidden remodeling costs and how to embrace them on the path to your dream living space.
The biggest potential hidden cost will shock you. Quite simply, it's you — specifically, when you change your mind. "Ninety-five percent of costs come from inadequate scopes of work and scope creep — basically, change orders," says Jeff Beaird, a former custom home builder and remodeling contractor with 13 years of experience building in Iowa and Colorado.
Beaird remembers one customer who changed her mind a lot, including on custom cabinetry that had not yet arrived for install. "Just because it's not at your house doesn't mean the work hasn't been done," he says. That behind-the-scenes work has a cost, especially when a change is made. "It's not a dishonest need for more money on the contractor's side; it's because there has already been time and effort spent on the backend that may not be apparent to the homeowner."
2. Surprise Structural Changes
The drywall is demoed and suddenly you have a new vision for your home — one with an open floor plan. Or a beam you thought was strong, turns out not. For a kitchen remodel alone, unplanned structural changes will bloat your budget by 10 to 15 percent, according to Consumer Reports. Bake structural changes into your initial budget by exploring all options with your remodeler before work begins.
3. Bringing Your Home "Up to Code"
Building codes were originally designed to protect public health and safety, according to the National Association of Home Builders, but government agencies are now using codes to implement policies such as energy efficiency and sustainability. This slew of new building standards can mean hidden costs — especially for homes built ages ago.
Mozen frequently runs into this problem. "I go into homes that were well-built at the time, but now the code has changed," she says. "The rule in Atlanta, and most of the country, is if during the remodel you discover something that is not code, you have to bring it up to code. It's an added expense to do so."
4. Improper Building Practices
Your home might look fine from the outside, but when a remodeler digs into walls the truth is revealed about just how sound it was built — and just how much more you'll pay. One of Mozen's projects to add a pocket door to an existing addition incurred a huge electrical cost. "When we uncovered the wall for the pocket door, we noticed the wiring," she recounts. "Nothing about it was code. We had to rewire the whole room."
Should you expect higher utility bills during construction? These increases are negligible, says Beaird. With general contractors plugging in compressors and nail guns, your bill might add $10 a month. For big equipment that's running 24/7, say for an emergency water mitigation caused by a plumbing line break, you might run $20-40 more a month.
Whether it's cats, dogs or farm animals, your four-legged friends can get in the way of a remodel. "I did a whole house remodel and they had two goats, two cats and three dogs," says Mozen. "Before I could start, we needed to move the goats, so I built a pen and moved the goats out of the way. I'm sure the owners never thought their pets would be any expense, but they were!" For the safety of your pets, add boarding into your budget.
If your kitchen is being remodeled, and you've no alternative gas or power line for your appliances, expect an expensive month of eating out. You can ask your remodeler to create a temporary kitchen to avoid this, but if that's too costly, instead plan for easy-to-make no-cook meals as well as takeout and eating out.
Unforeseen costs lurk where pests such as termites hang out. A big problem in the South, termite damage can add money to your remodel fast. Rotting wood will also put a damper on your redo, which is why it's important to keep plants and irrigation at least five feet away from the foundation of your home. "Any water damage found in the structure of any home is huge for hidden costs," says Mozen.
During a remodel, you'll need to take time off work to meet with a contractor or make selections at showrooms. "Can your work schedule handle the decisions that need to be made?" asks Mozen. If you have your own business, factor in lost productivity or making up work that's temporarily derailed by the remodel.
It may be necessary to vacate your house or move out belongings to make room for contractors. You could use PODS and keep the container outside your house, suggests Mozen, but if you prefer a climate-controlled environment, you'll incur additional costs for moving and storing.
It's not only your stuff that might need to move. What if your only bathroom is out-of-order or a contractor accidentally hit an electrical line in winter? For convenience, budget to spend a night or two in a hotel. Having a realistic view of your living arrangements won't make you so upset if you need to vacate, says Beaird.
To set your mindset up for success, voice every want and need before remodeling construction begins. Then, meet once a week with your remodeler to address hidden costs as they happen.