All About Bamboo Flooring
Learn about the different types of bamboo flooring, how it's made and the pros and cons.
By:
Kim Hildenbrand

and

John Riha
Bamboo has become a popular floor choice, thanks to its natural beauty, sturdiness, and renewability. Bamboo is a grass, so it grows much faster than trees and is more earth-friendly. Like wood, bamboo floors can be solid or engineered, and come in a variety of styles and plank sizes.
Bamboo comes in a variety of colors, but there are three general types.
Natural bamboo. With no staining or carbonization, natural bamboo is blond.
Stained bamboo. Bamboo can be stained any color. It is painted or applied by hand.
Carbonized bamboo. During production, carbon is added to dye the bamboo throughout rather than just on the surface. Colors range from tan to light brown. Carbonizing decreases a floor's strength and makes it softer.
Harder than many types of wood, eco-friendly bamboo kitchen flooring come in tiles and planks and in a variety of styles and finishes, from dark to blond.
All bamboo flooring is engineered, meaning the strands of grass are sliced and shredded, then pressed back together with heat and glues to form the flooring boards. The results of this process are what make it unique and attractive. These are the three types of bamboo floors.
Horizontal. Bamboo strips are layered and pressed together. The "knuckles" from the stalk appear in the graining, preserving the authentic look of the grass.
Vertical. Bamboo strips are turned sideways and laid side by side before gluing. While less durable, this floor offers cleaner, more contemporary graining.
Woven or stranded. Shredded strands of bamboo are compressed with resin to produce a hard surface like hardwood. This is the most durable floor and lends an interesting, exotic look.
How to Clean Sweep or vacuum regularly, and occasionally wipe the surface with a damp mop or cloth. You don't need to seal it.
Best for: Virtually any room, though not ideal in spaces prone to standing water, like bathrooms or basements.
Pet Friendly? Extremely. The hard surface withstands pets' nails, and the surface isn't prone to stains. Provide soft mats or pet beds for added comfort.
Underlayment The subfloor must be perfectly smooth, as bamboo will show imperfections. Because bamboo is susceptible to moisture, a waterproof underlayment is vital if it is being installed over a concrete slab.
We're sorry, there seems to be an issue playing this video. Please refresh the page or try again in a moment. If you continue to have issues, please contact us here.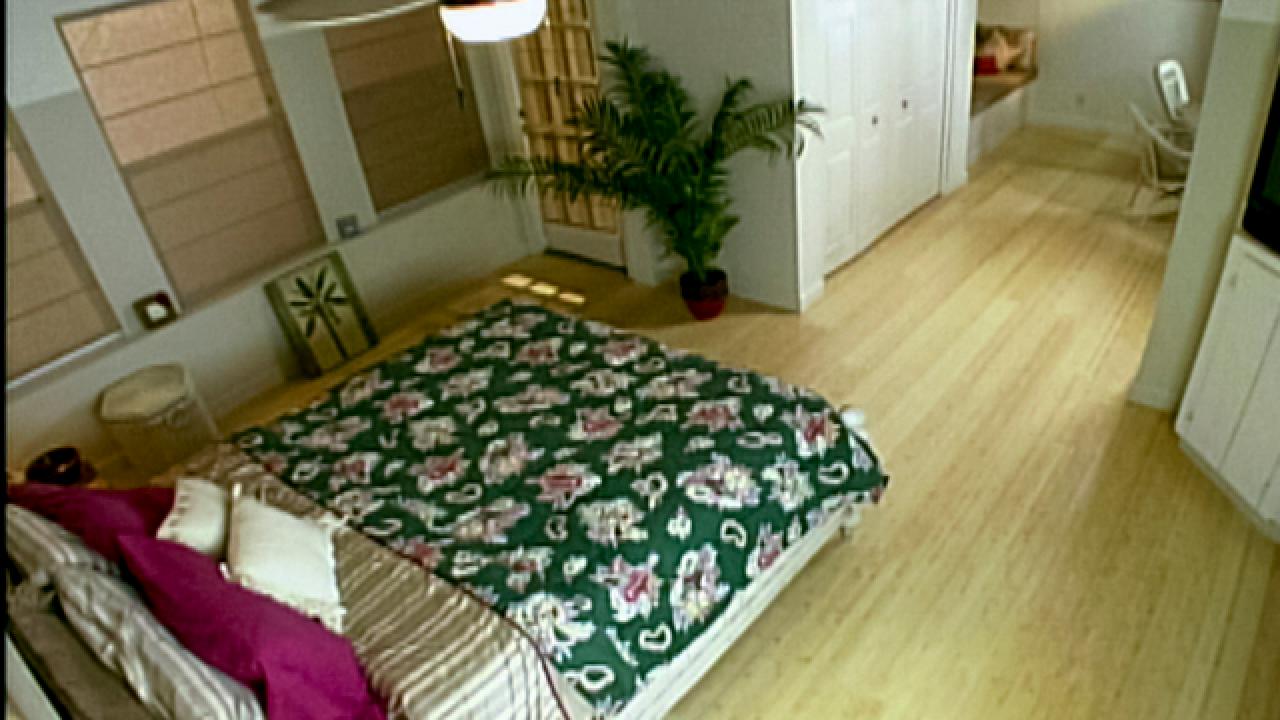 When it comes to the eco-friendliness of bamboo flooring, there's some controversy about whether or not it's a sustainable material. On one hand, it's a fast-growing plant that's available in vast quantities, so it's a rapidly renewable resource. Also, using bamboo takes the pressure off other wood species, especially exotics.
On the downside, most bamboo flooring is made overseas where oversight of the manufacturing process is sketchy. That means some brands may contain adhesives and formaldehyde that emit toxic VOCs. Also, because most bamboo flooring comes from overseas, the cost of shipping contributes to the material's carbon footprint (and its price).
If you're concerned, look for bamboo flooring products from companies that have been certified by the Forestry Stewardship Council (FSC) for their harvesting and manufacturing practices.
Bamboo flooring costs about $3 to $9 per square foot, uninstalled. It's considered to be easier to install than hardwood and is generally DIY-friendly. It is installed by gluing or nailing to a subfloor. Pro installation adds $3 to $5 per square foot.
Keep in mind that not all bamboo is created equal. Before you buy, find out the following:
What species was used? Moso bamboo is the best choice for flooring; others can be soft and dull.
When was it harvested? Bamboo takes around six years to mature. Premature harvest results in soft floors that dent or warp and can cause damage to the plant.
How hard is it on the Janka ball test? The Janka ball test is a hardness scale that measures the force required to push a .444-inch steel ball halfway into a piece of wood. Though specifics vary by manufacturer, bamboo produced properly is a great deal harder than oak and maple.
Is the manufacturer reputable? Most bamboo sold in the United States is grown in China. No independent standards exist, so it's important to ask your retailer if the manufacturer employs quality control.
Top-quality bamboo flooring is as durable as traditional hardwood flooring.

However, quality can vary, and bamboo does tend to absorb more moisture than hardwoods.

For those who prefer modern decor, bamboo flooring has a clean, contemporary look.
Properly finished bamboo flooring cleans easily with a mop and mild soap.
Like other hardwood flooring, bamboo may be refinished, depending on the thickness of the planks.
Laminated bamboo flooring, with a top layer glued to multiple sub-layers, is DIY-friendly.
Inexpensive bamboo flooring is susceptible to scratches and dings.
Bamboo grass readily absorbs water and is susceptible to damage from water and excessive humidity, thus, it may not work well in basements or bathrooms.
The contemporary look of bamboo doesn't fit with all decor.
Bamboo flooring is limited to a few tonal shades.
The enduring good looks of hardwood flooring come in many types and styles to fit different needs and budgets.