Designer Catherine Nakahara creates a clean, contemporary kitchen featuring bamboo cabinetry, quartz countertops and a subway tile backsplash.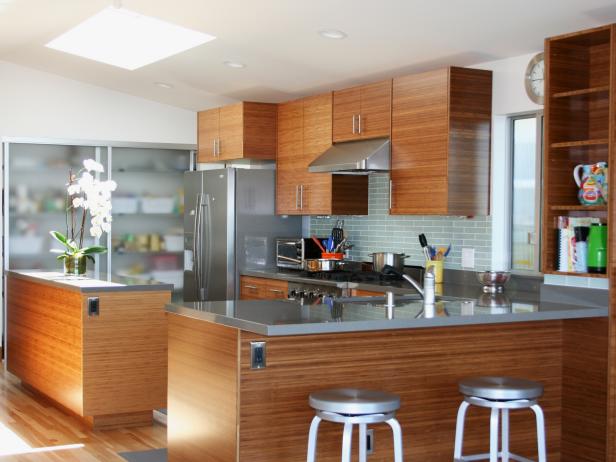 Brown and Gray Contemporary Kitchen With Stainless Countertops
Stainless steel countertops and appliances make a crisp, industrial contrast against the rich wood finish of the cabinets in this contemporary kitchen. A hint of cool color is introduced with the pale blue backsplash.
For this Kensington, Calif., project, designer Catherine Nakahara of Custom Spaces Kitchens & Baths mixes sustainable finishes with high-end appliances for a modern, sophisticated kitchen.
The design features carbonized bamboo cabinets, stone countertops and elegant frosted-glass doors leading to the pantry.
We spoke with Catherine to find out what was the biggest design obstacle, lessons learned and how the project came together.
Describe the homeowners' wish list.
The homeowners wanted an updated contemporary kitchen to go along with their busy lifestyle. They were looking for sustainable, eco-friendly materials and durability.
What were the homeowners' design problems?
How best to design the dining area cabinetry so it wouldn't appear too bulky and still offer them functionality and organization.
What was your biggest obstacle in this space?
There was an open stairway very close to the island, and the homeowners wanted to be able to eat and grab meals at the island, which wasn't going to be possible with the open stairwell. Instead, we adjusted the overall length of the kitchen and set up some stools on the back side of the sink.
How does the end result match up with your original vision?
The homeowners initially wanted to go with bamboo doors for the pantry. The frosted sliding-glass doors turned out to be the perfect application and helped lighten up the overall feel of the kitchen.
What lessons did you learn?
Bamboo cabinetry is not typically available with finished ends; applied panels are required to finish the ends. Applied panels add to the overall length of a space and must be accounted for early in the design process. It's also worth noting that applied panels come standard with visible edge grain.
What are the "hidden gems"?
We love how the cabinetry and finishes come together to create a very sophisticated and contemporary aesthetic. The carbonized bamboo looks great with the quartz countertops, and the skylight bathes the island in natural light.