Flooring plays a major role in the look, feel and functionality of your home. From classic hardwood to trendy concrete, explore flooring surfaces to find the best option for your lifestyle and budget.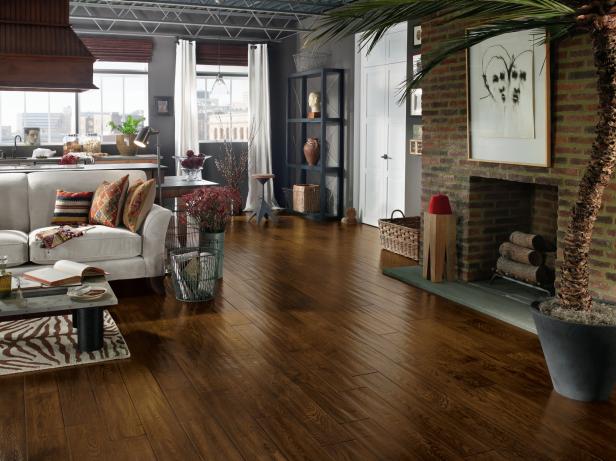 Contemporary Living Space with Wood Floor
This contemporary living space features large windows and a brick fireplace. A potted palm and zebra print rug provide a tropical and organic contrast to industrial shelves and exposed metal roof supports, while the wood floor throughout helps in visually unifying this hip, urban dwelling.
Floors impact your life. Whether you're doing yoga in the den, hosting a dinner party in the dining room, or entertaining the neighborhood kids in your kitchen, you need a surface underfoot that's comfortable and durable. Since the floor is usually the largest surface in a room, it lays the foundation for the entire look of the space—color, style, texture, and pattern. And a new floor can be a big investment, so you want a surface that will last for years. Your floor choice is about balancing your needs with your style. Here are some considerations to help you pick.
Know Your Style. What colors and patterns do you like? Think about which floor textures appeal to you: the rich grain of hardwood, luxuriously thick carpet or the sleek lines of tile. And take into account your current décor, too. Unless you plan on redecorating on the entire room, you'll want to choose floors that complement the furniture and accessories you have now.
Consider Your Lifestyle. Think about how you use the room. Are you an avid cook who spends hours standing at the stove? Then you may want to skip the tile, which can be uncomfortable to stand on for long periods. Do your kids leave puddles of water on the bathroom floor? You may want to go for that tile, which stands up to water. Do you have pets who track mud into the front hall? Think concrete, Your floor will need to be able to stand up to the wear and tear your family dishes out and accommodate your activities.
Crunch Numbers. Calculate your budget. Keep in mind that along with the cost of the floor material, you may need to incorporate the cost of underlayment, delivery, and installation, as well as removal and disposal of your previous flooring. Don't forget to factor in any additional materials such as baseboards, stains, or adhesives.
Hardwood floors are tough, beautiful and can work in most rooms in your home.