Can I Cover Downlights With Insulation?
Play it safe and follow some of these best practices for insulating around recessed lighting.
Downlights, also commonly known as recessed lights, are an undeniably affordable and popular way of adding lighting to a room. Installed during both new construction and home remodeling projects, downlights offer many advantages to spatially sensitive homeowners by permitting extra lighting that can be easily tucked between ceiling joists to add ambiance without the expense of freestanding or pendant fixtures. However, trouble with downlights starts when homeowners and contractors fail to properly protect the casing of the light that is, quite inconveniently, out of sight and, most definitely, out of mind. The heat that emits into the ceiling space above downlights is something to be mindful of, and perhaps the main reason you would want to be aware of all best practices and manufacturer guidelines before you add insulation into an attic or wall space over the top of downlights. There are ways to safely cover downlights with insulation, but always check the manufacturer's instructions to avoid a potential fire hazard.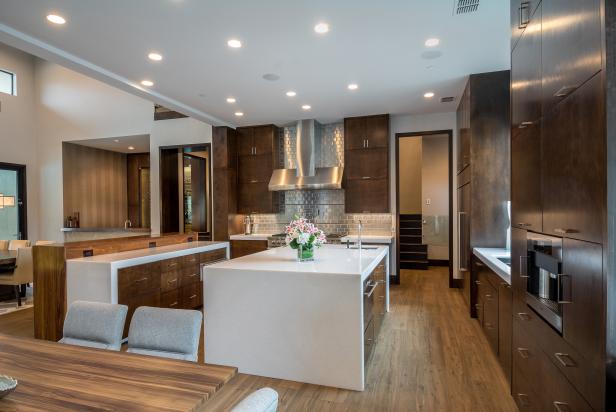 Industrial Meets Organic Kitchen
Industrial meets organic in this one of a kind kitchen covered floor to ceiling in natural wood elements with stainless steel accessories. A large onyx island helps break up the space and creates a great prep space.
Codes for clearance spacing around recessed light fixtures can vary by geography, but lighting safety in the home is nothing to fall short on, regardless of any local leniencies. According to the National Fire Protection Association, electrical distribution or lighting equipment is the leading cause of home fire property damage and also accounts for 7% of home fires. Whether you're a homeowner, a DIYer or a contractor, take the time to become educated about the product options for fixtures, light bulbs and insulation before beginning your project.
IC-rated lights (insulation contact lights) are truly the only lights that are designed to be used in contact or close proximity to insulation in your walls or ceilings. For products that are not IC-rated, it's important to know how to treat the downlights before installing insulation.
Additionally, the type of insulation you choose comes into play, as some are more prone to melting and being hazardous than others.
What are the important things to keep in mind if you need to insulate over downlights in your home?
Choose the safest lighting product for your space:
If you're going to be installing the lights in a ceiling in close proximity to insulation, always opt for the IC-rated product. If your home already has downlights installed and now you're just tasked with laying insulation, such as in an attic space, be sure to purchase recessed light covers with a UL rating to create a protective barrier between the top of the light and the insulation. If you want to be doubly protected, you can also place a second UL-rated housing over the top of the IC-rated lights for extra peace of mind. There is no reason to be conservative when protecting your home from out-of-sight fire potentials.
Be mindful of the insulation product you choose:
Fiberglass insulation has a higher tendency to melt when in close proximity to heat, such as that emitted from a downlight. It fits loosely between joists, which permits air gaps to form around lighting, wires, pipes or other obstructions. Those pathways of air make it easy for a fire to rapidly spread.
Blown-in cellulose insulation is treated with fire retardants and has a better fit around fixtures between the joists. Even with its higher fire tolerance, be sure to add the UL-rated housing around
Mineral wool has a much higher heat tolerance – over 1,800 degrees – and is manufactured using non-combustible fibers.
Aside from longevity and being eco-friendly, LED downlights won't heat up nearly to the degree as their halogen counterparts. A cooler system immediately reduces the chances of fire, and makes them a safer product option if being surrounded by insulation.
Recessed or 'can' lights can be used as task lighting, accent lighting or to illuminate an entire room. They're easy to install into existing wiring, and best of all, recessed lights don't go out of style.