As the king of cool hues, blue is perfect for an elegant bedroom. Follow these tips to find the right shade for your relaxing retreat.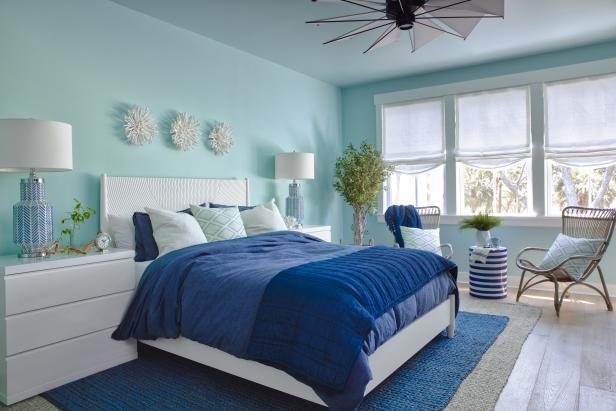 Distinctive Look
The guest bedroom at HGTV Dream Home 2020 has its own distinctive look with luxurious design details. "It's very calm, cool and collected," says designer Brian Patrick Flynn.
Blue is one of the more soothing colors on the spectrum, and it's perfect for the main bedroom. If you haven't considered blue for your bedroom, consider the wide range of shades available. From pale robins-egg blue to deep navy, there is sure to be a shade that suits your decorating style.
In today's main bedrooms, homeowners want to create a peaceful retreat, an escape from the outside world. Cool blue shades create the perfect backdrop for the main bedroom, as well as the main bathroom and dressing areas.
In traditional bedrooms, deeper shades of blue create a stately backdrop for antiques and classic furnishings, as well as artwork. But a deep shade doesn't have to mean a dark shade; there are plenty of muted and pale tones of blue that create a soft look for those who don't want a dark color on their walls. Consider a blue-grey, or a grey with lavender undertones, for a look that is both comforting and romantic.
Blue Transitional Bedroom With Blue Bench
Coral accent pillows on the bed are cheerful contrast in the predominantly blue and white space. The watercolor painting, made by the homeowner's mother, over the chair was the room's color inspiration.
In an eclectic or contemporary bedroom, choose a brighter shade of blue and balance the look with window treatments and bed linens in white and gold tones. Pale blue with white accents, furnishing and fabrics create a look that is both crisp and comforting. Go just a shade brighter and you can create a relaxing tropical feel in your room.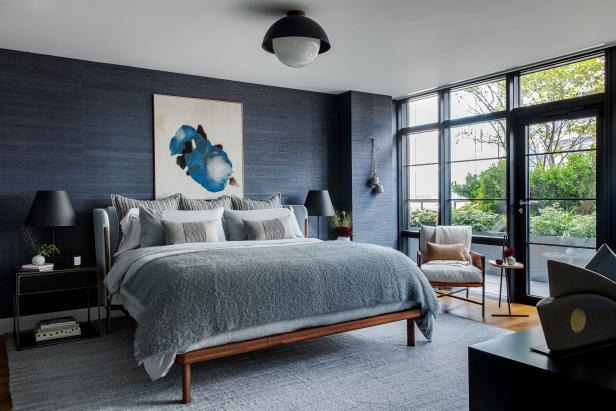 Blue Contemporary Bedroom With Black Door
This apartment's calming, all-blue bedroom also has access to a balcony. The room's plentiful natural light brightens the dark palette and highlights the mixed materials.
Keep these other tips in mind if you're planning to paint your main bedroom blue:
Blue is a perfect color with which to mix shades or use the ombre technique, in which the color is graduated from light to dark.
Painting light blue on your ceiling gives the look of greater height.
Paint just one wall in a bright or deep shade of blue for a color pop that doesn't consume the room. Other walls can be painted dovetail grey, cream or white.
Navy blue or indigo paired with white can create a stunning and crisp contrast, with more warmth than black and white combinations.
If a bedspread or comforter you love has blue in it, choose that shade for your walls. If it's a bright or very dark shade of blue, paint just one wall, so the color doesn't overwhelm the room.
Blue looks great with furnishings in a wide range of wood tones, but it looks particularly elegant paired in white or cream.
Treat yourself — and your bedroom — to a little R&R with a tranquil main suite color makeover.