Soothing gray is a good choice for the main bedroom, with a wide range of shades from which to choose.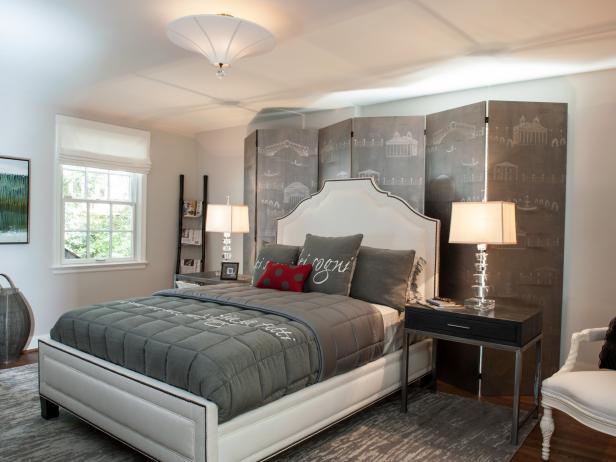 DP_Wendy-Danziger-Guest-Bedroom-3_4x3
A bedroom designed for the traveling guest, Wendy Danziger of Danziger Design overcame room challenges by commissioning a custom screen by Billet Collins to hide an off-center window and enhance the room's silvery gray and white color scheme. French memo boards cover the closet doors, while tourist info on inside shelves and a doggy bed for the traveling pet complete a cozy place to call home if only for a while. Photography by Robert Radifera/DC Design House
Gray is soothing and cool, a good choice to turn your main bedroom into a relaxing sanctuary. You have many shades to choose from, ranging from the palest gray-white to deep slate.
Gray lends itself to contemporary furnishings, but it can also look beautiful in a room decorated in an eclectic style. For instance, mixing traditional pieces with lamps in brushed metals is a look you can carry into your main bath.
Pale gray is a good alternative to white if you want a look that is more muted and soft. This shade will also work well as a backdrop to any accent colors you want to bring into your bedroom's decor. You can also layer pale gray with deeper shades of gray for a rich look. You can even go shabby chic with gray if you like.
For a look that is both cool and elegant, pair gray with white, creating a neutral palette that will allow you to choose — and easily change — accessories in your favorite accent colors.
For a variation of gray that has a little warmth to it, try taupe. For even greater warmth, taupe can be layered with rich browns.
For a touch of rich color, combine gray with navy or a deep red such as crimson or burgundy. For a look that is both classy and soothing, pair your favorite shade of gray with a soft lavender tint.
For the ultimate in contemporary sophistication, coat your walls in slate and splashes of white, red and black. If red and black are too intense for your tastes, try touches of orange and teal or turquoise. For an even softer look, try touches of moss green or pale pink or peach. Gray with touches of yellow in trim, pillows and other accessories can create a look that is soothing and sunny.
For a masculine look, go with gray walls and furnish with dark furniture pieces with clean, modern or contemporary lines.
If you're concerned about gray looking too drab on your walls, choose a soft blue-gray. This shade looks great with either contemporary or traditional furnishings, and it looks particularly elegant with silver accessories or even a crystal chandelier. You can choose a blue-gray in the shade or intensity that works for you. Blue-gray looks great paired with a warm color such as taupe or brown. A blend of two blue-gray shades, warmed with a dark wood floor and furniture, creates a look that is soothing without being too monochromatic.
Other Main Bedroom Paint Ideas
Get More Ideas for Bedrooms