Bedroom Closet Ideas and Options
It's one of the most used and often most abused spaces in your home — the bedroom closet. Find out how to organize it with these practical storage solutions.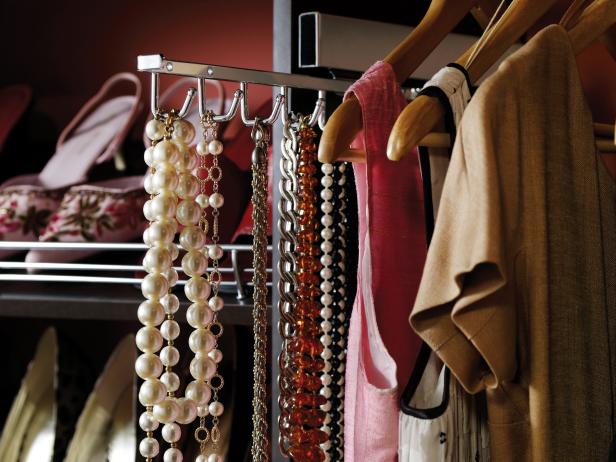 Chic Master Closet With Tie Rack
While a jewelry drawer insert is great for most knickknacks, a person with multiple long necklaces may need a different type of storage. A great way to decorate your closet, show off your favorite gems and make accessories handier is a tie rack. They're great for necklaces, scarves and, of course, ties.
By:
Caroline Shannon-Karasik
The bedroom closet is one of the most-used spaces in a home, but it can often also be a messy, disorganized space behind those sliding closet doors. With a few simple storage solutions, your bedroom closet can be the organized oasis you always dreamed it would be.
Start by categorizing all of your clothing into individual piles. Use storage containers to stow away out-of-season clothing and place it on a shelf until it is needed. Make locating your clothing easier by purchasing a particular color of hangers for each member of the family.
Consider hanging hooks on the wall to help keep belts, scarves and ties up organized. A shoe rack or shelf that sits on the floor is also helpful for keeping shoes in one place. Shoeboxes are also a useful option if it is easier to store shoes on shelves.
If you have his-and-her bedroom closets, then you might consider more customizable options, like a tie rack or jewelry organizer. If drawers are available, consider dividers that can help to keep lingerie or small accessories from becoming a tangled mess.
More Closet Organization and Storage Ideas
Other Closet Storage Ideas