Designer Naomi Stein transforms a dull space into a sophisticated multipurpose room for a teenager.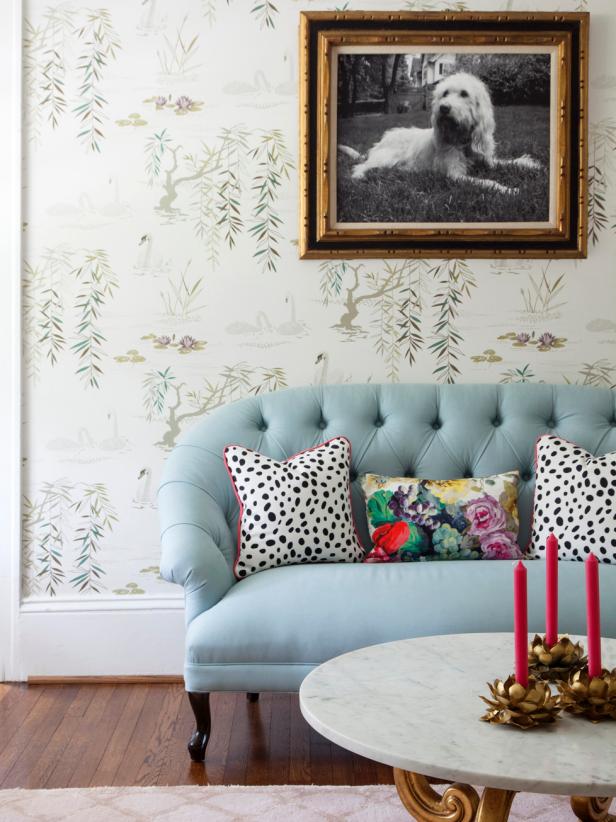 Feminine Traditional Living Room With Dog Picture and Blue Sofa
Whimsical Dalmatian dot pillows and a photo of the homeowners' shaggy pup adds a personal touch to the girly room. New throw pillow are an affordable and easy way to refresh your living room look. Mix on-trend patterns, like polka dots and florals, to get the most visual bang for your buck. The elegant, tufted blue sofa brings a nice, soft solid against the patterned wallpaper and pillows.
Designer Naomi Stein of Design Manifest loves any opportunity to create glamorous spaces. Starting with a clean slate – new hardwood floors and freshly painted white walls – Stein mixed custom furniture with a svelte settee and vintage finds. The end result was a cohesive and beautiful space that functioned as a dressing room, study and teen social club.
Stein shares how she turns a formerly awkward space into a fun girly hang out.
What was on the homeowners' wish list?
My clients wanted to maximize an under-used space and turn it into a multifunctional room where their daughter could do homework, hang out with friends and store clothes. They also wanted to upgrade the space and put in hardwood floors. The girl was enthralled at the idea of having a fancy private hang out spot ... her own little sanctuary.
What was the biggest design challenge?
The biggest challenge was how to come up with a functional floor plan in a room with four doors, very limited wall space and an interfering radiator that took up so much of the room.
How does the end result match your original vision?
We definitely achieved the overall glamorous look we wanted, but we used a lot of vintage finds to counterbalance the splurge on wallpaper and built-ins. What those vintage pieces would look like in the room, however, was unknown. Shopping vintage can be tough because it's one-of-a-kind and if you pass it up and go back for it later, it can be gone. It took three tries to finally come home with a winning coffee table!
What lessons did you learn?
Size and scale are crucial to good design. Built-in furniture can often overpower a space and make it feel cramped, but if it's appropriately scaled for the size of the room, it can positively transform it. The same goes with freestanding furniture: before, the desk and bookshelf crowded the entry, but now the place feels brighter, larger and welcoming.
What are the "hidden gems" of this design?
The simple white and Tiffany blue Greek key Roman shade may be my favorite thing here. It's so subtle, yet adds a perfect level of tailored chic to the room.