Browse ideas for high-end home theaters, and get inspired to create a state-of-the-art, elegant and entertaining space in your home.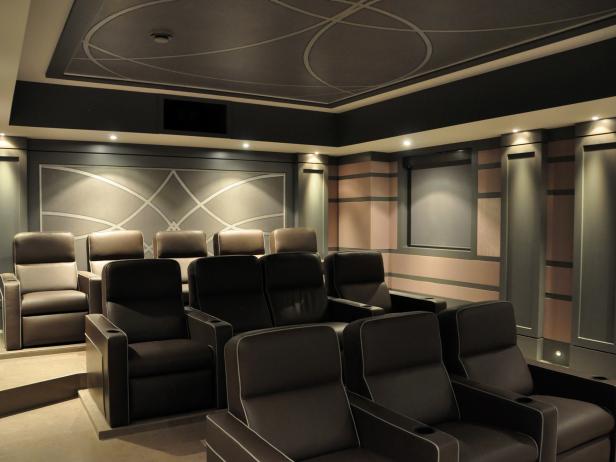 CEDIA2013_HT11_distinctively_designed_seating_lighting_audio_home_theater_h
The B&W Custom Theatre series 7.1 channel speaker array, with the Runco LS5 projector with Whitney anamorphic lens, the Crestron control system and the Kaleidsecape system with K-Vault Blu-Ray disc storage are all outstanding features of this luxury theatre. Custom designed patterns decorate the room from wall to ceiling.
If you're planning to upgrade an existing home entertainment space or install a new one, and only top-of-the-line fixtures, furniture and electronics will do, then you'll want to browse ideas for high-end home theaters during your planning phase. Home theaters in general are becoming quite common as homeowners look to create convenient, comfortable and fun spaces for guests to sit back and enjoy the show. And many homeowners who invest in these spaces want to ensure that they'll be up and running for years to come and that they'll provide guests with the optimal experience.
When you begin planning your high-end home theater, you'll first want to identify the location that's right for your home. Any home theater needs to be a cocoon when it comes to light and sound—in particular when it comes to letting light in, or sound in or out. For this reason, it's important to choose a space for your high-end home theater where you'll have utmost control over these factors. Popular locations for high-end home theaters are basements, spare bedrooms or even entire outbuildings or guesthouses—places that are self-contained, quiet, and allow for guests to focus on the action on the screen instead of everyday noises in the home.
Once you've decided on a location for your high-end home theater, you'll want to consider the technical, audio-visual and design requirements. If you've already decided that the theater will be state-of-the-art, some decisions will be easier—and in fact, you may want to research high-end home theater contractors via the Custom Electronics Design and Installation Association (CEDIA). Finding a contractor who can source the best quality wiring, lighting fixtures and top-of-the-line electronics may be an important factor in creating a high-end home theater that conforms to your expectations. If, however, your plan is to install a high-end home theater yourself or with minimal expert help, you'll want to start with custom wiring—for a high-end home theater, you'll definitely need it for lighting, video, audio and internet access. In a high-end space, ensuring that all wiring is discreetly secreted behind the walls is a must, so make sure that as the space is being built out, the wiring scheme is accounted for early in the process.
When the wiring's done, it's time to consider the audio-visual and electronic equipment you'll choose for your high-end home theater. The sky is the limit here, in terms of sight, sound, and media delivery—for example, you might choose to pair a giant projection screen with a set-top box that can serve HD content, or opt for a more traditional setup of a big screen TV and Blu-Ray player. Whichever way you're leaning, you'll want to investigate state-of-the-art electronics options via any number of online or brick-and-mortar retailers, or consult professional home theater installers for their opinions on the best audio-visual products on the market.
When the AV situation in your high-end home theater is determined, you'll want to turn your attention to the decor. Many high-end home theaters reflect a traditional cinema feel, featuring stadium seating, noise-cancelling wall paneling, and furniture with special features and amenities. The scope and layout of the room will be a major consideration when it comes to the variety of furniture and accessories you'll choose. Larger, more elaborate high-end home theaters sometimes employ a design that reflects a movie-house experience, while smaller spaces may be more akin to a luxurious media room and feature arrangements of chairs and couches where guests can settle in and enjoy the show.
More Home Theater Design Ideas