How to Edit and Organize Your Media Collection
Remember life before digital media? In a world of MP3 files and online streaming, CDs and DVDs feel like clunky dust collectors. Follow these steps to winnow down your media items and free up storage space.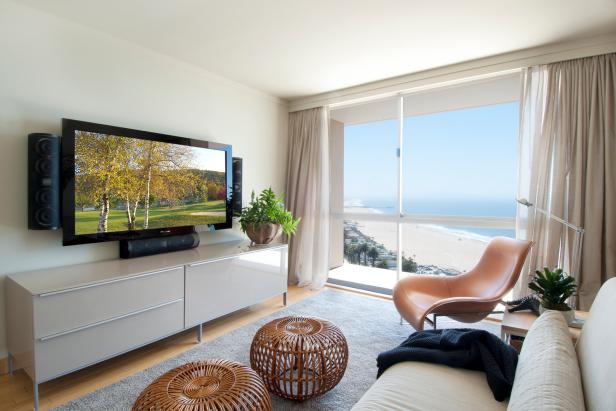 Modern Oceanfront Living Room With Rattan Ottomans
Vintage rattan ottomans pair perfectly with a sleeper sofa from Linea and lightweight linen sheer drapes in this modern living room. The neutral space has large windows for letting in natural light and enjoying the oceanfront views.
Give your collection a little tough love. Movies you've had since college, video games your kids have outgrown, music you no longer like — these things all need to go. Give away or sell old VHS tapes (yes, some people still use them), DVDs, CDs, game cartridges and more. If you haven't watched, played or listened to it in several years, odds are you never will. Put it in the discard pile and don't second-guess.
Transfer as much music as possible to digital storage. It's time-consuming, but saves enormous amounts of space in the long run. Upload your CDs to a media player or onto the cloud, but be sure you have a way to back the files up in case they get deleted from your account by mistake.
Consolidate your collection into soft case binders. If you want to keep any original CDs, cover art and/or liner notes, consolidate them into soft flipbook-style binders. Sort them according to whatever method makes most sense for you: alphabetically by artist, chronologically, according to genre, etc. Consider donating the plastic jewel cases to a library or school that can use them to replace broken ones. Remove video games and DVDs from their packaging and consolidate them into binders as well.
Decide on a place to store your pared-down collection. The rule of thumb is to keep media items close to where you'll use them, i.e. video games go next to the controller and console. Although you can purchase specially configured racks, bins and shelving, there's no need to get fancy. Just make sure to choose a spot or a storage piece that keeps everything neat and sorted, either in view or out of sight.