Storage Tips for Fine China
Learn the right way to store your fine china to keep it in tip-top shape for your next special occasion.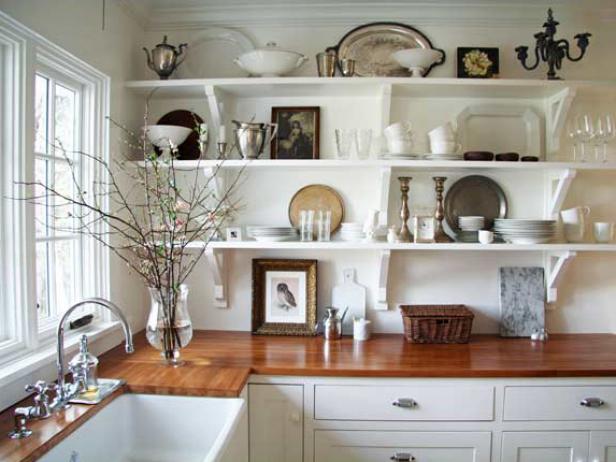 CI-Trina-A-Country_Farmhouse-Kitchen_s4x3
If your kitchen is short on cupboards or if you just want to make it seem more spacious, opt for open shelving. You can show off your favorite dishes while keeping your kitchen feeling open, airy and a little less small. Image courtesy of A Country Farmhouse.
In a perfect world, we'd all use our fine china at least once a week, rather than just on major holidays. But let's face it: For the average family, there simply aren't enough hours in the day to hand-wash the Limoges in the midst of homework, sports practice and household chores. Even so, you can take steps that keep it in peak shape for those time where you do haul it out.
Choose a storage spot with low traffic. A dining room hutch or cabinet is an obvious solution. But if you don't have one, it's perfectly OK to claim an unused shelf in the linen closet, the space under the guest bed, or even the attic or basement, provided it's temperature-controlled (too hot or too cold and you risk damaging the china). The key is to pick a place that's out of the way of your daily routine, so china isn't subject to jostling and jumbling.
Cushioning is everything. The top china hazards? Chips and cracks. Guard against them with protective padding: when stacking plates, saucers and bowls, sandwich a thin foam or felt sheet between each one (paper coffee filters work in a pinch). For extra protection, nestle dishes into soft-sided china storage containers, available from houseware suppliers.
Keep stacks small. Avoid piling more than eight to 10 dishes together. If you go too high, they're more likely to slide and smash. Large piles also put unneeded stress on the dishes at the bottom of the stack.
Hang cups on hooks or store them right side up. The rim is especially prone to damage, and placing them upside down exacerbates the potential for nicks and scratches
Be careful when displaying china on open shelves. Hutches look lovely when they're packed with a collection of dishware, but be sure the shelves have defined grooves into which the edges of plates can sink. Otherwise, they're prone to rolling and slipping. Also, don't crowd plates and bowls next to each other; you don't want them to bang.