Making Sense of the Mudroom Drop Zone
A little planning can help you keep kids' belongings and other clutter from taking over.
Photographer: Chris Constantine
If you have children, you know that the area just inside your home's entrance or mudroom can be one of the most challenging places to keep tidy and organized. Even if you have a mudroom designed to hold school bags, sports equipment and jackets, this drop zone can quickly end up looking like a landfill. How do you tame all of the stuff?
"A lot of this depends on the age of the child," says Amy Trager, CPO, a Chicago-based professional organizer and member of the National Association of Professional Organizers. The place where a child is expected to place their things should be easily accessible. "Think about what the child can reach on his or her own," she says. "It also shouldn't be overly complicated. Have a bag ready to go for each after school activity. Grab it and go."
While jackets and sports equipment should go in one place, school papers should have a drop zone that Mom or Dad will see, Trager says. This will probably not be in the mudroom, but a designated spot on a desk or countertop.
"There should be a designated spot to drop permission slips or other papers to come home. There should also be a stash of supplies for homework — paper, pencils, calculator," she says. "Organize by how your child approaches the work. Is it by due date? Or is it by subject? Keep like items together. This way, homework lands in and is worked on all in the same place. It decreases the chances of forgetting something."
When designing your mudroom drop zone, consider shelves or cubbies for shoes topped by a seat, which make it easy for family members to pull off rain boots or muddy cleats. Make sure hooks for jackets and other outerwear are within easy reach of little ones. You might want to install a charging station or two for personal electronics, especially if your drop zone is a landing place not just for kid stuff, but also for the adults in your household.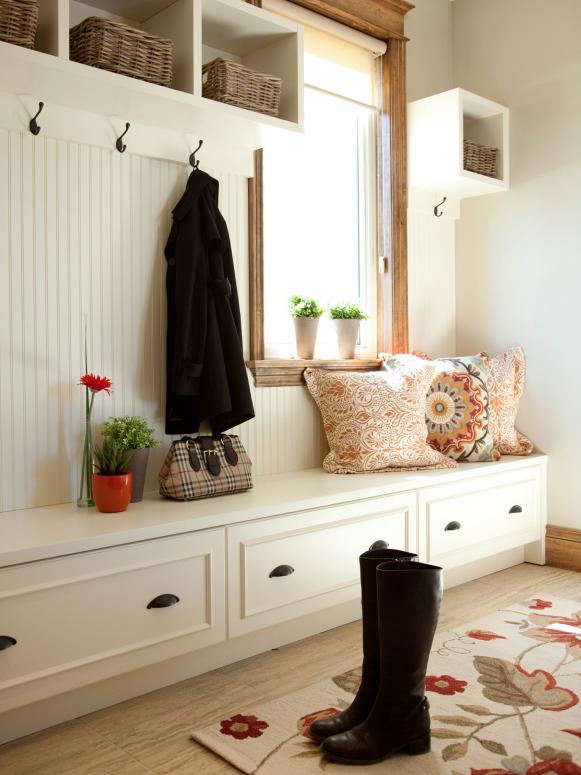 White Mudroom With Built-In Drawers and Cubbies
The Lakeshore Designs team gave this mudroom a crisp, tailored feel while still making it ultra-functional. Baskets inside high cubbies conceal loose items such as gloves, while drawers keep footwear and other gear hidden away. Even coats and bags hanging from the hooks won't look untidy, thanks to the clean backdrop. Throw pillows and a cheery rug make the space feel polished.
When it comes to keeping grown-ups' things in order, the same guidelines apply, Trager says. "Keep like items together, and try to limit it to items entering and exiting the house. Have one spot for keys, wallets, sunglasses," she says. "As is the case with the kids' drop zone, make sure this area is in a place everyone can easily access that won't be in the way of kids or guests using the entrance."
Once you have your mudroom storage system in place, you'll need help from the entire family to maintain it and keep clutter from accumulating. To give kids an incentive, have their afternoon snack ready after they put all of the things, including their school papers, in the proper place. Then be sure to go through school papers to ensure that homework, permission slips and other details are covered and ready to return. Having a routine will help mornings go more smoothly, whether you're running school carpool or heading out to a weekend ball game.