How-to: Picture Frame Headboard
Create this fun DIY from the pages of HGTV Magazine.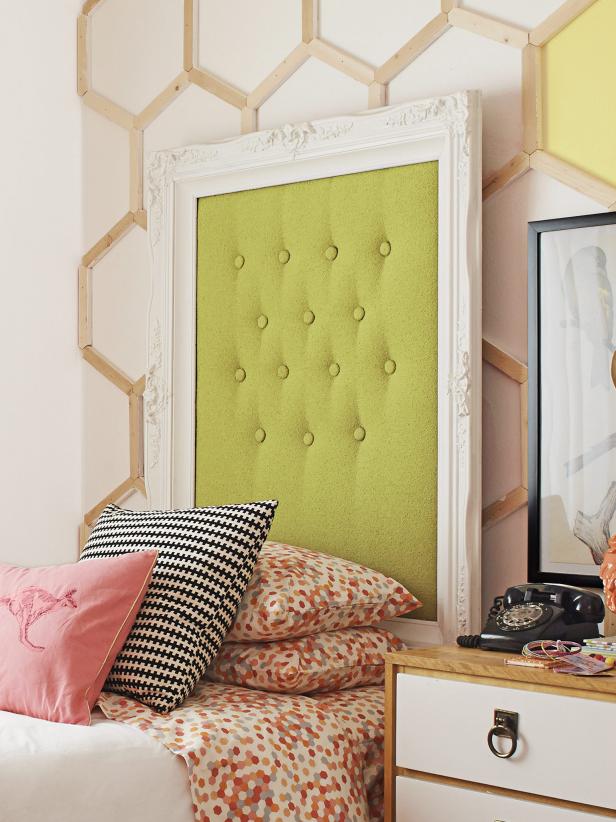 Craft a Headboard from an Old Picture Frame
HGTV Magazine: An upholstered headboard made using a 39-inch-by-50-inch frame from a local thrift store took Miss Dylan's bed to princess-like status. First, mother Mandi Gubler painted the frame white. Next, she wrapped a piece of plywood with batting, covered the front in fabric, and fit it into the frame. To get a tufted look, she stapled down the fabric in 14 places, then hot-glued a fabric-covered button over each staple. Check out HGTV Magazine for step-by-step instructions on this project.
paint
paint brush
picture frame (39" x 59" works for twin bed)
1/2-inch plywood (sized to fit inside frame)
batting
fabric
staple gun
hot glue
buttons
Paint a 39-inch-by-50-inch frame and let dry.
Wrap a ½-inch thick piece of plywood with batting and cover the front with fabric. Staple fabric taunt in back.
Fit the plywood into the frame and mark spots for tufts, then staple each one and hot glue a button over each.