How to Make a Beaded Boho Chandelier
If you love the look of high-end beaded bohemian light fixtures but they're out of your budget, craft this DIY version that's a temporary update to an existing fixture, instead.
We're sorry, there seems to be an issue playing this video. Please refresh the page or try again in a moment. If you continue to have issues, please contact us here.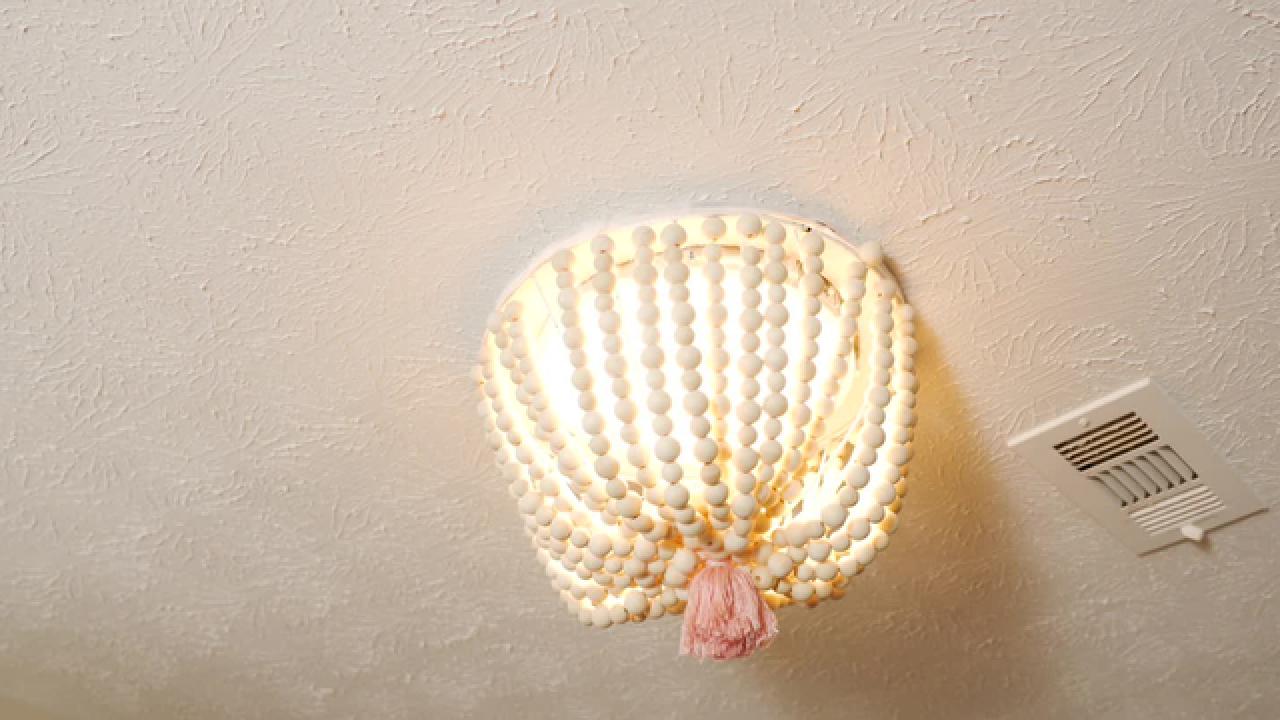 hanging wire basket
wooden craft beads
needle
fishing line
spray paint in the same color as your ceiling
drop cloth
glue gun + sticks
white grosgrain ribbon
white cardboard
tassel
heavy-duty adhesive strips or hook-and-loop tape
Take a measurement from the basket's lip to the center of the base to determine how long the bead strands need to be for your particular basket. Tip: Remove the hanging chains but don't toss them out, they'll be handy later when you're attaching beads.
Remove any dust, then spray paint so the basket will blend in with your ceiling's color. Allow a few hours for the basket to thoroughly dry while you work on the next step.
String the wooden beads onto pre-cut sections of fishing line, alternating different size beads. Knot the ends so the beads don't fall off but leave extra line at the end of each strand to attach to the basket later. Make the strands long enough so they'll hang loosely from the basket.
Attach Strands to Basket's Top
Temporarily re-attach the chains and hang the basket, then knot beaded strands to the the basket's top. Use a drop of hot glue to prevent the knotted strands from shifting.
Knot the lower end of each strand to the center of the basket's base.
Use fishing line to stitch a 1-inch-wide, white cardboard ring around the top of the basket. Hot-glue a piece of grosgrain ribbon around the top to hide the cardboard and give the fixture a more finished look.
Attach temporary, heavy-duty adhesive strips along the side of the cardboard where it'll meet the ceiling.
Remove the paper backing each adhesive strip, then attach basket by pressing the cardboard frame firmly against the ceiling, covering your existing light fixture. Note: You can also use heavy-duty hook and loop tape to secure it to the ceiling.
Finally, knot on a tassel in a coordinating color. Tie it to the base, then secure with a bead or two of hot glue.