Would You Try These Wild Wallpapers?
Not sure if a daring pattern is for you? These homeowners say, 'No regrets!'
Keep in mind: Price and stock could change after publish date, and we may make money from these affiliate links.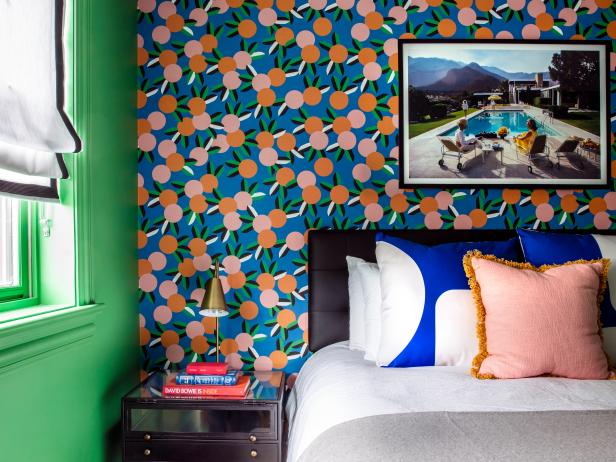 Colorful Bedroom With Graphic Citrus Wallpaper
HGTV Magazine presents this modern bedroom with green paint, graphic citrus-print wallpaper and art over the bed.
Whether it's a timeless pattern or a totally temporary design, the editors of HGTV Magazine are wild about wallpaper. They found the boldest, quirkiest patterns and asked the homeowners what it's like to live with these daring designs every day. Take a look at these adventurous papers and get inspired to walk on the wild side of wallpaper.
For her pre-teen daughter's bathroom, Dallas homeowner Maria Bailey wanted something colorful and different, and they were both drawn to this busy tropical floral pattern. "It's a look that will last through her teen years — I want to say she'll love it forever," says Maria. (Wallpaper by Kitty McCall for Milton & King; Room design by Ashley Dalton)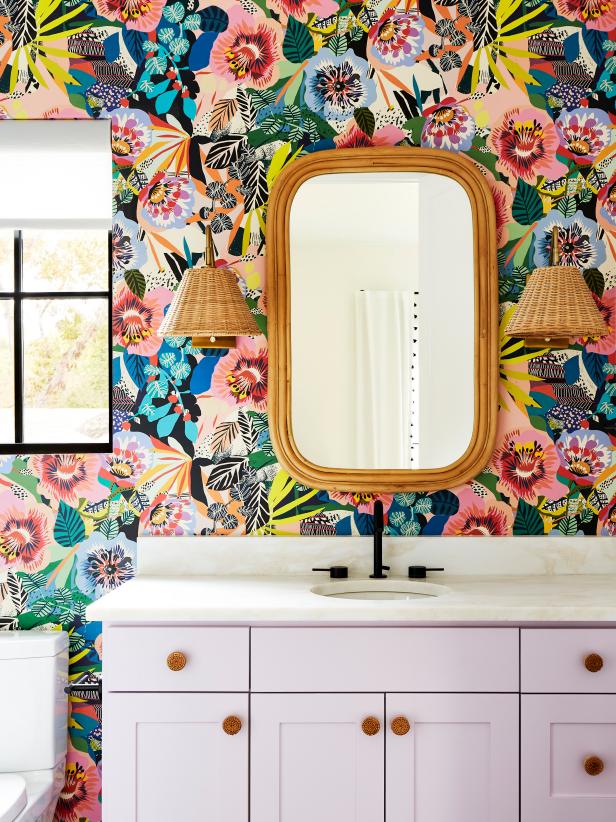 Colorful Bathroom With Bold Floral Wallpaper and a Lavender Vanity
HGTV Magazine presents this bold bathroom with bright, floral wallpaper, rattan sconces and a pale purple vanity.
Yanglin Cai; Ashley Dalton Interiors
When Nashville homeowner Laurie King found out this wallpaper was scratch-and-sniff, she was sold. "It's perfect for the family room in our Airbnb in town, because we're trying to create a unique, quirky experience." Guests staying in nearby units often come by to check it out. (Wallpaper by Michael Angelo for Flavor Paper; Room design by Jessica Davis)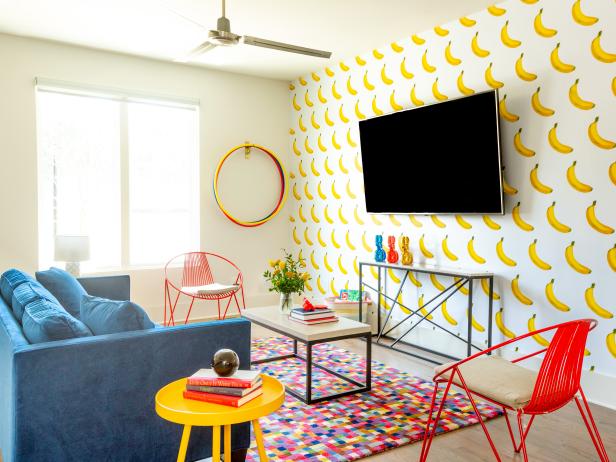 Colorful Family Room With Eclectic Wallpaper
HGTV Magazine presents this playful, colorful living room with banana-print wallpaper, a blue sofa and a multicolor rug.
Leslee Mitchell; JL Design
Homeowners Julie Hill and Erica Lundberg say that having this oversized print actually helps their Brooklyn condo feel less busy. "We have a 7-year-old and there's always a lot of stuff around, but looking at the pattern makes everything disappear. It's weirdly calming," says Julie. The couple had been drawn to blues and greens but fell for this design because it complements their sage cabinets. (Wallpaper by CW Stockwell; Room design by Mercedes Kerrison)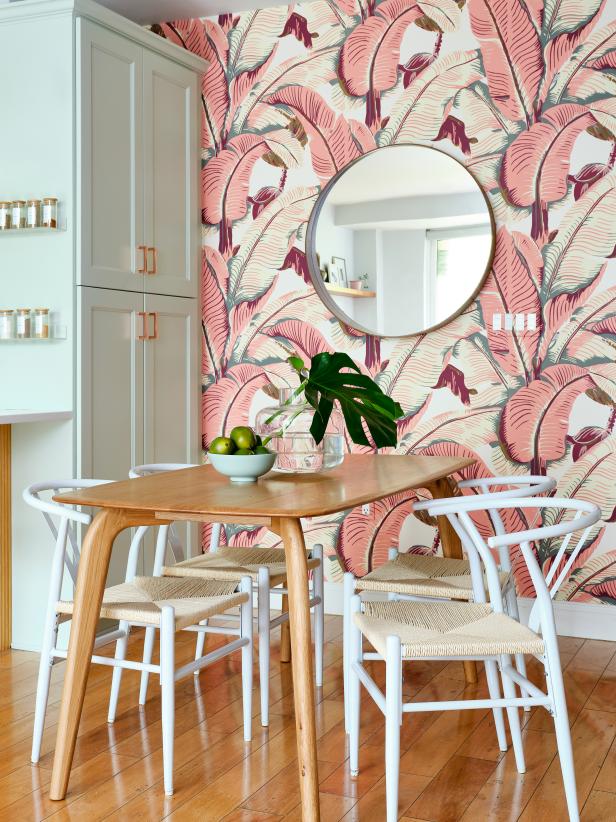 Modern, Tropical Dining Room With Wallpaper
HGTV Magazine presents this colorful, modern dining area with pink palm wallpaper and a light blue cabinet.
Sean Litchfield; Abode Interiors
This bar is part of a guest suite in Sabina Stone's New Canaan, Connecticut, home. Tile would have made the space feel like a kitchen in the middle of a bedroom, she says, so she chose this wallpaper in a custom aqua that matches the cabinets. "The pattern is on only a small patch of wall, but it makes a big impact," she says. (Wallpaper by Openshop for Flavor Paper; Room design by Denise Davies)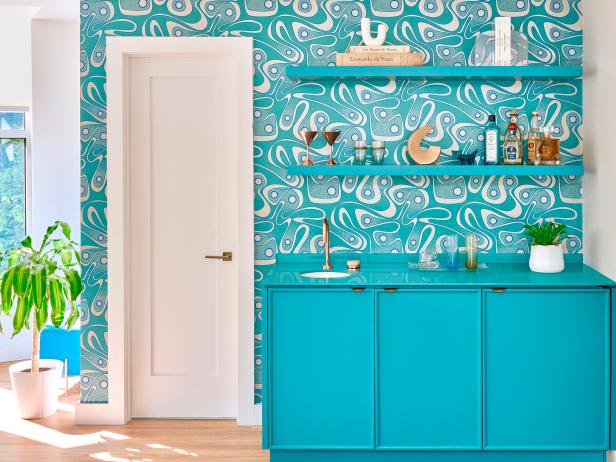 Midcentury Modern-Style Blue Bar Area
HGTV Magazine presents this bold, teal blue bar area with midcentury modern-inspired wallpaper.
Jane Beiles; D2 Interieurs
"We're a big tennis family, and we store our rackets in the mudroom, so this pattern fits us perfectly," says Bethesda, Maryland, homeowner Rachel Rosenthal. When the paper, which she found on Wallshoppe, first went up, "it was a big shock," she says. "But now I feel excited every time I see it — I only wish I'd done it sooner." (Wallpaper by Clare V.)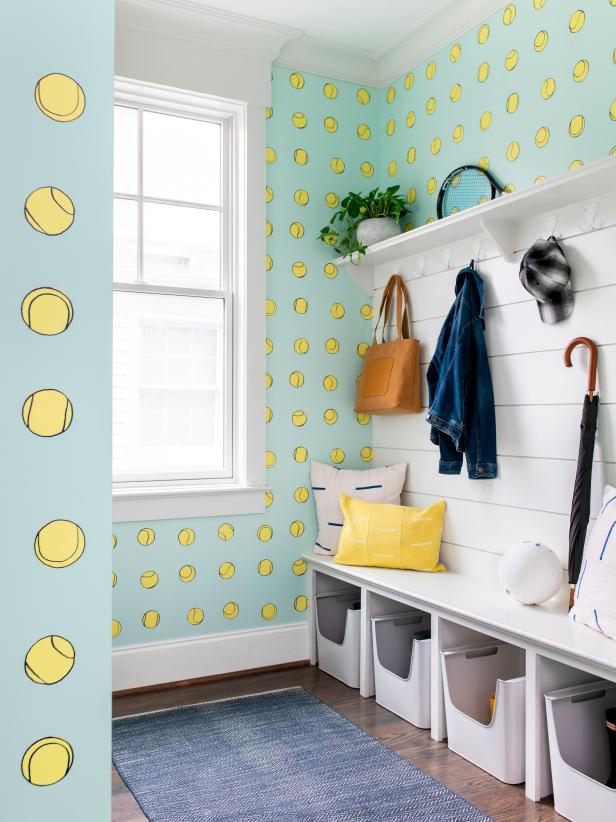 Bright, Happy Mudroom With Wallpaper and a Storage Bench
HGTV Magazine presents this quirky, playful mudroom with tennis-themed wallpaper, shiplap and a storage bench.
Laura Metzler Photography
"It's not like me to choose such a loud design, but I'm so glad I did because these colors make the room," says Chicago homeowner Celine Collins. This pattern reminded her of orange trees in Southern California, where she grew up. "This is my guest room, and everyone who stays here tells me how much they love it!" (Wallpaper by Rob Wilson for Look Walls & Interiors; Room design by Jasmin Reese)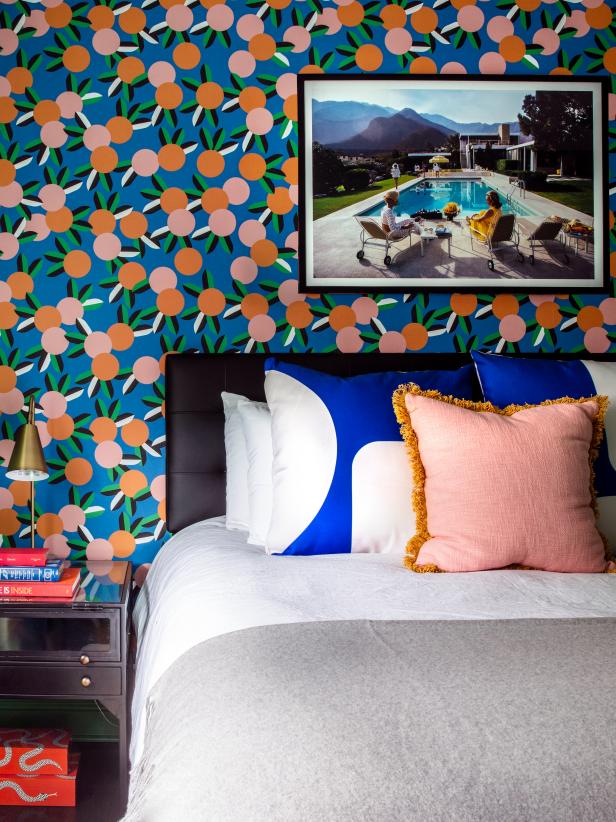 Eclectic Bedroom With Citrus Wallpaper
HGTV Magazine presents this modern bedroom with green paint, graphic citrus-print wallpaper and art over the bed.
Looking for more fun patterns? Start here.