Canning 101: Spiced Apple Pie Filling Recipe
Preserve fall flavors and impress your friends and family with this canned apple pie filling presented as holiday gifts. The recipe gets an extra kick from spiced rum.
We're sorry, there seems to be an issue playing this video. Please refresh the page or try again in a moment. If you continue to have issues, please contact us here.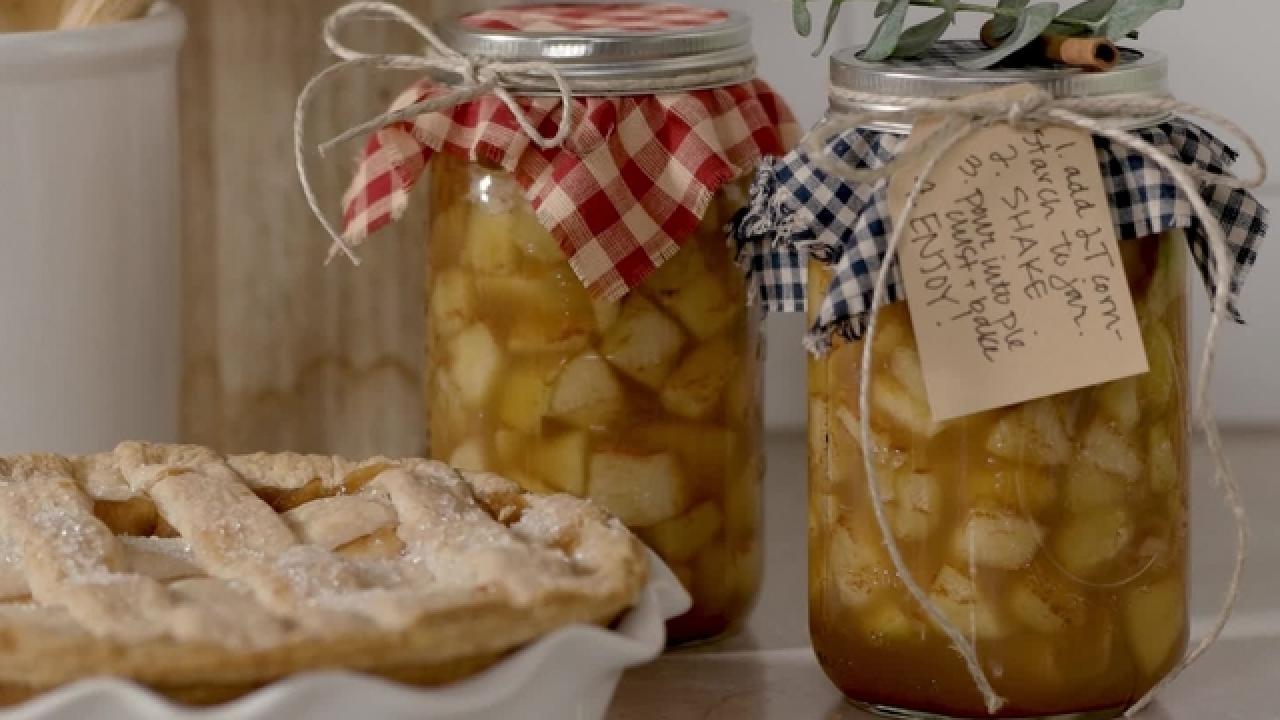 Note: I recommend that beginners buy the canner with accessories in a canning starter kit.

water bath canner
quart jars with lids and bands
jar rack
jar lifter
jar funnel
stainless steel ladle
knife
sauce pan
Makes 4 quarts, adjust as necessary.
15 cups peeled, cored and chopped apples (we tested with Granny Smith)
2 cups sugar
1-1/2 cups water
3 cups spiced apple cider
1 teaspoon allspice
½ cup spiced rum
½ cup plus 2-3 tablespoons lemon juice
1. Prepare apples. Peel, core and chop coarsely, then soak in water mixed with 2-3 tablespoons lemon juice (to retain nice color) while you prepare the syrup for the filling. Drain before adding to the jars.
2. Make the syrup. Combine sugar, water, spiced apple cider and allspice in sauce pan and simmer over medium heat, stirring until thickening into a syrup. Add spiced rum and ½ cup lemon juice, and bring to a boil. Continue to stir over boil for a few minutes while the syrup thickens. Remove from heat.
3. Can the filling. Sterilize the quart jars and lids in simmering water in the water bath canner. Using the funnel, fill jars with drained apples about 2 inches from the top. Continue using the funnel (it's your new best friend) to pour syrup over apples, leaving 1 inch of head space (this allows room for expansion in the jar during processing). Remove air bubbles by running a sterilized knife around the inside of the jar. Wipe the rim of each jar with a clean towel, then attach lids and bands. Lower each jar into boiling water; jars should be covered by at least 1 inch of water. Process in boiling water for 25 minutes or more. (Processing time for canning depends on altitude.) Remove the jars and cool on a kitchen towel. Placing hot jars directly on a countertop may cause them to crack. Lids will make a (very satisfying) "pop!" noise when sealed. Check for a good seal after 24 hours. A good seal means the lids won't flex when the center is pressed.
4. Decorate gift jars. Add labels and embellishments, such as placing a square of fabric between the lids and bands and adding a gift tag. For use as pie filling, cooks will need to add 2 tablespoons of flour to the mixture before dumping into a prepared pie crust, so be sure to include this note in your gift. Otherwise, the quart jar is the perfect amount to fill a standard pie crust. The filling also works well as an ice cream or pancake topping.
Beginners: Don't be scared! Canning is easier than it sounds. Consult these articles and galleries for more in-depth canning advice on what to do (and what not to do), and above all, have fun.
Learn canning basics and what you'll need to can your produce safely and effortlessly at home.
Try these troubleshooting tips to avoid common canning mistakes.
Extend your harvest year-round by putting up your produce.