Beach Hack: How to Make a PVC Cupholder
Keep your drink cold and free of sand with this clever DIY project.
We're sorry, there seems to be an issue playing this video. Please refresh the page or try again in a moment. If you continue to have issues, please contact us here.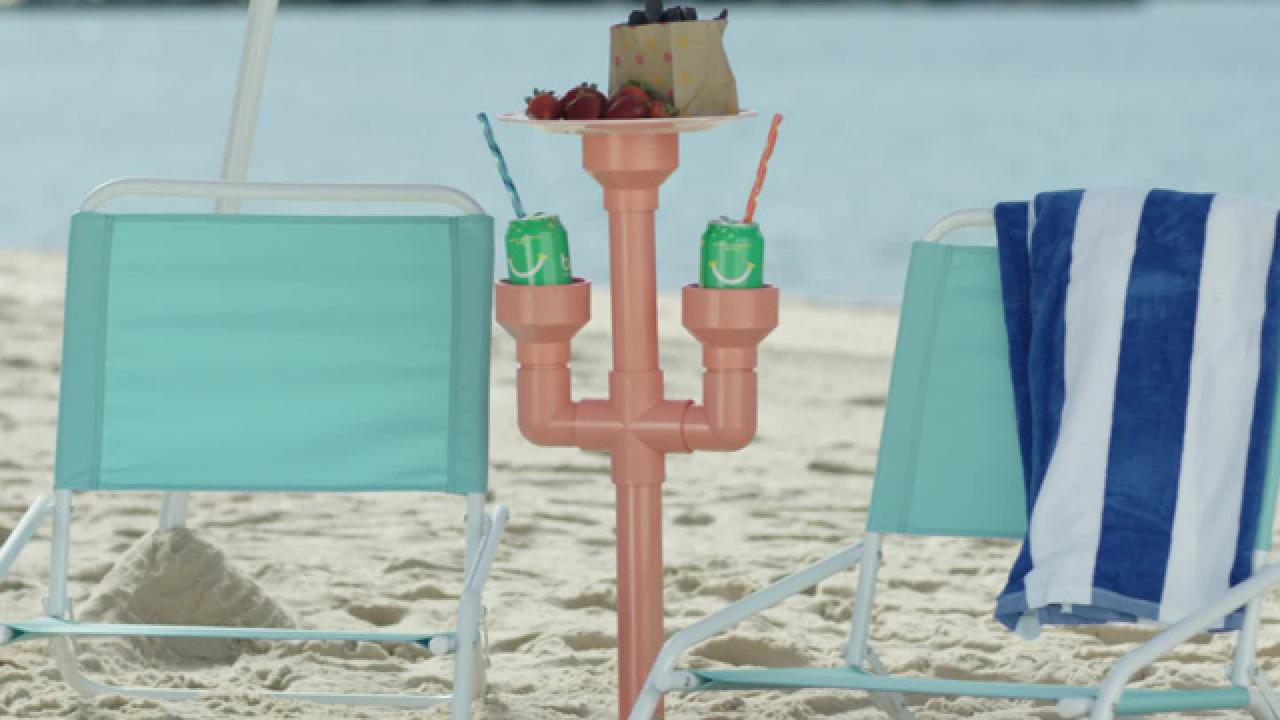 Sipping on a cold beverage at the beach is great until you realize there's really not a good place to sit your drink. Sure, you can put it on the ground, but someone could kick sand into it. Yuck. You can set it on a makeshift table, but the wind could blow it over. The ultimate solution might be to make a PVC beach cupholder. Here's how to do it:
2 90-degree elbows
2 1" pipes
3 reducing couplings (1.5" to 4")
8" pipe
15" pipe (cut at 45-degree angle)
equal cross
Gather all of the PVC pipes from the materials list above and spray paint them your favorite color.
The first step in assembling the cupholder is to attach a reducing coupling to the bottom of a plastic plate. Set the plate upside down and add two-part epoxy to the largest opening of the reducing coupling. Center the reducing coupling in the middle of the upside-down plate and press down slightly to secure.
Next, add epoxy to one of the openings of the 90-degree elbow and insert the 1" piece. Repeat this one more time so that you have two.
When you arrive at the beach, stick the 15" piece into the sand, attach the equal cross on top of that, insert both of the 90-degree elbows you created to the side of the cross and top with reducing couplings that will serve as the cupholders.
Finish the whole project off with an 8" piece and on top of that and add the plastic plate from earlier on top.
The only thing that's left to do is to kick back and relax.