The Best Beach Towels to Pack for Your Next Vacation
From personalized to sand-free, these are the beach towels we're obsessed with this summer.
Keep in mind: Price and stock could change after publish date, and we may make money from these affiliate links.
What are the makings of a perfect beach towel, you ask? We have a few must-have factors when making your shopping shortlist for vacation.
The perfect beach towel is plush to touch yet ultra-absorbent when drying off after a swim. It stows seamlessly in your tote bag, then is surprisingly roomy when you unroll it for the day. Sand does not stick to any of its nooks, crannies or tassel trim, and you never find any unsightly lint stuck to you after your seaside siesta.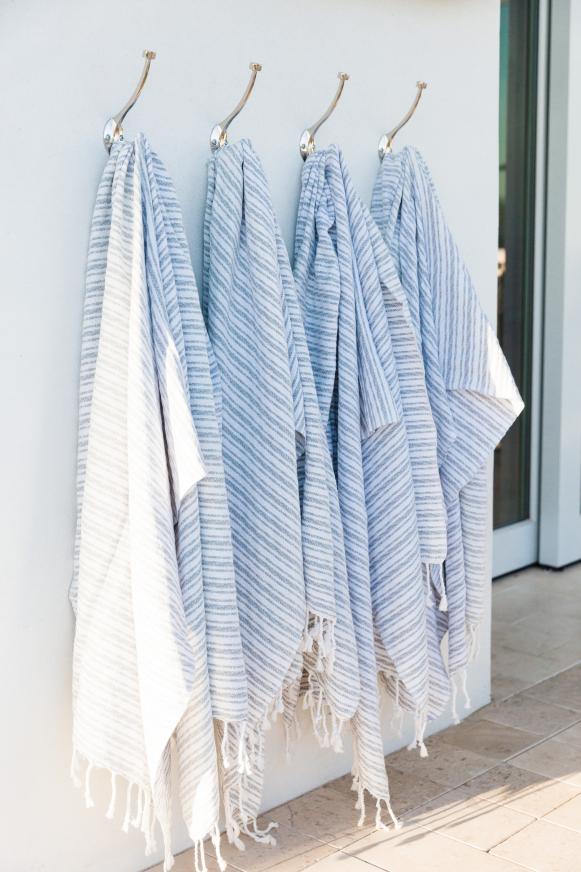 Wall Hooks and Striped Towels
Wall hooks and striped towels make it easy and stylish to dry off after a swim.
What is the best beach towel for you? That depends on your idea of the perfect beach day. Are you splurging on a plush, personalized towel to take on your honeymoon or buying in bulk for your family vacation? Do you plan to sunbathe solo, chase your little ones in the sand or enjoy a picnic lunch with your partner?
Whatever your idyllic day-by-the-sea may be, we have just what you need. Shop the best beach towels for every budget, lifestyle and activity in the links below.
MORE IDEAS
These beach umbrellas, tents and canopies will keep you cool and protected from the sun all season long.
SHOP NOW
If you're hunting for a top-rated — but budget-friendly — beach towel bundle for your family, you found it. The Great Bay Home's cabana stripe beach towel set from Amazon includes four ultra-soft beach towels in your choice of pale blue, gold or light gray finish. The lightweight towels measure 30-by-60 inches to comfortably bundle up between swims. Plus, the bundle has rows and rows of glowing reviews stating how well the towels wear after washing and the enduring quality of the design.
Buy It
Love the ocean but hate the sand? While we can't eliminate that issue for you, we can share our secret to combatting the grains on our beach excursions: Sand Cloud. The pros at Sand Cloud make beach days as sand-free as possible with their top-rated Turkish cotton beach towels. The unique sand-resistant beach towel will keep you comfortable while soaking up the sun or eating a picnic lunch after a quick morning dip. Plus, we gave the Sand Cloud towel an in-depth review to give you even more information before taking the plunge on this purchase. Check out our review on several Sand Cloud beach towels.
Buy It
Never met a monogram you didn't like? Go ahead and add this classic coastal-stripe beach towel to your cart ASAP. The buttery-soft Turkish cotton towel features hand-knotted tassel trim on each end and a mix of wide and narrow white stripes against one of six beachy colors: orchid, red, turquoise, navy, sky blue or yellow. Give your beach towel a personal touch with your pick of 19 unique monogram designs and seven personalization styles.
Buy It
MORE IDEAS
Kick back and relax with one of these top-rated beach chairs that shoppers swear by.
SHOP NOW
The top-rated Bay Laurel Turkish towel is tried-and-true with over 3,700 rave reviews with a 4.6-star rating. In other words, it's the beach towel of your dreams. The oversized towel measures 39-by-71 inches to provide generous space to lounge about on your beach day. Plus, it's quick-drying, sand proof and includes a travel-ready drawstring bag so you can throw it in a carry-on before you head out the door. Snag a Turkish towel for your next beach trip in your choice of 40 unique color and stripe finishes.
Buy It
Think outside the box (er, rectangle) when searching for your perfect beach towel. This organic and oversized beach towel from West Elm breaks the norm with a unique round silhouette. Each towel features a terry cloth backing to provide unmatched absorption after splashing around during the day. Another plus? Its fiery stripes make the round beach towel easy to spot in a crowd — even after a few piña coladas at lunch.
Buy It
The Amazon Basics Cabana Stripe Beach Towel pack is our top pick for anyone and on any budget. The two-pack cabana stripe towel set has more than 8,000 positive reviews, with 74-percent of those customers giving this product a perfect rating. Sure, we could gush about the towel set's ultra-plush material, top-quality construction and the chic stripe motif but let's face it, the five-star customer ratings speak for themselves. Snag your pair in charcoal, navy or gold stripes.
Buy It
MORE IDEAS
Gear up for fun in the sun with these top-rated buys, from sand-free mats to foldable blankets that turn into a bag.
SHOP NOW
More Beach Day Must-Haves