10 Ways to Amp Up Your Outdoor Space With String Lights
Light up your outdoor space with party-perfect decor.
They're versatile, useful and pretty darn fab. I'm talking about string lights, friends.
If you're not yet using these workhorses in your outdoor patio design gameplan, then keep reading. Because I truly think that string lights are one of the easiest, quickest and least expensive ways to up your outdoor space in the blink of an eye. So before you start planning all of your spring and summer entertaining, it's time to get real chummy with string lights.
Here are some of our favorite ways to incorporate them in your outdoor spaces: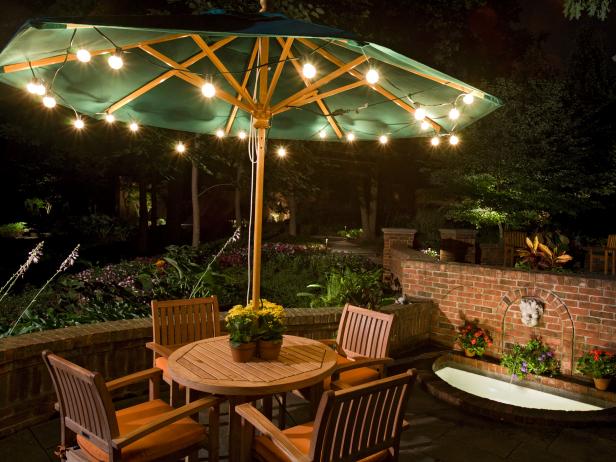 Inexpensive Party Lights Give Patio a Festive Feel
Decorative string lighting fastened inside an umbrella provides inexpensive illumination for outdoor entertaining.
Though you don't need an umbrella for shade in the evening or at night, they do provide a great spot to add some twinkly string lights. You can simply string the lights around the perimeter of the umbrella, or for an extra pretty effect, line the inside of the umbrella by following the lines of the umbrella seams.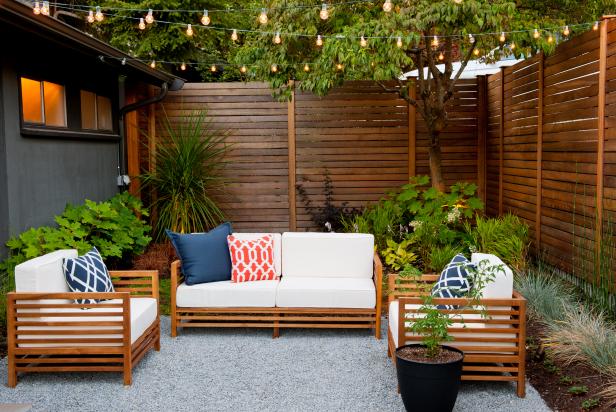 Modern Seattle Courtyard
A cozy outdoor seating area is illuminated by LED string lights in a modern courtyard. A high privacy fence creates a sense of seclusion under the shade of trees original to the space. The garden was installed in December 2014.
Coreen Schmidt Photography
This is one of the most common ways to use string lights, but that's because it truly makes a big statement. Use anchor points such as a fence, rooftop or even some strategically added wooden posts to attach the lights in a zigzag pattern across your outdoor space. If you have a very large space to work with, consider using the lights to break up the space and create different areas.
You don't need a large space to rock some string lights — even a small balcony works! You can hang the lights along the balcony wall, or string them up around the ceiling of your balcony. You could also use them to outline your patio door by stringing them all the way around.
Martin Klimek/Getty Images
If you have a gazebo or any sort of outdoor shaded structure, you can use string lights to further define it. Try lining the perimeter of the structure with lights, or do a combination of perimeter and zigzag strings of light. Depending on your structure, you can use string lights both across the ceiling and on the sides of your structure.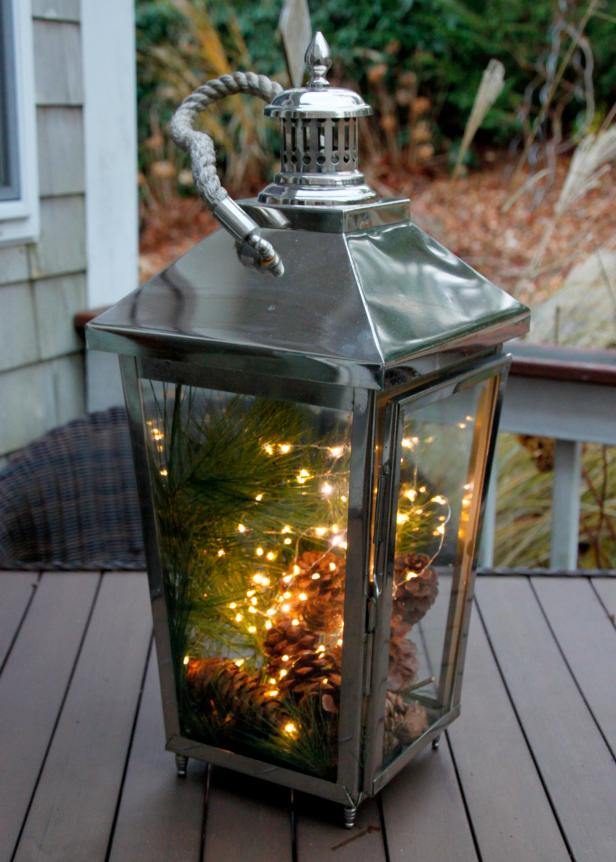 Add Holiday Lights to Outdoor Lanterns.
For the holidays fill your outdoor lanterns with greenery,pine cones and battery powered lights. These are perfect for outdoor entertaining.
If you're very limited on space, get creative and use items like lanterns to bring some string-light loveliness to your patio. Both colorful string lights and white string lights work great for this. Add additional elements to the lantern depending on the theme of your party. For a summer BBQ bash you could add mini blowup beach balls; for a Fourth of July party you could add small flags; or for a luau you could add some faux fruit.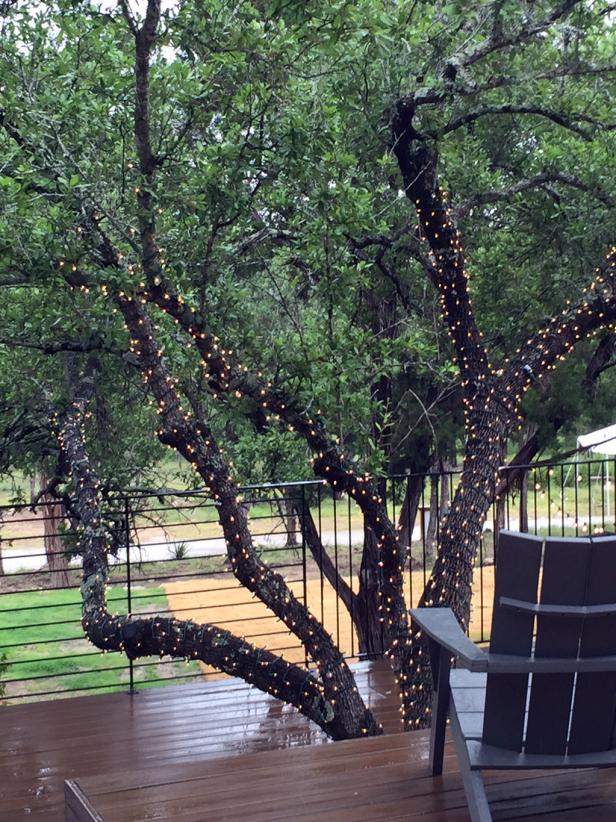 Deck With Tree and String Lights
Inspired by the beautiful trees on the property, the designers dubbed this home, "The Treehouse" and used the tree-theme throughout the house. This particular tree was extra-special as its shape makes it ideal for sitting (one branch in particular is at perfect sitting-height) and its size provides tons of shade for the outdoor living area.
Wrapping trees with string lights is another great way to incorporate some sparkle into your outdoor space. You can keep things simple and wrap just one tree, or go all out and wrap a number of trees on your property. Try to stick with white lights to keep the look elegant. Once the tree is wrapped, you can use the strings to hand additional elements such as signs or other decor.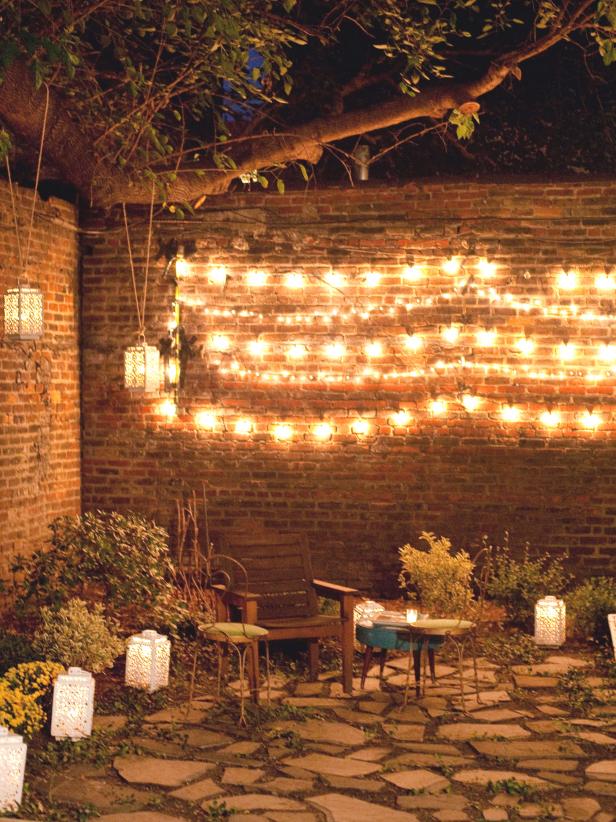 String Lights and Lanterns Illuminate Garden
String up lights and lanterns around your outdoor space to give an enchanting twinkle to any garden party. The soft glow will invite everyone to linger outside in the nighttime summer air. Line lanterns and smaller string lights around your seating area, and hang a few off tree branches for a touch of ambiance.
Consider grouping the lights together and hanging them all in one spot to create a mini piece of art. You can use the lights to create a pattern, or simply line them up in rows for a big visual impact. If you want to get super creative, you can even use the lights to spell out a message or someone's name.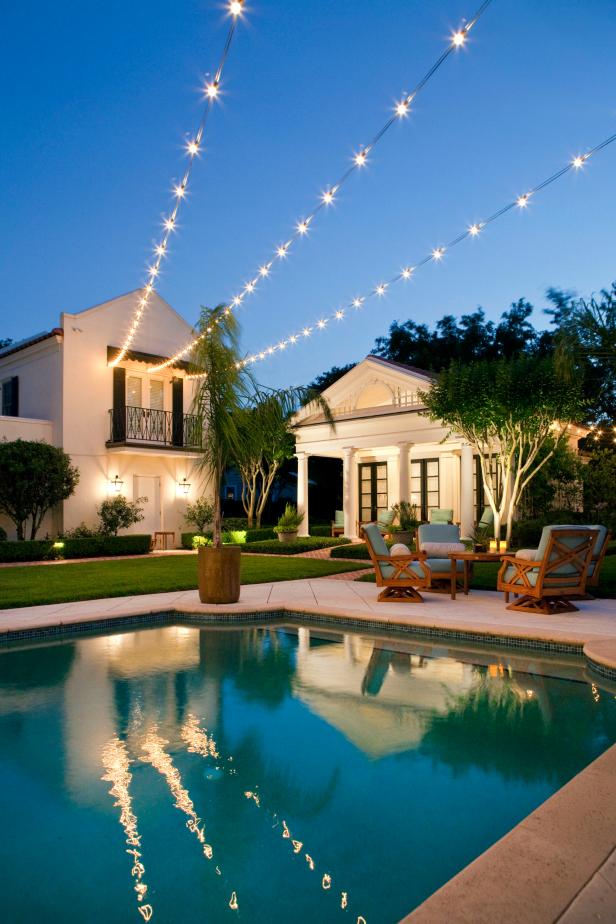 Traditional Pool With Poolhouse and Twinkly Outdoor Lighting
Strands of outdoor lights cross over the pool in this traditional backyard, giving the space an ethereal quality and inviting nights of outdoor entertaining. A cozy conversation area includes plush seating and a table that does double-duty for dining or cocktails.
Use a window to hang string lights. Second-story windows will allow you to create height and drama with your lights. However, you could also consider wrapping the lights around a bunch of different windows.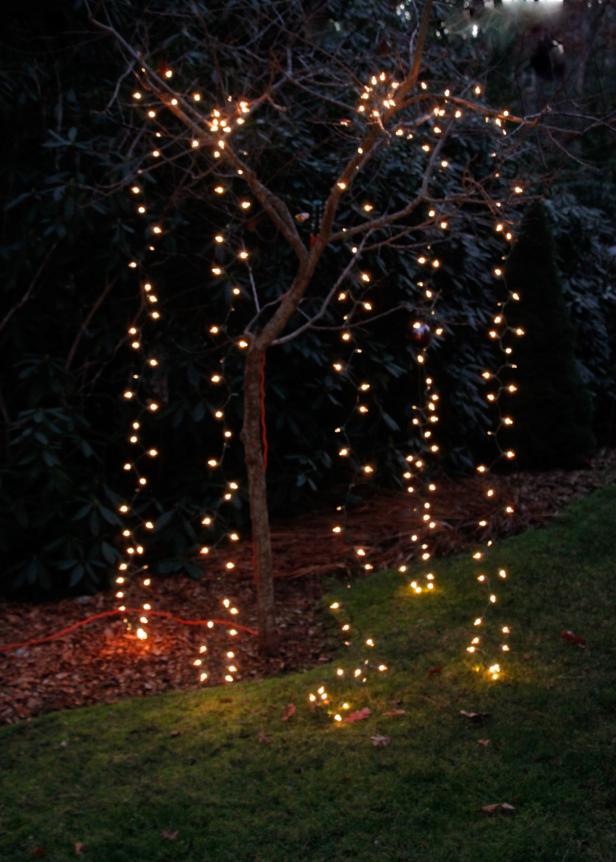 Outdoor Lights Look Like Snow
To make it snow with lights, route an extension cord up the tree and hang strands of lights from the canopy of the tree. Each snowfall is created from a single strand of lights that come from the center of the tree like spokes on a wheel.
Don't be afraid to get creative with your string lights. Try hanging them from a tree, an awning or even a gazebo in straight lines to create a chandelier look. You can hang each line of lights at varying heights to create a much more dramatic feel. This would look especially fab over a dinner table or above an outdoor seating area.