Dreamy Pergola Lighting Ideas
It's time to up your pergola lighting game. Try these trendy ideas to make your outdoor space twinkly and dreamy this summer.
With warmer weather and the sun setting later in the day, it's hard not to dream about relaxing in the backyard. If you haven't already, this is the year to make your outdoor space work just as well after dark with the right lighting.
These magical string lights draw the eyes up in this dreamy boho paradise. The natural fiber light fixture brings texture and warmth — this outdoor nook is proof-positive that you can't have too many throw pillows, textiles or plants. The more the merrier!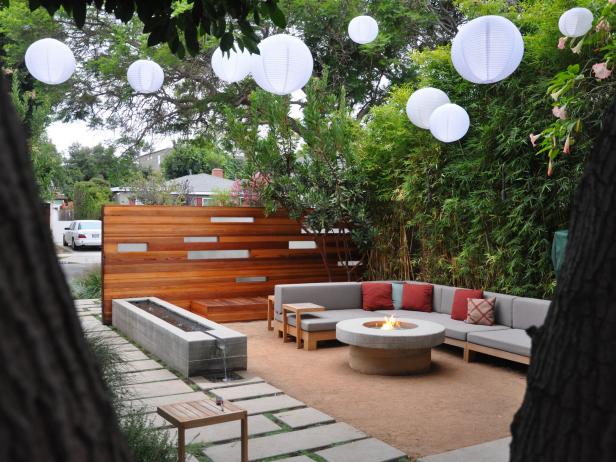 Modern Outdoor Living Room With White Paper Lanterns
For a multifunctional outdoor living room that would serve as a family gathering space and a meeting area for the owners' clients and colleagues, landscape architect Mark Tessier created an accordingly varied lighting scheme. Traditional outdoor lighting illuminates the area without making a statement, while style enters from above and below, via a flickering fire pit and paper lanterns of various sizes hung randomly throughout the space. "After dusk, these lights cast a warm, inviting glow festive for simple or elegant gatherings any time of the year," says Tessier.
Jennifer Cheung; Design By: Mark Tessier, Mark Tessier Landscape Architecture, Inc.
Hang your lanterns at varying heights throughout your space to create visual interest. White lanterns are always a classic, but you can find them in different colors to help liven things up.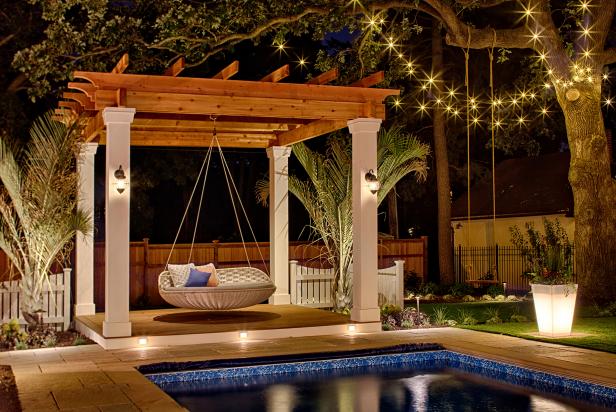 Pool Area with Swing Bed, Pergola and Lighting
The swing-bed pergola defines a space for homeowners to sit back and enjoy their backyard. Palm trees were added to add more of a resort-vibe to nights by the pool. Touches of home can be seen in the columns, which mimic the front porch, and dainty white picket fences on either side.
If you don't have access to an electrical outlet near your pergola, consider lighting the spaces around it. Here, the owner added string lights to a large tree next to the pergola, creating a relaxing ambiance. Add solar-illuminated planters throughout your space for additional lighting.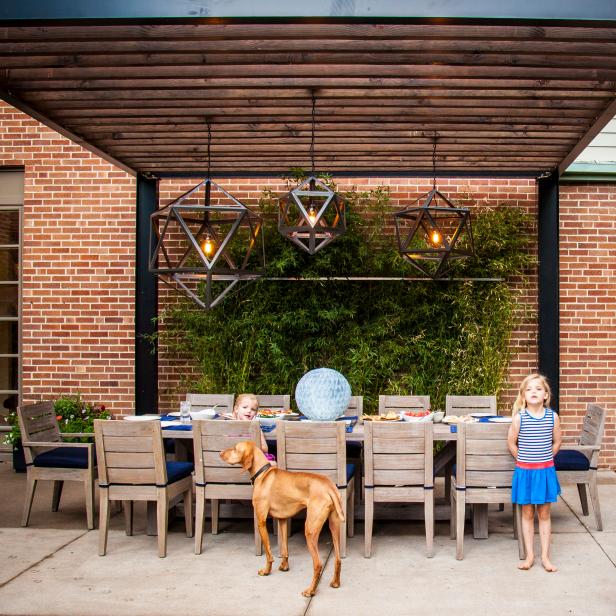 Steel Pergola with Dining Table and and Hanging Light Pendants
The custom-designed steel pergola creates an outdoor room for dining space. Douglas fir joists are used as a backdrop behind the dining table.
Mark Woolcott Photography; Mile High Landscaping
Make your outdoor space feel more like an indoor room. In this dining area, three gorgeous coordinating pendants hang over the large dining table for ample light. If you live in a warm climate and have a smaller home, consider a space like this to entertain big crowds with ease. This spot can hold 12 people comfortably.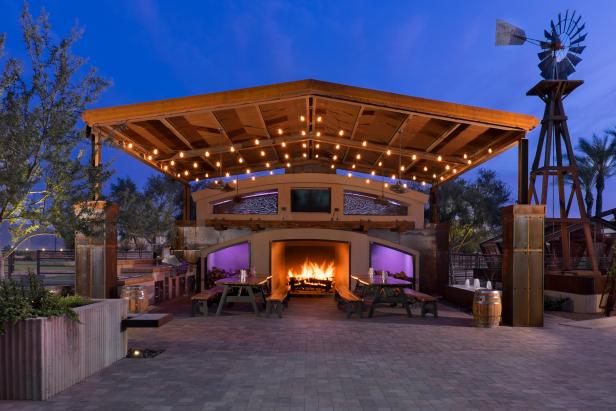 Modern Outdoor Dining Area with Wood Pergola, Picnic Tables and Fireplace
The wood pergola with string lights adds dimension and definition to a dining area with two picnic-style tables and a massive fireplace. Other elements that fit into the modern design are the pergola, use of steel and concrete, and decorative elements such as barrels.
Michael Woodall Photography
While string lights always look great no matter how you hang them, here's a great example of how hanging them in equidistant straight lines can make a big impact. To create a similar look, measure your pergola carefully and hang enough lights to cover each piece of your structure equally. For a large pergola, use small, budget-friendly string lights.
This outdoor space is so cozy and inviting, it looks like an indoor space. By choosing one simple yet stylish outdoor light fixture, you can elevate your outdoor space by leaps and bounds.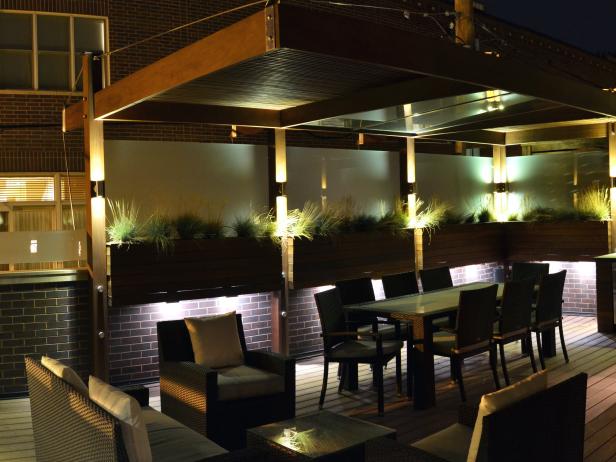 Contemporary Rooftop Dining Area
This rooftop design features a custom cantilevered Ipe pergola with stainless steel trim and tempered glass inlay, wall-mounted Ipe planter boxes and stainless steel light fixtures. The dining area under the pergola features a simple glass dining table, while an adjacent sitting area features contemporary wicker furniture.
If you're about to embark on an outdoor renovation project, think through the areas you'd like to include lighting. You can work with your contractor to create a space like this one, where beautiful exterior lights are integrated directly into the pergola structure for a polished look. These projects require higher budgets, but the overall look (and increase in the value of your home) are big benefits.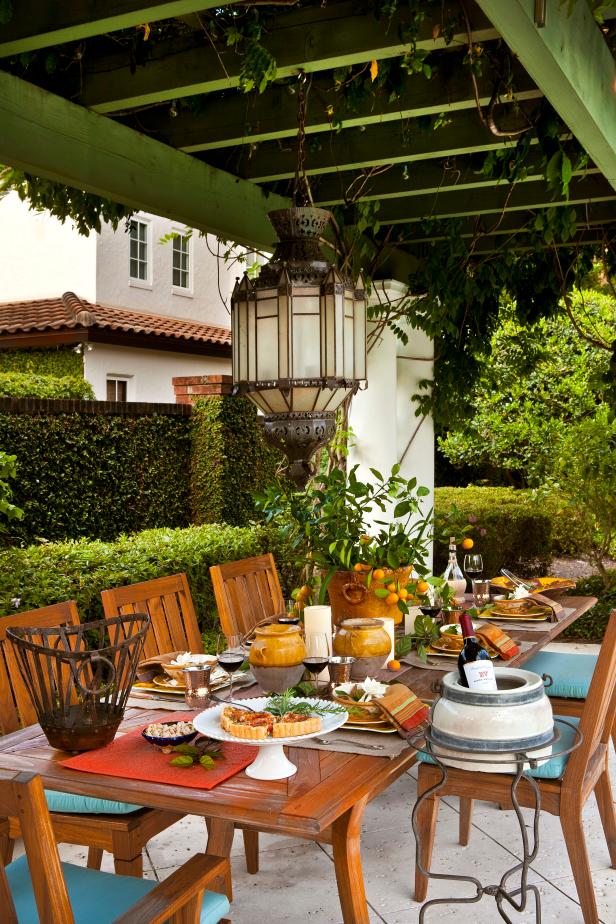 Outdoor Dining Room With Rustic Accents
An outdoor table for eight is tucked under a covered pergola and surrounded by lush greenery in this backyard retreat. An intricate lantern takes center stage and provides mood lighting, while rustic yet elegant accessories create a tablescape that beckons guests to linger.
Outdoor lighting is your chance to make a statement. This intricate lantern takes center stage and provides mood lighting, while rustic yet elegant accessories create a tablescape that beckons guests to linger.