The Best Window Treatments for Every Style + Budget
Treat your window to something pretty with our curtain picks for every style, budget and function.
Keep in mind: Price and stock could change after publish date, and we may make money from these links.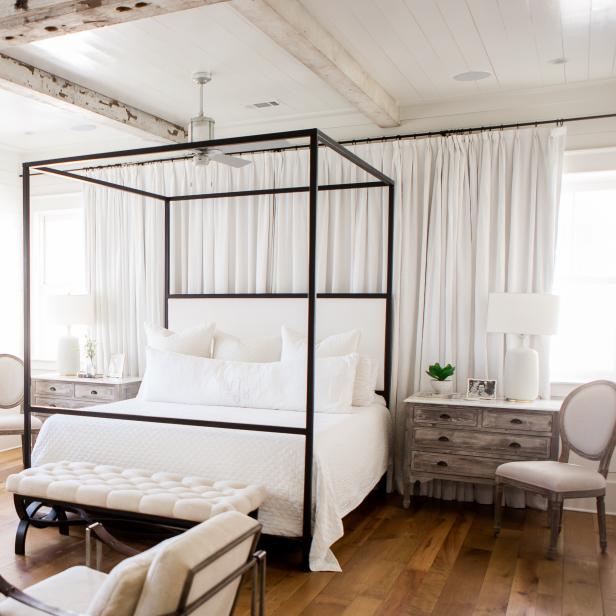 White Shabby Chic Bedroom With Canopy Bed
This white bedroom cuts against its rustic, romantic look with a streamlined canopy bed in black.
Rod pocket, blackout and box pleat – oh my! Window treatments come in all shapes, sizes and styles, and while it's lovely to have choices, sometimes the all-you-can-eat buffet of grommet can leave even the most seasoned and decisive designers sick to their stomachs.

This perpetual drapery indecision isn't ideal for lots of reasons, but the three biggies? Window treatments set the stylistic tone in a design, they impact the sunlight and temperature in a room and provide you with the ever-crucial privacy from passersby and neighbors.

Your best bet to avoiding window-treatment-wipeout (read: staring at bare window frames for months due to chronic indecision)? Brush-up on your design vocab and use that knowledge to select window treatments based on both your personal style and the function of your space.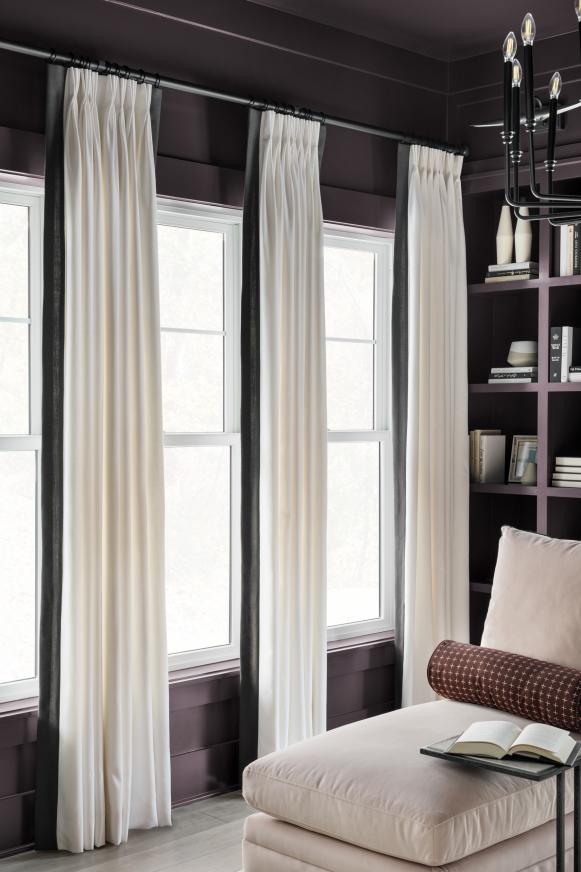 Window Treatments
The study's side windows include flowing drapes that offer privacy and control over the level of natural light. The study's large window that overlooks the front of the home has a Roman shade, which takes up less wall space and allows the beautiful artwork and bookshelves to be the focal points of the room.
Robert Peterson, Rustic White Photography
We find that one of the best ways for you to narrow down window treatments is to start from the top and work your way down. Literally. Start your selection process by considering your design style and looking for a curtain header style that fits the vision for your space.
Curtain header styles are impactful on the overall design of a space, and some pleating works better with certain interior styles than others. This can be confusing, but don't fret! We're breaking down the basics below to help you get started.
Grommet
A grommet-top curtain features a series of punched, metal rings along the header that allow you to slide the curtain directly onto the rod. The metal rings create full, clean pleats and showcase the curtain rod hardware at all times. Grommet curtains are ideal for both casual and contemporary designs.
Pinch Pleat
Pinch pleat curtains are classic and versatile with equally spaced, pinched fabric along the header and movement-rich pleating that extends the length of the curtain. Pinch pleat curtains may be installed with a back pocket or a series of clips and rings. The timeless treatment exudes an opulence fitting for formal transitional and traditional interiors.
Rod Pocket
Rod pocket curtains are crafted with a pocket sewn on the back of the curtain that allows the panel to slide directly onto the rod, similar to grommet curtains. Unlike their ringed counterparts, rod pocket headers obscure the curtain rod from view and produce a soft gathering that extends the face of the panel. The rod pocket design is a favorite for many because it plays well with most interior styles and requires no additional hardware for hanging.
Tie-Top
Tie-top curtains are just that – tied tops. This casual curtain style is defined by panels that are attached to curtain rods by a series of tied knots or bows along the header. This treatment is best when implemented with gauzy sheers in breezy coastal designs or airy bohemian spaces.
Box Pleat


Box pleat curtains are another popular window treatment and for good reason. The handsome style is defined by a structured silhouette and substantial, angular pleating. T

he crisp design turns heads with precise pleats and clean lines that work well in contemporary, transitional and modern interiors.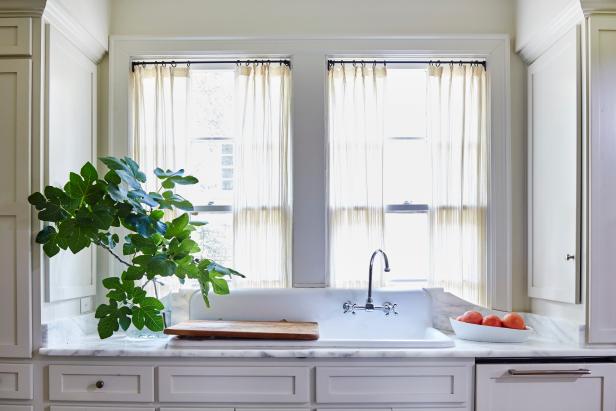 Farmhouse Kitchen Sink and Green Branch
A double-wide farmhouse sink fills the bank beneath two windows, fresh and pretty with linen curtains.
Once you've picked your pleat, it's time to consider what role your window treatments are meant to play in your space.
Are you seeking privacy in your ensuite? Dreaming of darkness in your bedroom? Searching for softness and light in your living room? These are the questions to consider when purchasing your window treatments.
But, of course, we're doing the work for you and sharing our top, budget-friendly window treatments for you to shop for your home. Keep reading.

Roman shades are revered for their ability to provide privacy and polished style into any space. They come in an array of fabrics and are used in lieu of blinds to block sunlight. Roman shades are failproof options for any room in your home, but we find them to be especially fitting in bathrooms, kitchen, kids' rooms and nurseries. Remember: Stick to cordless Roman shades to ensure child safety.

Cafe curtains, or tiered curtains, are making a slow-but-steady comeback in design and we can't get enough. These charming treatments are defined as a pair of short curtains connected to a rod positioned at the center of a window. The curtains cover the lower half of a window and are our top picks for kitchen and bathrooms because they invite sunlight into a space during the day while providing privacy after dark. Cafe curtains are offered in endless design styles and often secured to the rod with rings for ease of use.
Embrace the sunlight and soften your space in one fell swoop with a pair of sheer curtain panels. Sheers are barely-there panels that offer zero privacy but usher in natural light and create a weightless glow in the space. Use sheer panels solo for a sundrenched living room, or pair them with weighty bedroom drapes for a striking contrast.
Light-Filtering/Semi-Sheer Curtains
There's no need to pick between privacy and sunlight! Have your cake and eat it too with light-filtering or semi-sheer curtains. Light-filtering curtains are typically made from lightweight fabrics such as linen or cotton and allow sunlight into a space without inviting prying eyes into your home. These savvy treatments are ideal for any room in your home and come in every style, color and header imaginable.
Blackout curtains are a mainstay in bedroom designs because they block out sunlight and create total darkness that promotes restful sleep. The light-blocking panels are often crafted from weightier fabrics such as velvet or feature a hidden lining to provide an additional barrier from the sun. Pro tip: Avoid using blackout curtains in your living or dining area to ensure you welcome as much energizing, natural sunlight into those spaces as possible throughout the day.
Expert Guides to Help You Shop Right
We did the research so you don't have to.
Learn how to choose sheets that are soft, comfortable and long-lasting.
Discover how to get good towels and care for them so that they actually last.