How-to: Vintage Stamp Coasters
The DIY experts at HGTV Magazine recreated this flea market find. Here's how you can, too.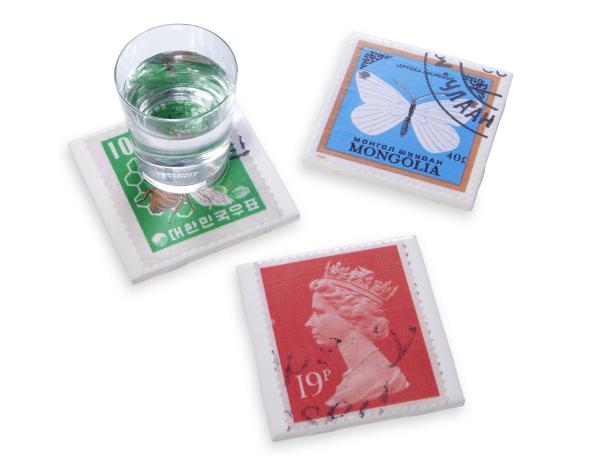 Vintage Stamp Coasters DIy
Tiles: American Olean Starting Line ceramic 4.28" x 4.28" wall tiles in white gloss, $0.15 each, lowes.com
ceramic wall tiles
matte Mod Podge
pinking shears
self-stick felt circles
Scan the stamps (these are from preciousowl.etsy.com) and enlarge them on your computer so they're slightly smaller than the ceramic tiles.
Print the images onto paper using a laser printer. If you use an ink-jet printer, you'll need to color-copy the printouts at a copy shop to prevent the ink from smearing.
Trim the images with pinking shears and glue them to the coasters with matte Mod Podge. Let dry. Brush two coats of matte Mod Podge over the tiles. Let dry.
Place self-stick felt circles on the back corners of each tile.