Bright White Kitchen Remodel
Designer Laura Umansky remodels a kitchen and breakfast room to create an open space with traditional and modern details.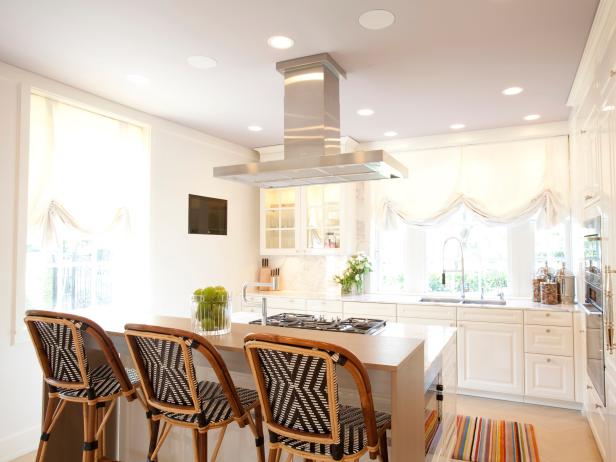 Transitional Kitchen With Waterfall Breakfast Bar
Photography by Julie Soefer
Laura Umansky
Photography by Julie Soefer
Space planning was key to the success of this kitchen and breakfast room remodel. Designer Laura Umansky uses glossy whites, stainless steel, and splashes of color and texture for a kitchen and eating area that feels fresh and modern.
Laura shares how she addressed existing concerns and made smart changes to create this bright and inviting space.
Describe the homeowners' wish list.
The wish list for this family's new kitchen was to combine it with the breakfast room. These rooms previously were two separate and small spaces that were a bit dark.
The homeowners wanted a fresh, bright and open kitchen and breakfast room that they could hang out in comfortably.
What was the biggest issue to address?
The true issue was the layout. The original kitchen was very small and the stairs dropped right into the middle of the space. We wanted to enlarge the space, while creating a proper stair landing.
What was your biggest obstacle?
The big issue that we faced was that the original cabinetry separating the two rooms also housed the ductwork for the HVAC system. We worked closely with the contractor to relocate the ducts so that the two rooms could be combined. It was quite a feat and involved many people, including the contractor, an HVAC expert and an engineer. This was an unexpected obstacle. We knew the ductwork was there, but we didn't realize how involved it would be to relocate it.
How does the end result match your original vision?
The end result is exactly what the homeowners wanted. We did explore several ways to include more storage, since we eliminated the original cabinetry separating the rooms. We settled on creating a paneled soffit which includes extra storage and art niches on both sides, as well as a recessed china cabinet.
What are the hidden gems of your design?
The room was designed around the family's existing art pieces and purple chandelier they found on a family vacation. We created a neutral backdrop to showcase these pieces and then played up the color in the carpets, breakfast tabletop and accessories.