Glamorous White Living Room
Designer Susan Jamieson mixes modern and classic furnishings all in a creamy white color palette to create a sophisticated living space.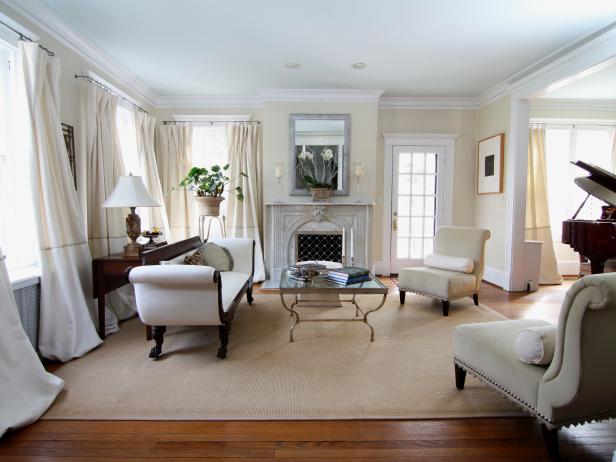 Susan Jamieson White Living Room
This living room evokes a romantic, feminine quality with flowing draperies that pool on the ground, curved furniture, a weathered fireplace mantel and gold accents. A creamy white color palette adds to the softness and elegance of the space.
Working with a budget of $30,000, designer Susan Jamieson, ASID, brings glamour and elegance to this Richmond living room through flowing draperies, furniture with curved lines and beautiful architectural details.
We spoke with Susan to see how she tackled challenges and incorporated her clients' goals into this remodel.
Describe the homeowners' wish list.
The original room was stuck in the '80s with peach Austrian shades and peach walls that overwhelmed the space. I wanted to showcase the architectural features in the room instead of overwhelming the room with color and pattern.
What were the homeowners' design problems?
Letting in the light and brightening the space. By doing this, I was able to show off the beautiful moldings and 1920s mantel.
What was your biggest obstacle in this space?
All the rooms are open to each other: the foyer, living room, dining room and music room. It forms an open square, and I needed to create continuity as well as uniqueness.
How does the end result match up with your original vision?
It went according to plan, including adding a custom snakeskin mirror, a custom fire screen and coffee table combined with a family piece, the Empire sofa and Barbara Barry modern chairs. It was a true mix of modern and classic.
What lessons did you learn?
I loved the use of only whites and creams. Layering with textures was challenging.
What are the "hidden gems"?
Taking the old green velvet sofa, modernizing it with a white quilted pattern and then pairing it with the curved-back Barbara Barry chairs.