Designer Mark Williams shares how he creates a timeless main bathroom using traditional and modern elements.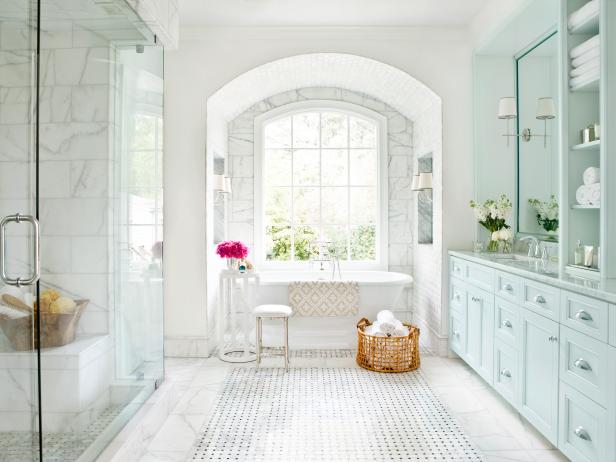 White Luxury Bathroom With Marble Floor
Different sizes of Carrara marble for the bathroom floor, shower and vaulted arch above the tub add lots of visual interest to this streamlined space.
While the existing Atlanta bathroom was large in size, designer Mark Williams of Mark Williams Design Associates faced the challenge of creating an updated space that would be aesthetically pleasing while also highly functional and organized.
Mark shares how he used luxe materials and a smart design to create a timeless main bathroom with designated zones for different activities.
What were the major design issues in the space?
The space we had to work with was rather large. In this case, we had to work to organize the individual functions of the room in such a way that this large space would also feel intimate and warm.
What were the homeowners' design challenges?
Our biggest challenge with this bath was the owners' request to make the space both traditional and modern at the same time. We didn't have much to go on in terms of exactly what that meant to them, but through our design process we were able to arrive at a solution that made everyone happy.
What lessons did you learn?
The combination of classic and contemporary ideas together in this one design solution created a much more compelling result than either pure classic or pure contemporary would have delivered on their own. We will absolutely try to bring a little more traditional thought to our contemporary work in the future.
Describe the "hidden gems" that made a big impact.
What seemed to surprise our client the most was the tiled vaulted arch that defines the tub alcove. It gave the space a feel of Old World luxury, and the mirrored niches with sconces in the tub alcove added a touch of romance.