Contemporary Country Kitchen Is Chef's Dream
Natural light fills this white contemporary kitchen thanks to strategically placed black iron-framed windows. Designer Carter Kay worked with the homeowner to create distinct workspaces, have devoted prep areas, inject country flair and truly create a heart of the home.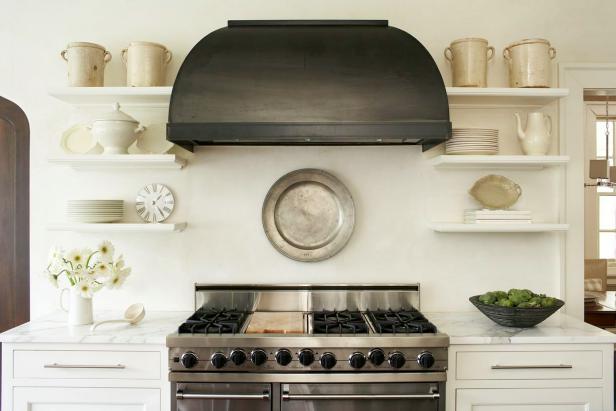 Gray Industrial-Style Range Hood in Fresh White Kitchen
A charcoal gray range hood with a dull metallic sheen adds an industrial vibe to this white country-style kitchen. Open shelving displaying pretty kitchenware flanks the stylish hood.
What were the main items on your clients' wish list for the remodeling/redesign of their space?
Large prep areas
Classic design with timeless appeal
Large iron windows
Distinct workspaces
Open shelving
Balance and symmetry
What were the main objectives and goals you set out to accomplish for your client?
Combining classical elements in keeping with a circa-1920s Dutch Colonial.
How well did the kitchen work before, and did it help or hinder your clients' lifestyle? What improvements and changes did you make? What makes this kitchen unique to your clients?
My clients are very good cooks, so they needed lots of prep and clean-up space. Before, the main sink was in the interior of the kitchen. Now, it faces and opens to a beautiful back garden with iron-framed windows set on the counter for a seamless view to the back.
Every project presents a unique set of challenges. What was your biggest obstacle in the remodel/redesign of the kitchen, and how did you overcome it? Any memorable moments?
Our biggest obstacle was venting the hood. We found a vent which can go through the wall instead of on and up the wall, and had the hood custom-made to accommodate it.
Seeking design inspiration is what draws our readers in and makes them fall in love with a space. What was the inspiration for this project?
My client's love of functional design and attention to detail. We wanted to create a light-filled space with antique floors, plaster walls and marble counters. We wanted to create a true "heart of the home."
Was there a specific piece of furniture, fabric, color, texture or piece of art that was essential to bringing the design together?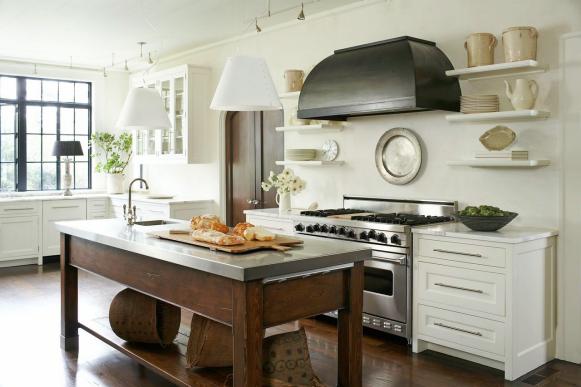 White Country Kitchen With Contemporary Flair
Contemporary touches combine with a classic country design in this chic white kitchen. A brown wood island featuring a stainless steel countertop provides ample space for food prep.
Yes to all! We searched for an old farm table to use as an island, but instead made one of chestnut and had it finished to look old and worn. We found this wonderful old display cabinet, painted the doors black and antiqued the inside in old cream. The client's collection of silver and crystal are now easily accessible.
After putting a lot of time and energy into this project, what makes you proudest of the end result? What is your favorite feature, element or detail of the kitchen and why?
My favorite detail is the three-sided wall of iron windows. Turning the corner with them made all the difference in bringing in more light and air. The end result is a timeless kitchen which cannot be pigeonholed as any one style.
The hood, combined with the sleek white cabinets, countertops and shelves, contrasts the dark wood island with a stainless steel countertop to create a classic, elegant prep and cooking area that chefs dream of. Talk about the inspiration behind creating this look, including the decision to combine all the elements in this kitchen together.
My client had an old farm table in her previous kitchen, and it was used for art, projects, homework and family meals. We had this chestnut island made and antiqued, but added practical and contemporary touches with the stainless feet and top. Black and white basics always show off antiques well. The clean cables and contemporary pendants (which can be lowered for more light) speak to today.
What makes this project uniquely yours? Is there a particular design element that you incorporate into every project?
Honestly, we combine antique, contemporary and light-hearted elements in every project. We use contrasting color and texture: plaster walls which change in the light, wood-board ceilings painted like the cabinets, black iron-framed windows matched by an antique glass-fronted cabinet on the opposite side.
Our readers love the small details. What are the "hidden gems" in your plan that really made a big difference in the overall success of your design?
The antique mirror backsplash above the wine fridge. It reflects the iron hood and stainless island and range, another source of "light" on an interior wall. The pendant lights above the island raise and lower with mirrored pulls for more or less light. The cantilevered open shelves flanking the range are another element of flooding "light."