Trending Now: The Wassily Chair
What do you get when you cross a traditional club chair and a brand-new bicycle? One of the most iconic pieces in modern history.
What the world now knows as the 'Wassily' chair, a piece that looks as fresh today as it did when it debuted almost a century ago, was once known simply as the B3 — and it was inspired by a young instructor's transportation to and from classes.
Born in the ancient Hungarian city of Pécs in 1902, Marcel Breuer began his career in architecture and design as a dropout. He was 18 years old and enrolled at Vienna's venerable Academy of Fine Arts when he learned of a new Bauhaus school in Weimar, Germany, and after just five weeks of study, he packed his bags and headed west.
Founded in Weimar in 1919 by the architect Walter Gropius, the Staatliches Bauhaus (better known as the Bauhaus, an inversion of the German term "hausbau" that translates roughly to "construction house") was a school of architecture and applied arts that sought to combine craft and technique in the creation of objects that were simple and functional — and could be mass-produced.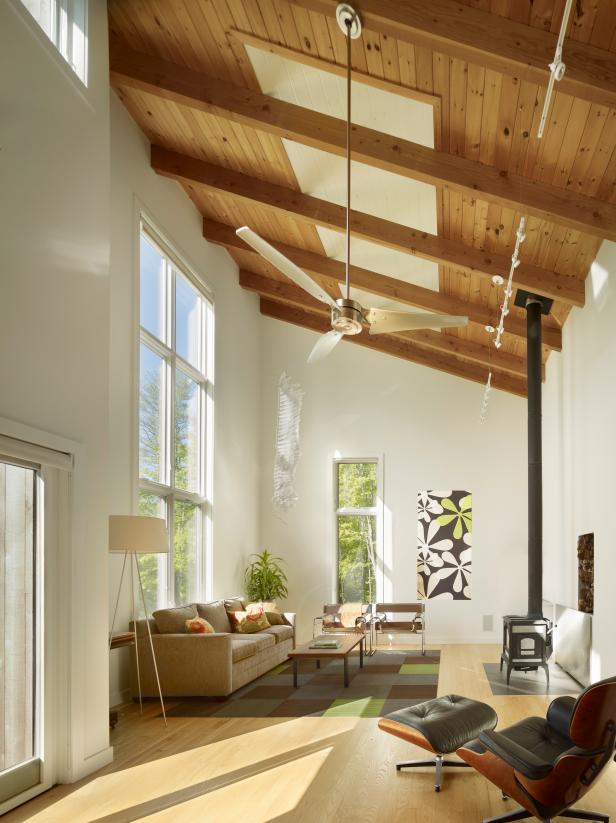 White, Modern Living Room with Soaring Ceiling
This bright living room boasts a pair of Wassily chairs and an Eames lounger and ottoman.
Halkin Architectural Photography
This bright living room boasts a pair of Wassily chairs and an Eames lounger and ottoman.
Breuer became Gropius's protégé, and he was so successful in his studies that he was invited to join the Bauhaus as an instructor; in 1924, he became the head of the carpentry and furniture department. He was interested in developing designs for modular furniture at the time, and a new hobby and acquaintance proved fateful: "I made friends with a young architect, and I bought my first bicycle," he explained to a Knoll historian. "I learned to ride the bicycle and talked to this young fellow and told him that the bicycle seems to be a perfect production because it hasn't changed in the last 20, 30 years. It is still the original bicycle form. He said, 'Did you ever see how they make those parts? How they bend those handlebars? You would be interested because they bend those steel tubes like macaroni.'"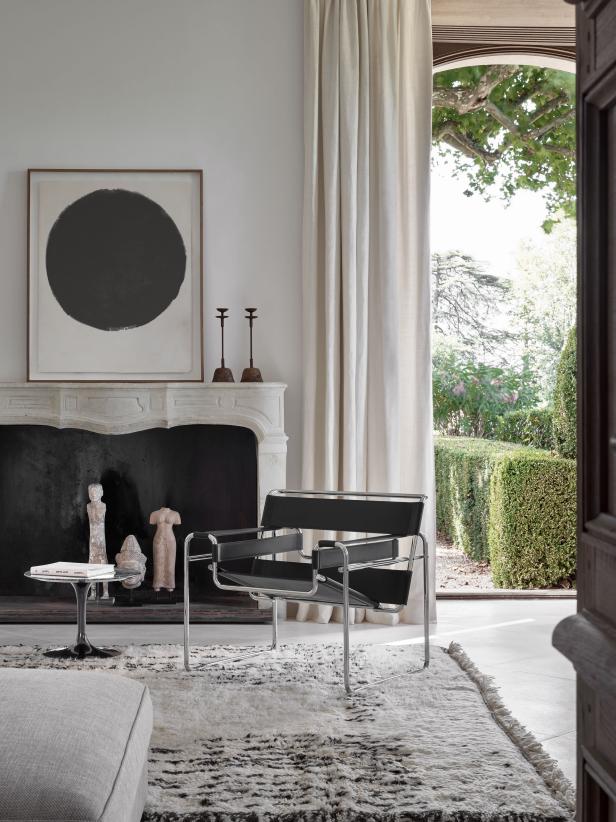 Black and White Living Room with Wassily Chair
A black leather 'Wassily' chair, first designed by Marcel Breuer in 1925, perches beside a high-gloss black tulip table on a plush area rug. A pair of candlesticks and oversized abstract art rest on a carved mantel that houses three vintage-inspired sculptures.
Image Courtesy Knoll, Inc.
Bent-steel tubes could form the basis of what Breuer called "an elastic and transparent chair;" a chair consisting of a series of bent intersections rather than of welded-together pieces would be flexible, could be chromed — and would be simplicity itself ("light open work, in other words, drawn in space").
Breuer wrote to the Adler company (who had produced his bicycle), requested some of their steel tubes … and received no response. He had better luck with the Mannesmann Company, a prominent manufacturer that provided him with cold-drawn tubular steel. He then worked with a foreman at the Junckers aircraft factory in Dessau to create his very first tubular chair — which also happened to be his first steel piece, as the department he headed back at the Bauhaus worked with wood, not metal.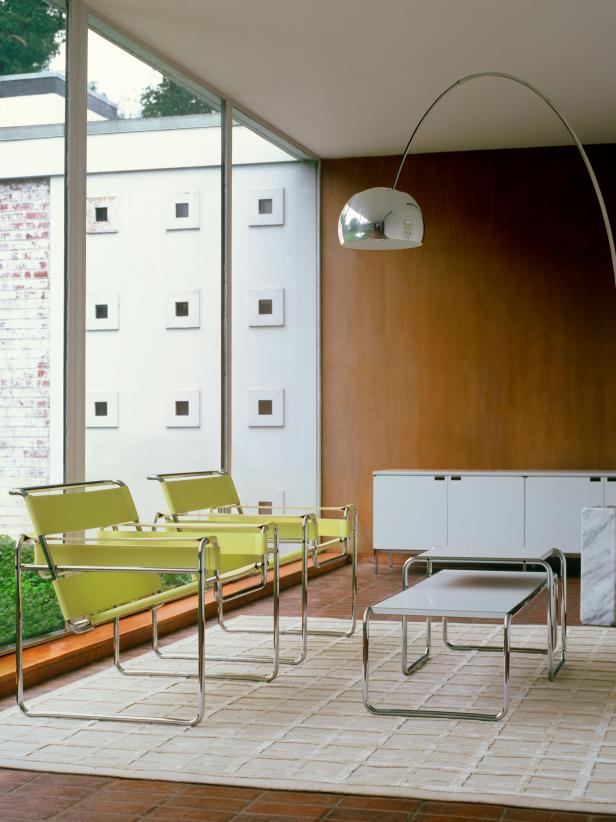 Modern Living Room with Floor Lamp and Wassily Chairs
This light-filled living room features an arced, gleaming floor lamp, a pair of bright yellow Marcel Breuer 'Wassily' chairs, and a pair of nesting Marcel Breuer 'Laccio' tables. A clean white sideboard contrasts with red brick flooring and golden wood on a feature wall.
Image Courtesy Knoll, Inc.
The fabric straps — which were tautened with springs on the back of the chair — were constructed of a fabric made with Eisengarn ("iron yarn"), a sturdy, waxed-cotton, light-reflecting thread that was invented in Germany in the 19th century. Members of the Bauhaus weaving workshop made frequent use of the thread in their fabric creations, and the developer of the version Breuer was to use was even younger than the precocious designer himself; that Bauhaus student, Margaretha Reichardt, was just 18 when she contributed to his project.
Breuer referred to his creation as the B3, in keeping with the rather prosaic numbering system he'd used for previous projects and would continue to employ for the next few years. His design became its climb to stardom when a friend and influential Bauhaus colleague — Wassily Kandinsky, the celebrated Russian abstract artist — happened to pay a visit to the shy designer. "I was myself somewhat afraid of criticism," Breuer later recalled. "I didn't tell anyone I was doing these experiments [with the chair prototype] actually. Kandinsky, who came by chance to my studio when the first chair was brought in, said, 'What's this?' He was very interested and then the Bauhaus got very interested in it. A year later, I had furnished the whole Bauhaus with this furniture."
Though Breuer would ultimately speak of the B3 as his "most extreme work … the least artistic, the most logical, the least 'cozy' and the most mechanical," generations of design-lovers have begged to differ: it's widely considered to be his most influential design. Thonet, a German-Austrian furniture manufacturer that had previously been known for its bent-plywood furniture, produced both folding and static versions of the B3 from 1929 until World War II. (Thonet versions of the chair are exceedingly rare and valuable; one sold at auction back in 1992 for more than $30,000.)
Wassily-ish chairs are now available from manufacturers in Australia, where Breuer's original copyright has expired and it is legal to market reproductions labeled as 'replicas' — though the quality and durability of said 'replicas' may vary (and they will still ring in at $1,000 or more). The real thing, on the other hand, is available from Knoll and Knoll-licensed dealers (like Design Within Reach) in canvas, belting leather and cowhide for about $2,000 (for fabric) and up. If modern interiors the world over are any indication, it's a worthy investment piece; nearly 100 years after a young instructor prototyped it in Germany, the Wassily is as revolutionary as ever.
More Iconic Chair Designs