Trending Now: The Bertoia Chair
It's no accident that this timeless design recalls sculpture and even jewelry.
Arri Bertoia was born just over a century ago in a small northern Italian village. His artistic impulses showed themselves early: his sister recalled that as a young boy, he was more interested in drawing than in completing his chores, and brides-to-be commissioned him to design patterns for their wedding linens. By the time Arri was 15, his was outpacing his art teacher, who suggested the Bertoias send their spectacularly talented son to Venice — or America — for additional studies.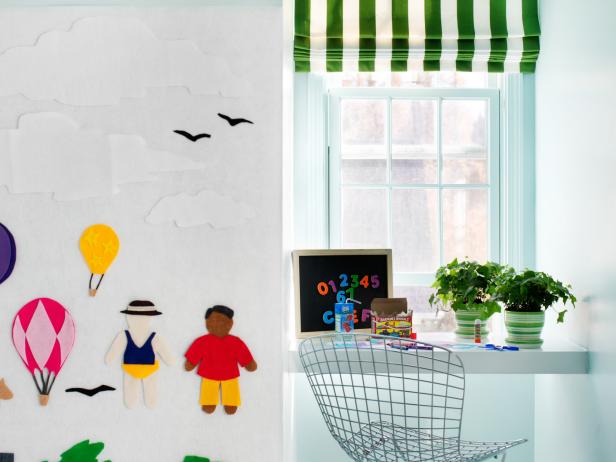 Kids' Room with Built-in Homework Nook
Each of the two homework nook's floating desks were configured with enough depth to accommodate books and games as well as laptop and desktop computers once the boys are old enough to use them for school. Instead of pairing the desks with themed children's chairs, midcentury-modern Bertoia chairs were added.
Arri moved to Detroit and became "Harry" — and continued to shine as a student. He received a scholarship to the Detroit Society of Arts and Crafts at 21, and at 22 he was invited to study painting at Michigan's Cranbrook Academy of Art. Two years later, in 1939, Eliel Saarinen (the Finnish architect and father of Eero Saarinen) appointed Bertoia the head of Cranbrook's metalworking shop. (Since metal was in short supply during World War II, Bertoia initially focused on jewelry, which demanded far less material.)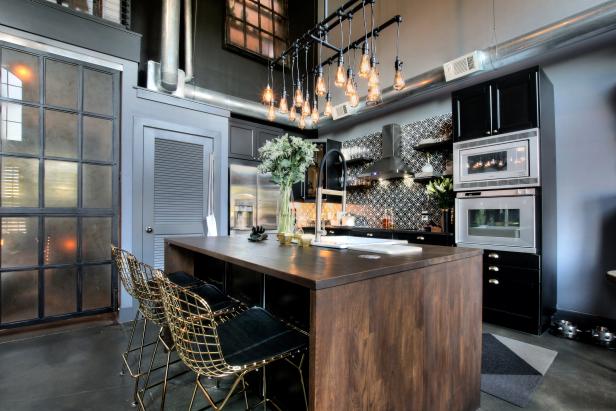 Wood Tones, Lighting Create Warm Contrast in Sleek, Industrial-Style Kitchen
A stained butcher block island creates a gathering place in the Atlanta townhome of a couple who loves to entertain. The wood, brass Bertoia-style barstools and Edison bulbs create warm contrasts to the black and gray finishes in the kitchen.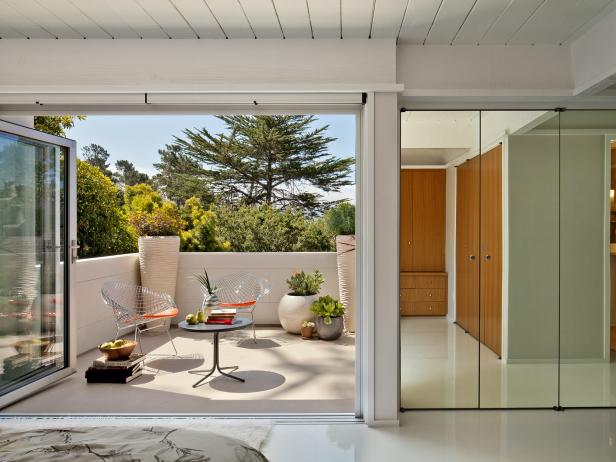 Modern, Inside and Out
"The update of a Midcentury home in Carmel, California had multiple goals, bringing 21st century comfort and LEED-certified energy efficiency to an older home, without increasing the footprint or sacrificing its vintage appeal," says architect Mary Ann Schicketanz of Studio Schicketanz. Choosing Midcentury furnishings like the classic Bertoia Diamond Lounge Chairs, designed by sculptor Harry Bertoia for Knoll in 1952, helped create a look in keeping with the home's architecture
design by Studio Schicketanz
That said, he benefited from his time in California and association with Charles and Ray, who encouraged him to take the welding class that would help him develop the ability to create an ergonomically innovative chair under his own name. When Florence Knoll, another Cranbrook friend, reached out to Bertoia to offer him $20,000 for two years of work in Pennsylvania, he headed back east to an unfinished shed at the Knoll plant and began to bend wire into his masterpiece. As Beverly H. Twitchell recounts in Bertoia: The Metal Worker, the absence of a proper metalworking shop at the Knoll facilities led Bertoia to a key realization — that is, "the fact that wire, if properly used, obtains a great deal of structural strength with an economical amount of bulk."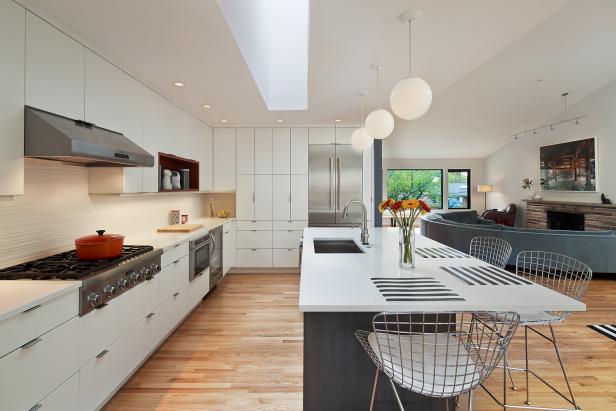 Stylish, Midcentury Modern Kitchen With Bertoia Barstools
The kitchen was renovated to reflect stylish, midcentury modern design. Floor-to-ceiling cabinets provide essential storage, and a long island serves as place to prep and dine. Bertoia barstools and light hardwood floors complete the fresh, open design.
Anice Hoachlander/ Hoachlander Davis Photography
Bertoia's iconic wire collection debuted at the Knoll showroom in 1952, and the rest, as they say, is history. His furniture has been in continuous production since 1953, and his financial arrangement with Knoll International allowed him to pursue his artistic interests for the next two decades. It also led to a collaboration with Eero Saarinen, who spied Bertoia's sculpture beside his chairs and invited him to create an altar for the nondenominational chapel he was designing at MIT.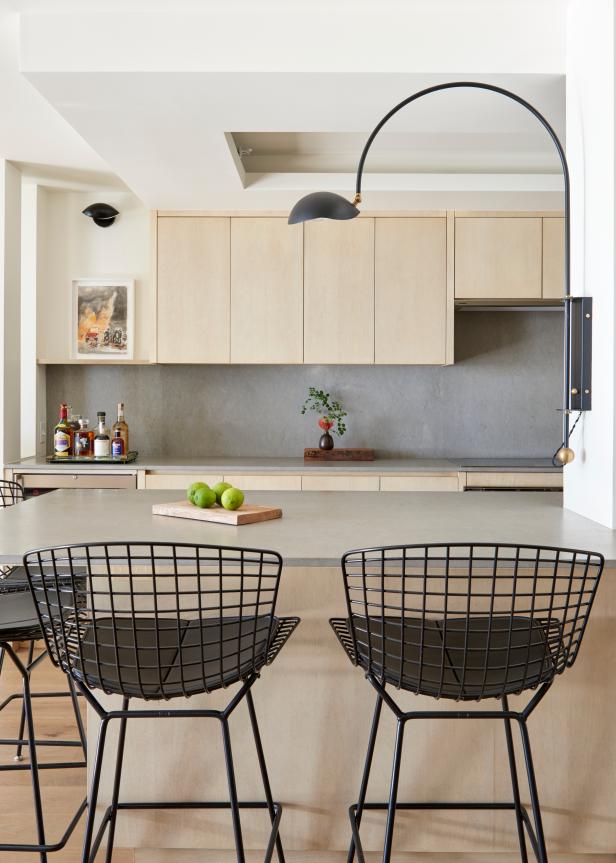 Ocean Avenue Kitchen
Carter Design opened up a wall and created a counter to eat at and enjoy the view to exclude the need for a table, as space was limited. The bleached walnut was a material used on all the cabinetry throughout the condo to bring in an organic wood element that did not overtake the art. Jason Koharik's custom light and the vintage Bertoia chairs add just the right pop.
Knoll celebrated what would have been Bertoia's 100th birthday at its New York City showroom in 2015, where Glenn Adamson, the director of the Museum of Arts and Design, noted that he was the master of "bringing a line alive," and "was everything all at once — not just the ability to think about design, meditate on form, envision what the future might look like — but actually to deliver it with [his] hands." Adamson also noted that Bertoia "only had one or two ideas" — a contention that would be rather controversial among his fans — "but they were powerful ideas," he concluded. Though Bertoia and Charles and Ray Eames parted ways early in their careers, in turn, evidence of their collaboration remains on both a public and a personal level: Bertoia designed Ray's wedding band.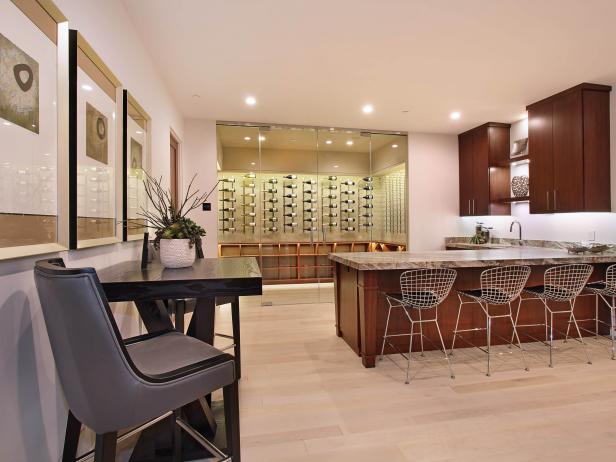 Humidified Wine Cellar in High-End Basement
Entertaining takes a high-end, custom turn in this game room with a large built-in wet bar and humidified wine cellar. Bertoia barstools surround the marble countertop, highlighted by under-cabinet lighting. Mahogany cabinetry and shelves provide functionality in this posh space.

From:
Details A Design Firm
Photographer: Jeri Koegel, Photographer: Jeri Koegel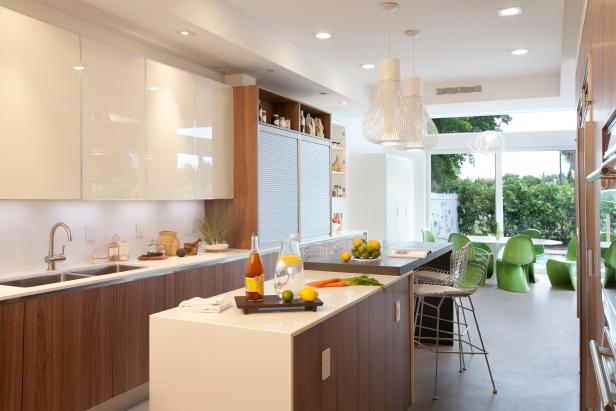 Modern Kitchen with Casual Style
Wood-grain lower cabinets balance the bright white uppers and countertops in this casual, modern kitchen. Stylish Bertoia bar stools at the island and green Panton chairs in the dining area add color and glamor.
A new Bertoia wire barstool now costs about $1,300, and isn't quite a carbon copy of its 1950s predecessors: "to state the obvious," as former Knoll Senior Industrial Designer Bill Shea puts it, "nearly all products that have been in production for over 63 years undergo evolutionary changes over time." Despite those variations — particularly the increase in wire diameter associated with a 1986 shift to production in Italy — Shea maintains that it's pretty easy to spot the genuine article. "It's quite instructive to simply Google 'Bertoia furniture knock-offs' and compare with pics of the real Knoll chairs."