Trending Now: Eero Saarinen's Womb Chair
Inspired by a request for a cozy seat that felt "like a basket full of pillows," this iconic, all-enveloping piece has been a stylish and celebrated spot to snuggle for 70-plus years. These are the hands that rocked that cradle.
The year was 1946, and newlywed Florence Knoll — the pioneering architect and designer who helped define midcentury modernism in America — was more than ready to put up her feet. She turned to family friend, rising design star (and colleague at Knoll Associates, the powerhouse she helmed with her new husband) Eero Saarinen: "I told Eero I was sick and tired of the one-dimensional lounge chair … long and narrow … I want a chair I can sit in sideways or any other way I want to sit in it." She envisioned "a chair that was like a basket of pillows … something I could really curl up in."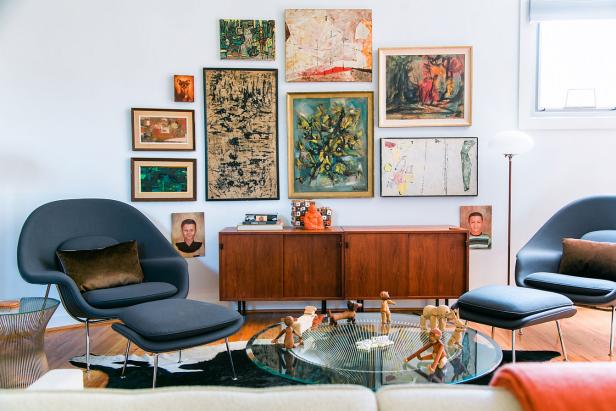 The Womb chair
Henry never met a pair of Knoll chairs that he could resist. The Womb chair (pictured), a Knoll classic, received its name for the ability to support countless positions and offer an oasis of calm. Henry's chrome finished Platner table, another midcentury classic, here in the master sitting area is balanced by the natural walnut console and a growing collage of vintage paintings. The quirky portraits are Henry's favorites. Helping my clients build art collections is one of my favorite ways to put their personalities on display.
Saarinen — who was developing a design-competition entry that would ultimately become the Gateway Arch in St. Louis around the same time — understood the brief, though he wasn't interested in comfort at the expense of style. "There seemed to be a need for a large and really comfortable chair to take the place of the old overstuffed chair," he said. "Today, more than ever before, we need to relax." Initially known as Model No. 70, the piece "was designed on the theory that a great number of people have never really felt comfortable and secure since they left the womb. The chair is an attempt to rectify this maladjustment in our civilization." Enter, the Womb chair.
Striking a balance between the comfort Knoll craved and the pared-down silhouette Saarinen envisioned led the pair to investigate a material that had recently been developed to produce minimalistic — yet-durable — hulls for Navy vessels during World War II. To create a reinforced-fiberglass-and-resin prototype of the cropped, folded cone shape Saarinen designed, they turned to a New Jersey boat builder. "He was very skeptical," Knoll recalled. "We just begged him. I guess we were so young and so enthusiastic he finally gave in and worked with us. We had lots of problems and failures until they finally got a chair that could work."
The shell they finally settled on is every bit as versatile as Knoll hoped it would be: The indented armrests are perfect for a sitter in a traditional position and substantial enough to support a leg, and the seat itself is deep enough for a diminutive user (like Knoll herself, who was around five feet tall) to tuck their legs beneath them.
Foam is molded over the base, and either fabric or leather is stitched over that foam along the chair's edges; removable foam cushions add extra padding to the seat and back. The swooping hairpin legs in prototypes evolved into a quartet of tubular steel rods.
The postwar consumers of 1948 weren't nearly as eager as Knoll and Saarinen to commit to streamlined midcentury modernism: could a chair with its unusual appearance really offer serious comfort? When it comes to the Womb chair, however, sitting is believing. As the legendary architect Carl Abbott told Sarasota Magazine last year, "I always saw the Womb chair as this heavy chair on these delicate legs. And that always seemed a little strange to me. But at the gym I go to, there are two Womb chairs, and I sat in one one day because I was tired. And I have to tell you, that chair is fantastic. That chair is so comfortable, you really don't want to get up. And I don't usually say that about furniture." (Sitting is also a handy way to get a sense of whether or not the piece you're in is the real thing, as genuine classic Womb chairs are 40 inches wide, 34 inches deep and 35.5 inches high, while knockoffs tend to be larger.)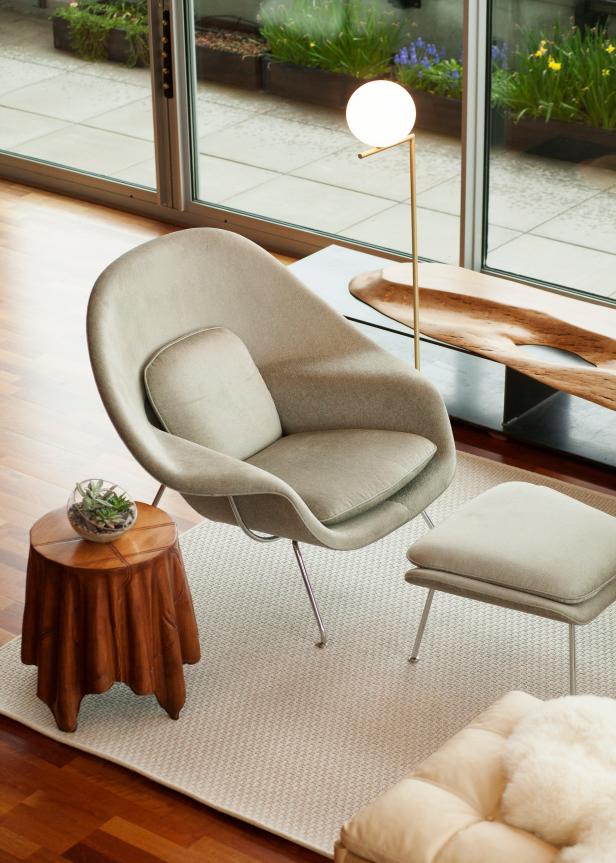 Midcentury Floor Lamp Brightens Living Room
One of the most fun pieces in this living room? The wavy wood side table that sits next to the cozy womb chair. While this piece adds interest to the space, a midcentury floor lamp allows for late-night reading.
The chair went on to become something of a design ambassador to mainstream America, synonymous with both comfort and aspirational style (and an ideal introduction to the new materials and silhouettes midcentury modernism offered). Santa Claus took a load off in a Womb chair in Coca-Cola's 1956 holiday campaign, and a family man in pajamas did likewise in painter Norman Rockwell's cover for the May 16, 1959 edition of the Saturday Evening Post.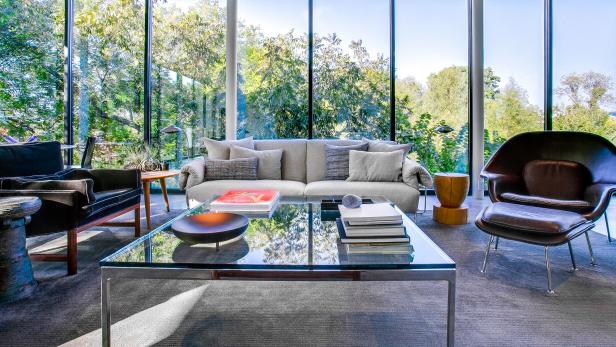 Low Furniture Keeps Attention on Treetops
Low-slung furniture, such as the Eero Saarinen Womb chair, suits the modern style of this Dallas home and minimizes the obstruction of the 270-degree views of the surrounding wooded land.
Dave Perry-Miller Real Estate, a member of Luxury Portfolio International
Saarinen's Womb design is still in production, of course, and available today as a child's version that is 75 percent of the original scale, a settee perfect for two, and an exquisitely decadent daybed (okay, we made that last one up, but it's said that you're supposed to ask the Universe for what you want it to manifest). Its low profile and relaxed silhouette endear it to designers and homeowners who favor handsome pieces that don't interrupt sight lines, and its celebrated comfort endears it to anyone who, like Florence Knoll all those years ago, wants a seat that doubles as a retreat. We're right there with her.
More Mid-Mod Furniture Looks We Love