Trending Now: The Eames Lounge and Ottoman
Learn how a celebrated design duo's experiments in mass production and desire to make guests comfortable gave rise to one of the 20th century's most iconic designs.
When Charles and Ray Eames visited NBC's The Arlene Francis Show in 1956, they brought along a clip to introduce their newest design. Set to a jaunty piano track, the film follows the construction of an Eames chair and lounger with a playful, Chaplinesque tone — and very nearly makes it look like a rainy-day craft project.
As design historians know, there's quite a bit more behind one of the 20th century's most recognizable pieces than that.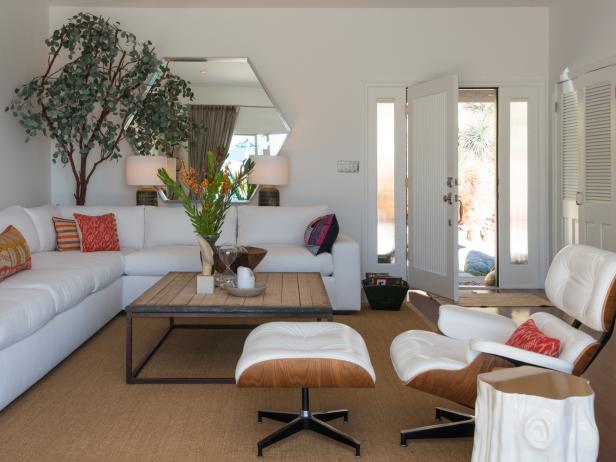 Sleek White Sectional Sofa and Eames Lounge Chair
A white custom sectional sofa is paired with a classic Eames chair and matching ottoman to create this cozy living room sitting area. A large Restoration Hardware coffee table offers a convenient spot to set drinks and food, or to display a few knickknacks.
Born in St. Louis in 1907, Charles Eames became interested in architecture as a high school student (and young employee at Laclede Steel Company, where he began work at the tender age of 14) and pursued his studies as an undergraduate at Washington University. After two years, he was asked to leave: according to An Eames Primer (written by Charles and Ray Eames's grandson, Eames Demetrios), a report log stated that "[h]is views were too modern," and a professor later told Eames that he was "too prematurely interested [in] and concerned with Frank Lloyd Wright."
Charles threw himself into architectural work — first for the firm that employed him while he was a university student, then for his own office, which he opened when he was 23 — and eventually accepted a fellowship at Michigan's Cranbook Academy of Art, where he rose to the top of the design department as an instructor.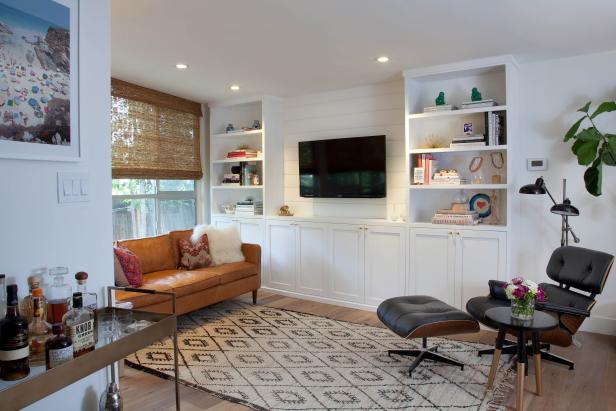 Eclectic Living Room Blends Vintage and New
A diamond-patterned area rug defines an eclectic living room, complete with contemporary leather sofa and Eames lounge chair. A large wall unit features classic Shaker cabinets and tongue-and-groove planks behind the television for added style.
Ray, née Bernice Alexandra Kaiser in Sacramento, California in 1912, moved to New York with her widowed mother. After a few years of studying art upstate, she became a protégée of the German Expressionist painter Hans Hofmann — and after six years in his studio and the death of her mother, she applied to Cranbrook, where she met and ultimately married Charles.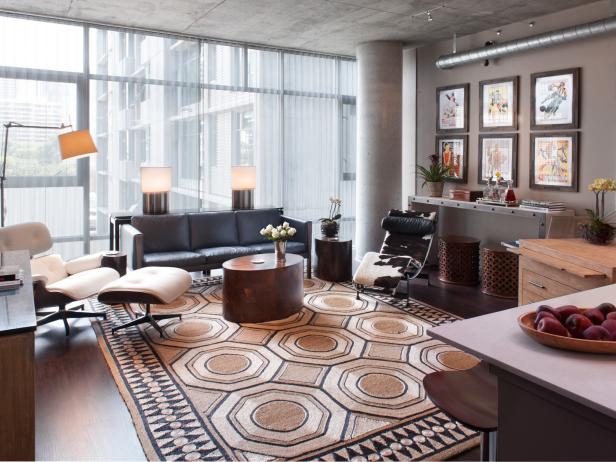 Iconic Midcentury Modern Furniture Pieces and Area Rug
The Eames lounge chair, Hans Wegner sofa and Corbusier chaise are grounded in this living room with a large midcentury modern area rug.
The Eameses moved from the east coast to Los Angeles in 1941, where Charles worked in the art department at MGM studios (where he would eventually meet Billy Wilder, the director whose makeshift on-set lounge chair is said to have inspired Charles and Ray) and Ray designed and produced 26 covers for Art & Architecture magazine. Working as a team — and in collaboration with Harry Bertoia, an Italian sculptor and designer whose name was not ultimately associated with the techniques he helped pioneer — the Eameses also experimented with furniture production using materials like heat- and pressure-molded plywood, reinforced plastic, wire mesh and cast aluminum, and during World War Two, they threw themselves into a U.S. Navy commission to create leg splints for soldiers in need of emergency transport.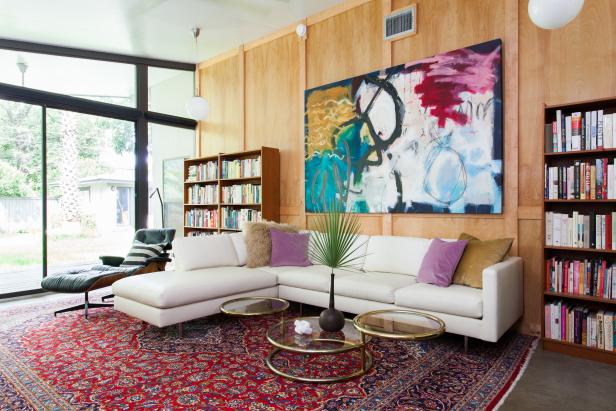 Colorful Transitional Family Room With Wood-Paneled Wall
A traditional Persian rug, large-scale modern artwork and a wood-paneled wall give this open, airy family room a homey, transitional feel. A mod sectional sofa offers plenty of seating for guests, while an Eames lounge chair takes advantage of the view and natural light offered by a wall of windows.
The practical, timeless techniques the Eameses pioneered are recognizable in all of the furniture their design studio (Eames Office, founded in 1943) was to produce in partnership with Herman Miller (a relationship that began in the late 1940s). "The attitude in all of them is the same, we've never really designed for fashion, with the idea of fitting in with fashion," Charles said. "And the Herman Miller furniture company has never ever requested that we do pieces for a market — the timing is more or less our own[.]" By the time Charles and Ray appeared onstage with Arlene Francis, the Eames name was already synonymous with iconic and innovative pieces. So, what launched their lounge into the stratosphere?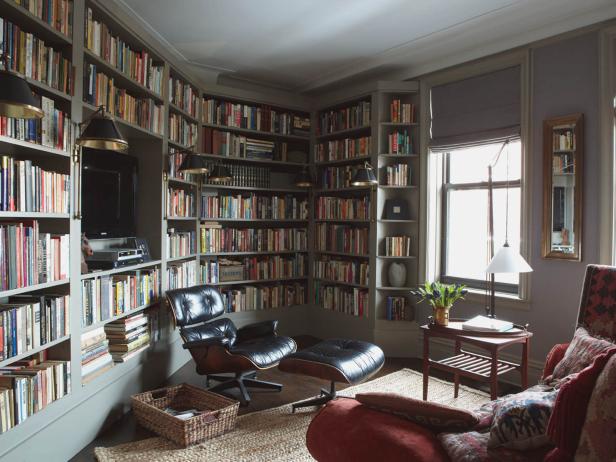 Gray Traditional Library
For a soft, intimate lighting scheme, traditional sconces are hung at intervals from the bookshelves. A comfortable Eames lounge chair provides the perfect spot to curl up with a book.
Charles maintained that "[t]he role of the designer is that of a very good, thoughtful host, all of whose energy goes into trying to anticipate the needs of his guests." The feather- and down-stuffed leather cushions that complete the lounge and ottoman certainly augment their comfort (and give it "the warm, receptive look of a well-used first baseman's mitt," as Charles put it), but those details are supplementary to the pieces' structure, which relies on three-dimensional molded shapes to comfortably support the body. They are, as the Herman Miller team notes, the ultimate expression of the Eameses' innovations. Prior pieces provide structure for workers and diners, while the lounge and ottoman bend the design duo's considerable talents to the task of comfortably doing little or nothing at all.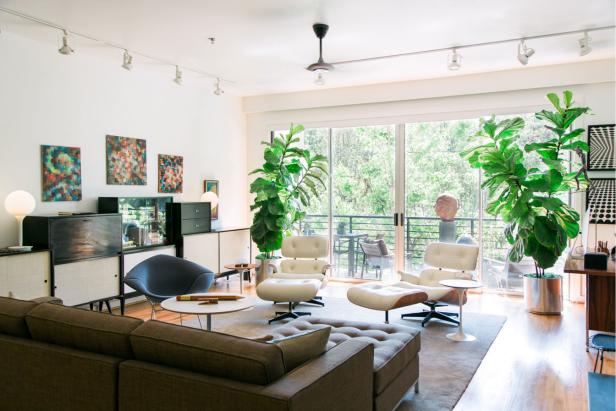 Grant Henry Study With Eames Chairs
In addition to having amazing taste, Henry also has an undeniable green thumb. The twin fiddle leaf fig trees (my all-time favorite interior plant) flanking the pair of white leather Eames lounges are the clear MVPs in this space. Believe it or not the case goods on the left were not all purchased together. Henry found them from multiple sources and was more pleased than anyone that the pieces came together so well. Here in his second floor home office, Henry finds comfort in the classic sectional facing the outdoors or on the upper level patio perfect for watching fireworks celebrations in downtown Atlanta.
That eventual "nothing at all" is deceptively simple, of course. While the Eameses believed in letting their mass-production techniques show through in their products — the graceful curves of the lounge's layered shell, for example, are unmistakably engineered — they were also careful to show their work in a deliberate and measured way (there are no visible connecting bolts on the shell's plywood surfaces). While the lounge and ottoman represent a new level of comfort, moreover, they demonstrate their designers' commitment to function over fashion. "What works is better than what looks good," Ray maintained. "The looks good can change, but what works, works." What works, in turn, works for a very long time: Herman Miller recently profiled a family that continues to cherish the lounge and ottoman their 94-year-old patriarch purchased for his apartment in 1966.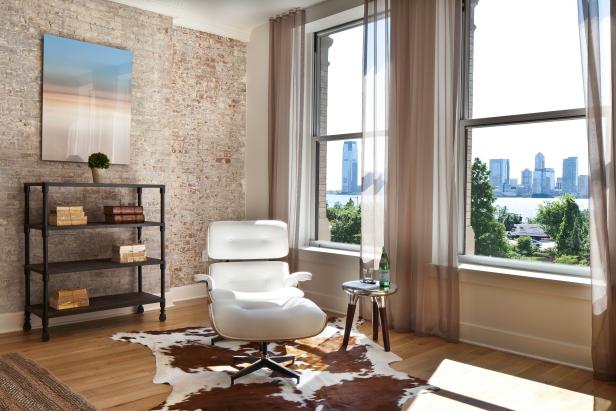 White Eames Chair & Cowhide Rug in Urban
Easily the best seat in the house, an Eames lounge chair enjoys views magnificent views. The chair is a modern counterpoint to the rugged cowhide rug and exposed brick. The "Cappuccino" art photography piece by Francis Augustine creates a focal point above the metal bookshelf.
An investment of $5,295 (the starting price of a new Eames lounger and ottoman) is a mere $176.50 per annum over the course of three decades — a bargain, no? That figure seems contrary to the Eameses' desire "to make the best for the most for the least," but it's very much in keeping with how Charles felt about the good life: "take your pleasure seriously."