Go Big and Bold with Graphic Wallpaper
Find dos and don'ts for using mod designs, Asian-inspired prints and whimsical patterns to liven up your walls.
Graphic wallpaper is a go-to choice for designers seeking to add energy and excitement to a room, from Victorian-era dwellings to traditional homes to modern farmhouses.

In the stairwell of an 1899 home in Brooklyn, N.Y., designer Keita Turner selected wallpaper with an iron gate pattern that she says is reminiscent of elegant gates at the entrance of formal gardens.
The Thibaut wallpaper, in coral, enhanced the stairwell— a frequently used, but often-overlooked space for decorating—into something that "said something, and said it loudly" while referencing the home's Victorian roots, Turner says. The pattern is part of a collection by Thibaut with Far East influences.
"The bold colorful pattern of the Ogden wallpaper made our client's stairwell and second floor landing feel bigger and more spacious," she says.
When using graphic wallpaper in the first floor entrance foyer or hall, Turner suggests carrying the same wallcovering up to the staircase and throughout the second- and third-floor landings for continuity and drama.
"Do consider using graphic wallpaper on the fifth wall—the ceiling," she says. "It will be completely unexpected."
Powder bathrooms are always ideal spaces to be adventurous with bold, colorful or playful graphic wallpapers, which turns them into stylish jewel boxes, Turner says. For example, Ashley Goforth Design in Houston used a graphic wallpaper to fill the wall behind the single vanity in a small bathroom.
The colors in the graphic print brought all the materials of the bathroom into perfect harmony, Goforth says. Several elements taken into account: Carrera countertops, gray built-in, bronze fixtures and gray tile flooring.
The wallpaper's magnesium hue gently reflects the black accents in the kitchen and throughout the house, but keeps the space light and fun, DeLoach says.

Atlanta designer Steve McKenzie prefers to use monochromatic elements to balance graphic wallpaper, like in this glamorous and elegant space.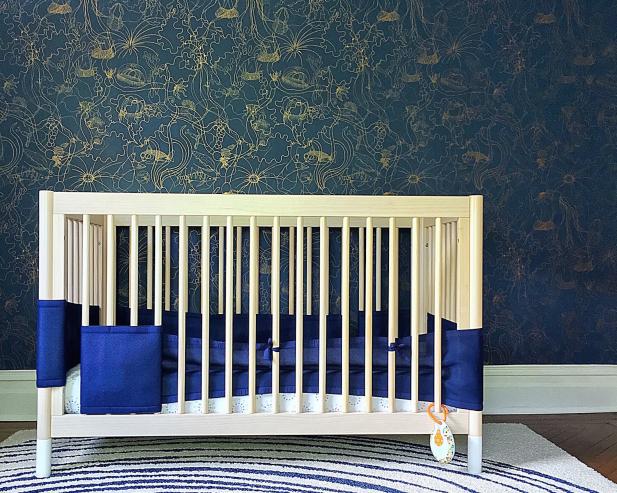 Modern Nursery with Copper and Blue Sea Wallpaper and White Crib
The flowing copper illustration of fish and other deep sea creatures appealed to designer Keita Turner's clients in Brooklyn, N.Y., for their son's nursery because of the pattern's fun, whimsical and modern style. The Underwater World wallpaper is by Pattern People and from Hygge & West.
"You may want to choose a strong color with a classic design or a graphic design in a classic color," he says.
Some graphic prints update otherwise cutesy themes, especially in kids' rooms. A flowing copper illustration of fish and other deep sea creatures appealed to Turner's Brooklyn clients, who chose the pattern's fun, fanciful and modern style for their son's nursery. The Underwater World wallpaper is by Pattern People and from Hygge & West.
"Graphic wallpaper can play a starring role in an interior," Turner says. "It can either steal the scene in a room or set the stage in a home, when executed right."
DO: Watch out for too many strong visuals competing for your eye.
McKenzie says you should ask yourself: Will it overpower another strong element, or will it be the star of the room?
A whimsical graphic wallpaper—the Sigourney print from Quadrille—set the foundation for a white and gray dining room by Ashley Goforth Design that blended traditional and Asian-inspired elements.
"The gray and white pattern was the perfect energy this room needed — it was bohemian but in an understated way," she says. "The rest of the house had lots of gray and white so this pattern gave this room some interest."
DON'T: Be afraid of small rooms.
Use graphic wallpapers to help make small rooms, narrow hallways or dark spaces feel bigger or more spacious.
"Graphic wallpaper is the ideal solution for visually adding space to an interior," Turner says.

DO: Give it a 24-hour walk through.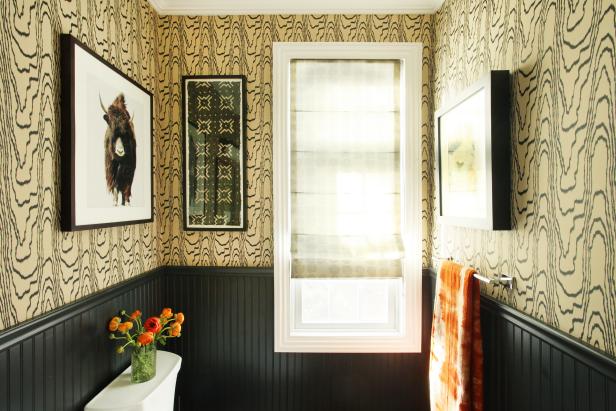 Yellow and Black Powder Room With Wallpaper
Fall for a dramatic wallpaper? Try it in a small space for maximum impact, as seen in this powder room. The bottom half of the room uses simple black beadboard as a serene anchor.
Pin it on the wall and walk by it for a couple of days. See what your eye tells you, McKenzie says. Look at the sample in daylight and evening light.
DON'T: Always cover the whole wall.
Use graphic wallpaper to add design interest above wainscoting, for example.
"It will instantly draw the eye up, and because the wallpaper is only on half the wall, it won't overwhelm the space," Turner says.
Also, avoid using graphic wallpaper in oddly angled spaces. Patterns that aren't matched properly at the seams will ruin the look.