10 Sports-Themed Designer Spaces for True Fans
Add subtle (or no-so-subtle) sports-inspired decor to your space with these superfan ideas.
The love of sports is pretty common, but it's not exactly obvious how you might be able to incorporate that obsession into your home's decorating scheme … at least in a non-cheesy way.
So we've rounded up some sports-inspired decorating tips that will help showcase your fanfare (minus the foam fingers).
You might already have an existing sports-themed collection on hand. If so, there are lots of chic, fun ways to display your items, such as using built-in cabinets. However, any shelf or bookcase would work just as well.
You can also get creative with your collections and make use of things like cake stands, flute vases, hooks or a coat rack to display medals. These choices will really help your sports-themed collections blend into your space with ease.
A more undercover approach to honoring your favorite team might be to simply make use of the team's colors in a particular spot in your home. While this approach is a bit more subtle, it's still a great way to give a shout-out to your favorite team.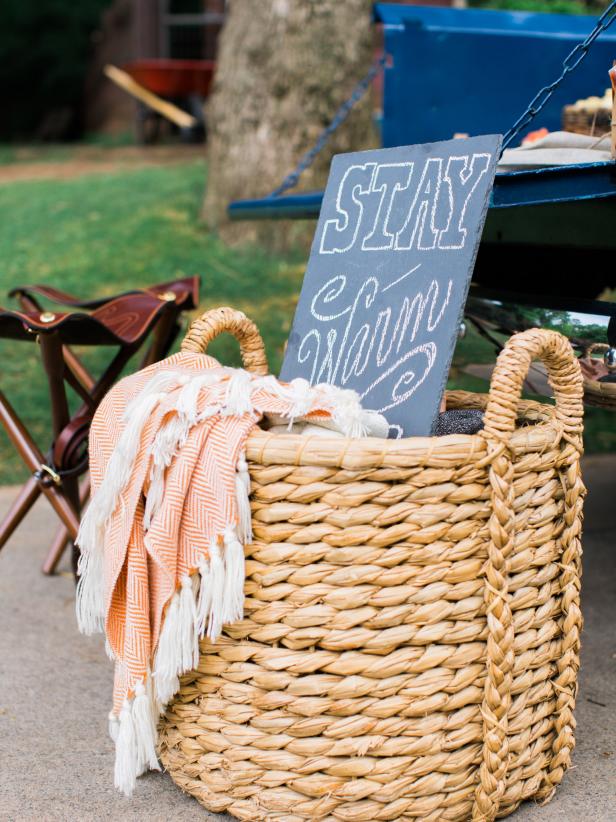 Basket of Blankets
As the sun goes down at the stadium, temperatures can drop drastically. Keep your guests warm and comfy with a basket filled with woven throw blankets. In addition to adding comfort, blankets offer another opportunity to work your team colors into the party.
Flynnside Out Productions
If you're someone who prefers to only break out the sports-related decor on game nights, you can put together an accessory kit to have on hand. Include sports-related throws, hats and throw pillows in your team's colors.
Store it all in a basket in your closet, and it will be easily accessible the next time you have friends over to watch the big game. Afterward, you can pack it up and put it away until next time.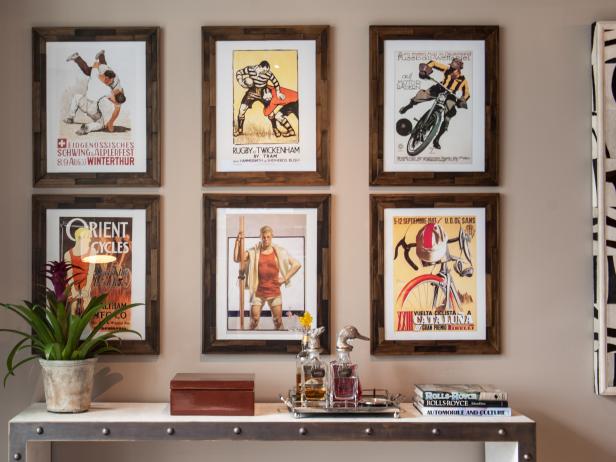 Sports Writer's Loft With Antique Sports Prints
In this sports writer's downtown loft, 20th century antique prints of sporting activities are framed to create a gallery wall in the living room.
Going the vintage route with your sports memorabilia is another great way to add more interest and sophistication to your sports-themed decor plan.
Ebay is a fantastic resource for sports-themed items, as well as local antique or thrift shops in your area. Consider special dates or events when deciding what to collect or display. For example, if you want to remember a special baseball game that your dad took you to when you were a kid, try to find something from the teams you saw play or the year the game happened.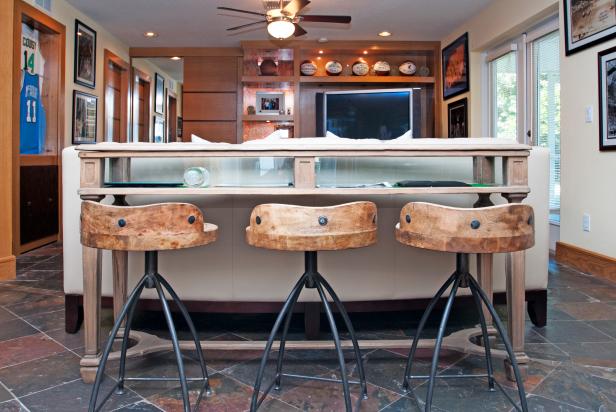 Sports Themed Basement Bar
The vision for this ground floor sports room was to provide a comfortable space for the family while maximizing the seating for guests. Using the concepts of scale and proportion, the designers were able to accommodate seating for up to 10 people, which was far better than the five they could fit on the old sectional.
Creating an Athletic Rec Room
If you're lucky enough to have the space and really want to showcase your love of sports, consider creating a bold, sports-themed rec room. You can build the entire room around your sports watching or playing, and use unusual decor elements like this football-field chair rail to jazz up the space.
Create a movie theater feel with a large projection screen to watch games, and incorporate stadium-type snacks like a popcorn machine to really bring the look home.
Framed Boxing Gloves Artwork in Red Living Room
Masculine-style spaces often get the reputation for lacking sophistication, but you don't have to sacrifice the fun stuff for a designer look. Swap out collegiate- or sports-themed posters for art that depicts these themes in a unique way. This print of boxing gloves is perfect for a sports fanatic's media room.
Another great way to honor your love of sports is through sports-themed artwork. Look for vintage posters or modern black-and-white photography. Players will often be photographed by fashion photographers for different magazines or events, and those photos are great for hanging around your home.
Choose a favorite player and Google their name along with "quotes" to see if you can track down anything they've said that's inspiring or motivating. You can then create a simple design on your computer to print out and frame. Or if you're looking for a bolder approach, you could even paint the quote on a wall with some letter stencils.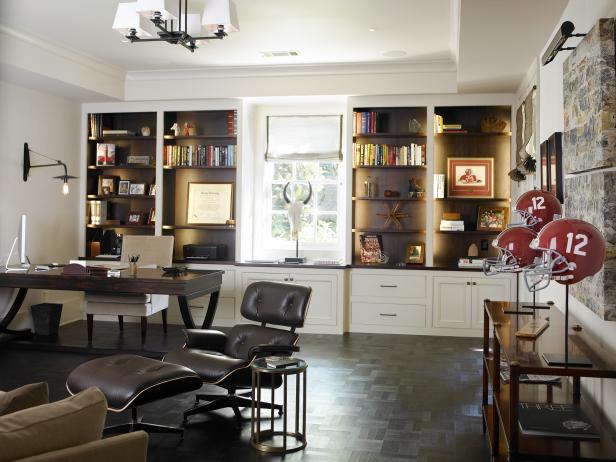 Stylish Home Office for Football Fan
The home office serves as a shrine to Alabama Football with treasured memorabilia displayed on backlit shelves. Dark floors, modern furnishings and football decor keep the look edgy and masculine.
Creating a Chic Sports Display
You can choose one particular corner or area of a room to create a sports-themed display. Again, this type of display usually works best in a more casual attic, basement or rec room, but you could really make it work anywhere in your home. If you prefer a display like this to be a bit more out of the way, you could create one in a bedroom or even in the back of a closet.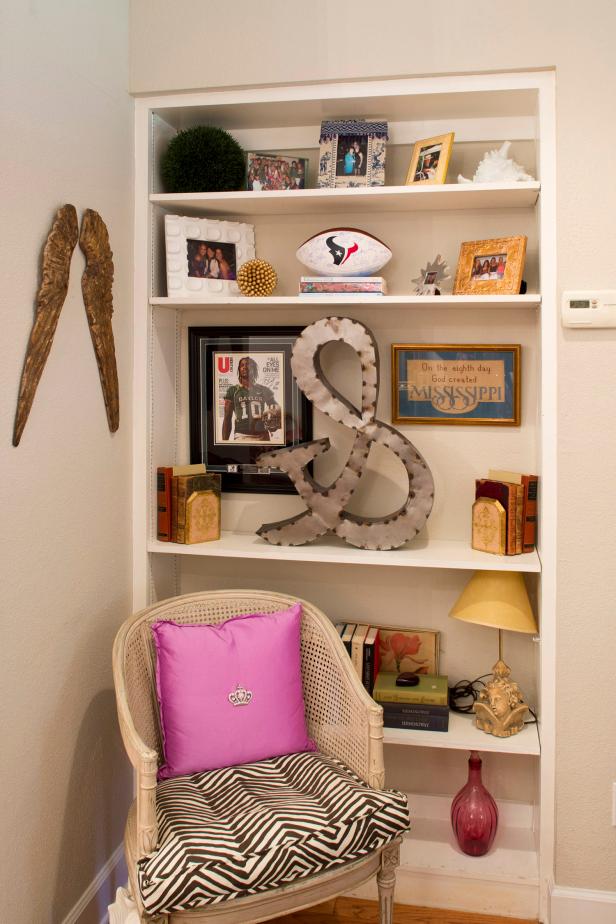 Bookshelf With Dimension
Create visual interest on your bookshelf by varying the shelf heights and displaying taller objects. Here, a combination of photos, sports memorabilia and industrial decor adds a personal touch to the built-in shelf.
You can easily mix in sports decor with your existing accessories fairly seamlessly. If you happen to have a few pieces of sports-themed pieces and don't feel the need to create a dedicated space, simply mix them in with the existing decor on your shelves.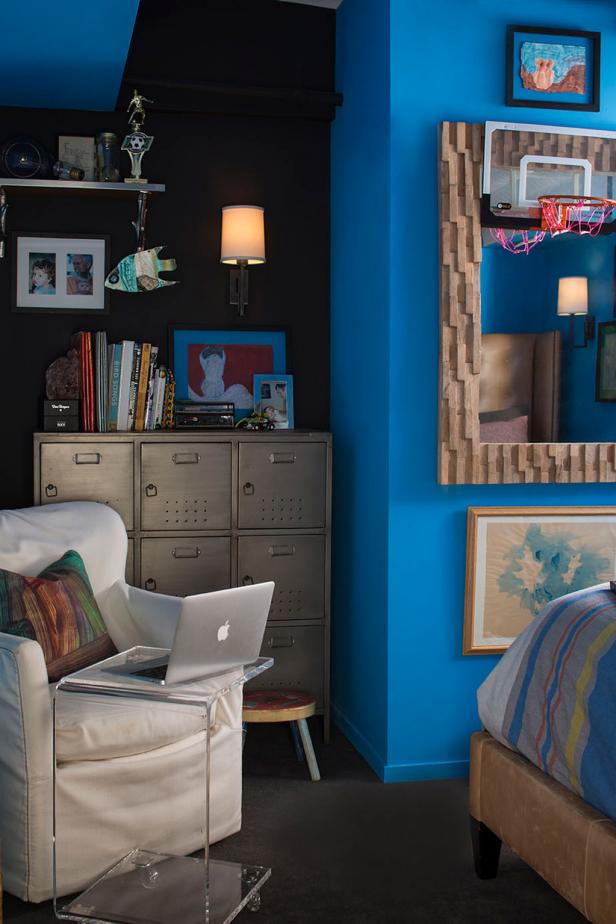 Bold Blue Boy's Room
A vibrant shade of blue, this kids bedroom is the perfect design for a boy. Space was limited, so a slipcovered armchair and small acrylic desk provide a place to work on homework, while the mirror includes an indoor basketball hoop to practice the perfect shot. The dresser resembles a locker, adding to the cool factor.
Using lockers in your home can be a fun way to add a sporty vibe to your space. They, of course, work great in a kids' room, but would also look fab in a mudroom, guest bedroom or even in an entryway for storing your family's basics. If you happen to find some vintage lockers, consider spray-painting them a fun color to really jazz up your space.
Forget about dark and dingy, these sleek home theaters and handsome billiards rooms shed a whole new light on the way guys (and gals) hang out.