The Ultimate 'Fixer Upper'-Inspired House Color Palette
These colors would make Chip and Joanna proud.
If you've caught even a few episodes of 'Fixer Upper' — and let's be honest we've all seen more than just a couple — you can probably name some of Chip and Joanna's go-to style choices. There's shiplap, of course, as well as subway tile, sliding barn doors and farmhouse sinks. But something else unites the finished designs featured on the show: the color palette.
Joanna tends to stick with a few tried and true colors that let her rustic chic style really shine. She's partial to using neutrals, grays and blues, colors that set the stage perfectly for the stylish furniture and accessories she uses in each design. Read on for a few of our favorite 'Fixer Upper'-inspired hues.
The ideal shade to use on living room walls, even if they're not covered in shiplap.
A light shade of gray makes pretty pink furniture and wall accessories really pop.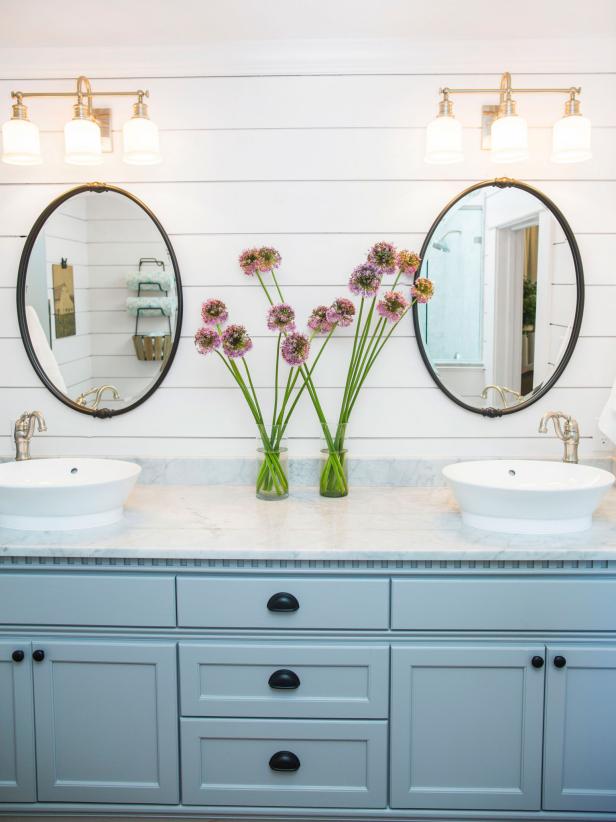 Bathroom With Light Blue Cabinets
HGTV Magazine is sharing the secrets to bringing Fixer Upper style into your own home. blue paint. Watery colors are always welcome in Fixer Upper renos. "I like lighter blues with gray undertones because you can use them as neutrals," says Joanna. In her new paint line—Magnolia Home by Joanna Gaines—four of the 25 colors are blue. The closest one to this soft shade is called Rainy Days.
Joanna says she loves "lighter blues with gray undertones because you can use them as neutrals."
When Joanna does decide to stray farther outside the neutral space, it's usually with a rich teal blue that looks beautiful in master bedrooms, or on kitchen cabinets.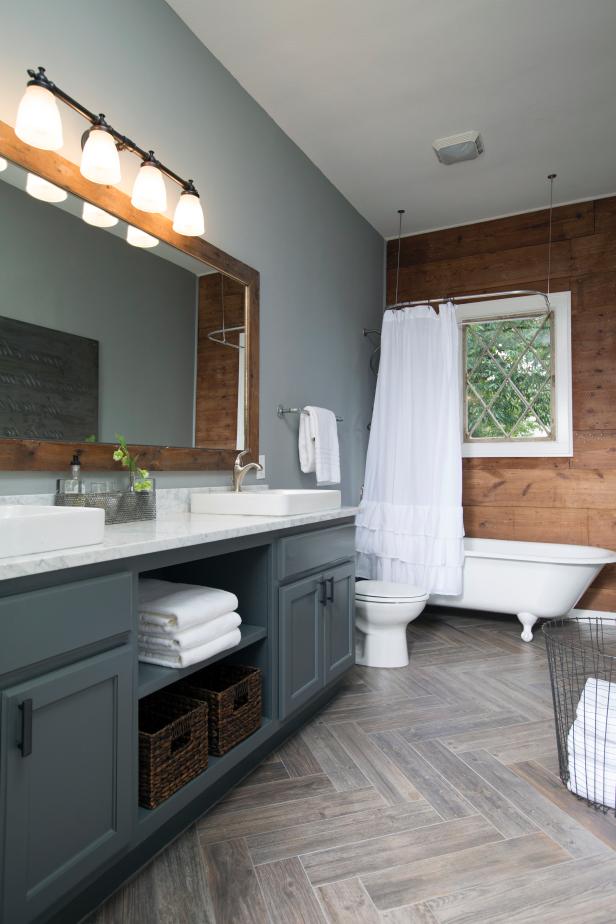 Rustic Bathroom With Wood Grain and Gray Tones
Chip and Joanna Gaines decked out this main bathroom with new gray paint and a shiplap accent wall on HGTV's Fixer Upper. A large mirror is framed with wood that matches the accent wall, and a modern light fixture illuminates a double vanity with a marble countertop and rectangular vessel sinks. The original claw-foot tub was kept and refinished, and new tile flooring installed.
If pale gray just isn't cutting it, a deeper shade of gray does the trick. It adds just the right amount of moodiness and looks great when paired with unfinished wood shiplap.