Fixer Upper: A Modern Cabin for Jimmy Don + A Very Special Guest Appearance
Joanna and Chip Gaines take on a close-to-the-heart project for friend and colleague, Jimmy Don Holmes, and his son Jake. The Fixer Upper features an amazing one-of-a-kind country-home renovation — and a very special VIP drop-by.
Long-time Fixer Upper fans will no-doubt be familiar with Joanna's friend and frequent collaborator, Jimmy Don Holmes, a talented metal artist who has appeared in several past episodes and made original decorative designs seen in a number of Fixer Upper renovations.
In the newest episode, Chip and Jo take on the renovation of a country cabin for Jimmy Don, or — more specifically — for his son Jake.
The cabin is a tiny 750 square feet, two stories and sits on secluded spot on the Holmes family property in Crawford, Texas. It's partially unfinished and has sat vacant for years. The idea is to upgrade and modernize the building to turn it into a first home for Jake, now 21 and eager to get out on his own.
For the reno, Jimmy Don is keen on modifying the structure to change the existing roofline — currently a barn-like "gambrel" roof – and renovate the interior to turn it into something unique and well suited for Jake who has penchant for an outdoorsy lifestyle.
In terms of home styles, Jake tells Joanna that he likes a mountain rustic feel but is willing to consider some modern elements as well. And if you know anything about Joanna Gaines, you'll recognize those as magic words.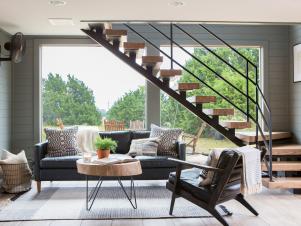 Jennifer Boomer/Verbatim Photo A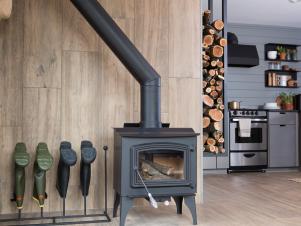 Jennifer Boomer/Verbatim Photo A
Neutral Living Room with Floor-to-Ceiling Windows
This open, inviting space is complete with a floating staircase, plush leather seating, and floor-to-ceiling windows to take full advantage of the outside views.
Neutral Foyer with Black Wood Burning Stove and Boot Rack
Warm up by the wood burning stove, but not before you take off your boots! This neutral foyer features a custom-made boot rack right at the home's entrance for convenience.
Joanna sets about formulating a design plan that blends a remote cabin feel with a modern, utilitarian look well suited for a young man. Since the cabin sits on a remote part of the Holmes ranch and has a scenic view, so Joanna envisions taking advantage of the special locations with lots of windows and an open design.
I think right when you walk in, there are just so many really cool features — from the little fireplace to the accent wall, but also just the metal cabinets, the stairwell, that huge window on the side. We packed a lot of good stuff in a small space.
Joanna
Highlights in the renovation include large new single-pane French doors, large picture windows, floating metal staircase, plenty of shiplap (are we surprised?), an upstairs reconfigured into a stylish loft bedroom. The new home also features a wood-burning stove, an outdoor dining spot and the perfect bachelor kitchen with modern appliances and custom metalwork by (who else?) Jimmy Don himself.
It's a special opportunity for Chip and Jo to help out a personal friend and special Fixer Upper guest with a new home.
And speaking of guests, Jimmy Don and Jake aren't the only featured costars in this particular episode. Watch carefully for a special appearance by another well-known resident of Crawford, Texas you may have heard of. Think big. Think Texas-big. Here's a hint...
The Fixer Upper episode titled "A Modern Cabin Makeover" premieres Tuesday, January 22 at 9pm|8c. Check here for additional air times, and check back here to see the full makeover gallery.