'Fixer Upper' Season Premiere: Austin Couple Seeks Waco Charm
Big things are in store in the new season of Fixer Upper, and it starts with a young couple with a taste for historic character in search of their perfect first home.
Now the wait is over. Are you ready to see the first episode?
In Search of Authentic Charm
Matt and Samantha Hardy have decided to leave the fast pace of Austin, Texas and slow things down just a bit in Waco. As a couple, they've never owned a home before, so they're wide-eyed and eager. They've got a fairly hefty budget (by Waco standards, not Austin's), and a pretty short wish list: space for a home office for Matt, and a home with some genuine period attributes and charm. Beyond that, they pretty much trust Chip and Jo to make the magic happen.
Mixing Modern and Heirloom
Though Matt and Samantha were in search of a vintage home, with a commitment to preservation and maintaining a home's original details, Joanna pegged their decorative leanings as incorporating some modern, eclectic and European elements. So, as is often the case, Joanna set herself a challenge of creating a workable synthesis of a variety of styles.
Additionally, the Hardy's professed a love of things wood. So as they're inclined to do in their heartwarming way, Chip and Jo orchestrated a special surprise custom feature in this renovation, unbeknownst to the homeowners, courtesy of a secretly collaborating family member. Matthew's grandfather, who is himself a formidable woodworker, crafts two solid wood end tables with hand-turned legs.
Contemporary Neutral Living Room with Custom Wooden End Tables
Matt and Samantha had expressed an affinity for natural wood so Joanna incorporated it in several places throughout the design. Included are two end tables custom created by Matt's grandfather in his wood shop in Overland Park, Kansas.
and
Austin Couple Finds Waco Charm
Jennifer Boomer/Verbatim Photo A
Viewers can anticipate the scenario in which Chip embarks on a seven-hour road trip with the two Gaines boys to procure the end tables from Pop Hardy's home and wood shop near Kansas City, Kansas. Let's just say that an operative phrase was "Are we there yet?"
I think if you walk into each space, you'll see that there's a tie-in somewhere so that everything doesn't feel random. Everything feels somewhat cohesive, but in its own unique way.
Joanna
A distinctive highlight in the renovation is the transformation of a fairly sizable but dated kitchen, blending the warmth of hardwood floors with sharply contrasting black cabinetry and white granite countertops and backsplash.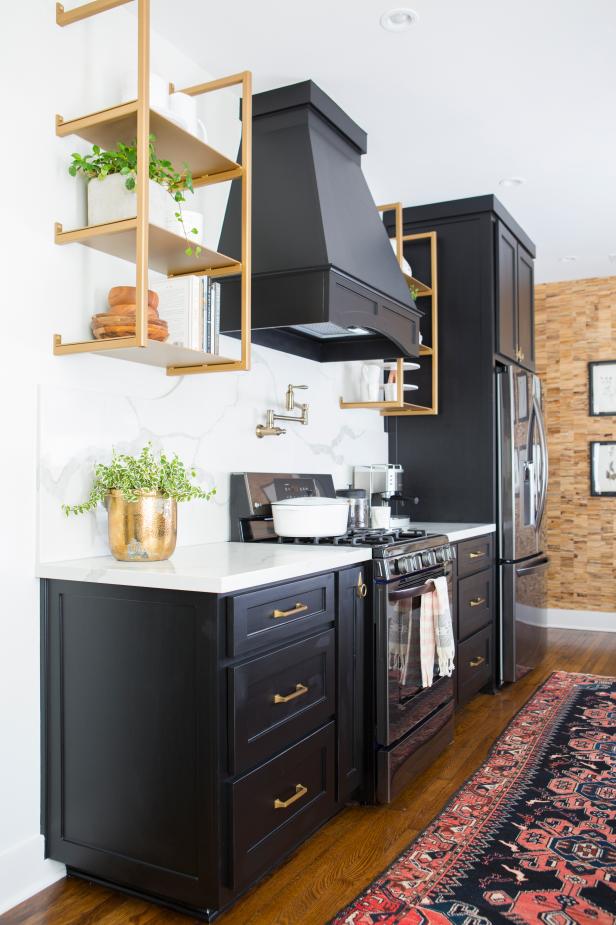 Contemporary Black and White Kitchen with White Granite Countertops and Backsplash
The redesigned kitchen blends the warmth of hardwood floors with the sharp contrast of the black cabinetry and white granite countertops. The distinctive wood wallpaper has gold flecks that create a subtle tie-in with the brass shelving and kitchen hardware.
and
Austin Couple Finds Waco Charm
Jennifer Boomer/Verbatim Photo A
And drawing once again on the new homeowners' love of natural wood, Chip and Joanna had a bar-top custom created out of longitudinal slices of raw pecan — with the edges left in their natural, rough state for a rustic touch. The motif was carried through in open shelving in Matt's new home office.
I think we knew it would be beautiful, but it's almost surreal that we get to live here.
Samantha, New Homeowner
Get more Fixer Upper
Pushing the Envelope
00:57
Chip and Jo bring fresh designs and hilarious antics to an all-new season.