Chip and Jo Take It to the Next Level in a New 'Fixer Upper' with Room to Spare
A sizable budget and lofty ambitions allow Joanna and Chip the latitude to work with lots of square footage and create a magnificent dream home for a family of five.
When it comes to the homes seen on Fixer Upper — in their raw state, before any renovations — the houses have varied widely in both condition and purchase price. Many skew toward the "distressed home" end of the spectrum, having languished on the market because of some critical flaw or damage. Case in point: remember these?...
Tackling the Beast, Before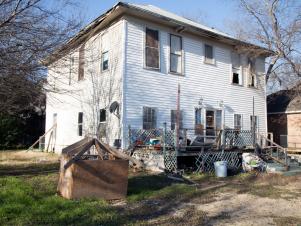 The Crawford Reno, Before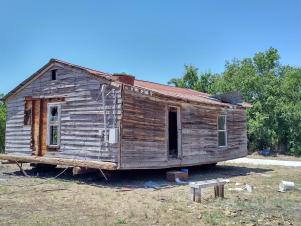 Some project homes — like "The Beast" from season 1, or the "Colossal Crawford Reno" from Season 4 — started out as little more than shacks or ready-for-the-wrecking-ball disasters that would seem to require no less than a miracle to rescue.
The houses featured in this new episode are not like those.
This is one case where some latitude in the clients' budget, and the overall condition of the homes under consideration, offers Joanna and Chip opportunities to reach a little and take things beyond their usual boundaries.
Leigh Ellen and Matt Morrison are starting out with a budget of $850,00 — truly a hefty budget by Waco standards and offering a good bit more than the limits Chip and Joanna are accustomed to working within.
These three houses you've narrowed it down to are exceptional houses. Y'all have a tough choice to make... Whatever you decide, we can't wait to dig into whichever project you sic us on.
Chip Gaines
The square footage in the homes under consideration is in the 3500 to 4500 sf range. They have some interesting and elegant features and are fairly modern or contemporary in design. The nicknames that Chip coins for the options in this project pretty much tell the story: The Chateau De Waceau, The Clubhouse and The French-Quarter Estate.
Compared to many past Fixer Uppers, these really do feel like mansions. There are courtyards, vaulted ceilings, sweeping staircases and, in one real wow-factor example, a replica of a vintage barber shop re-created right inside the home.
That's not to say there aren't a few "OMG moments" encountered — and not in a good way. The kitchen in the selected home, for example, requires some strong measures to rectify past wrongs in terms of design. But in essence, Joanna gets to delve into some elegant and European inspired design, with special emphasis on French Country and lots of room for incorporating antiques. And not forgetting a contribution by wood craftsman extraordinaire Clint Harp.
Things to look for in this episode include Chip's loaner car (his truck is in the shop) and his take on fountain design. And a special bonus — right at the outset; don't blink or you'll miss it — is a trademark Chip spiel wherein he bends the English language in his own special way. (Could someone please define "grammarically"?!)
If you're ready for a Fixer Upper that's more an exception than the rule, be sure to check out the episode titled "Big Home, Big Budget", premiering Tuesday, February 6 at 9p|8c. Check here for repeat airings, and keep checking back here for more new galleries, exclusive video and Fixer Upper updates.