Chip, Jo and Tim Tebow Team Up for One Extraordinary 'Fixer Upper'
Are you looking for something to feel really good about? Then don't miss this Fixer Upper which, incidentally, features a pretty well-known sports hero. And have tissues at the ready. You have been warned. 
We all know it. Chip and Joanna Gaines have brought happiness into the lives lots of people over the last five seasons of Fixer Upper. Countless tears of joy have been shed as the human dynamo of a couple has changed so many lives for the better — helping people find and create their perfect home and realize a piece of their personal dreams. Time and again we watch transfixed as it all comes together in that "final reveal."
But astute watchers know that, at the center of all this, there's something that goes well beyond fixed up houses and skillful design. Beyond the construction challenges, the nail-biting dilemmas, the Chip-and-Jo chemistry, the banter, the antics, the romantic moments — at a fundamental level there's something about all this that comes down to heart. And empathy. And plain old-fashioned caring.
You've seen it on the show, and you've likely heard and read about some of the extracurricular activities. Take, for example, Chip's recent high-profile haircut turned into a benevolent stunt to substantively benefit the Memphis-based St. Jude's Children's Hospital. These are the kinds of things that let you know that, beneath the frequently comic veneer, our favorite Waco duo are the real deal – genuine, generous and kind.
That all brings us to this special Fixer Upper, premiering on HGTV on January 30 and featuring a certain sports icon who came to Chip and Joanna with a special request.
Sports superstar Tim Tebow enlists the help of our heroes to come to the aid of a family with two sons, creating a home that's welcoming for the whole family but, most especially, that meets the particular needs of the two young boys — Calan and Lawson. Nine-year-old Calan and five-year-old Lawson have a genetic condition that affects their ability to stand and walk on their own.
The Tim Tebow Foundation was established with a stated mission "to bring faith, hope and love to those needing a brighter day in their darkest hour of need."
The Copp family, consisting of mom Melissa, dad Jody and the two boys, are about to see some really extraordinary things happen in their lives.
The plan is to create a home that's ADA compliant and also ideal for the whole Copp family. "We're currently living in a small apartment. A home with wheelchair accessibility would mean the world to us," says Melissa. Jody adds: "We couldn't be more grateful for what [Tim, Chip and Joanna] are going to provide for the boys — to give them true independence in their home for the first time."
Our goal at the Tim Tebow Foundation is to fight for people that can't fight for themselves. And we really believe this family needs us to come behind them and support them, to love them and to have their back.
Tim Tebow
But you can bet that it won't stop with ADA compliance. Like all Fixer Upper projects, this one will incorporate those now-iconic Joanna design touches. Expect comfortable, inviting living spaces and an amazing kitchen with custom elements. Then there are some special bonus features that Chip, Jo and their co-conspirator Tim dream up especially for Calan and Lawson.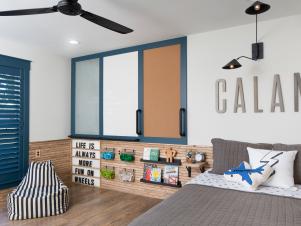 Jennifer Boomer/Verbatim Photo Agency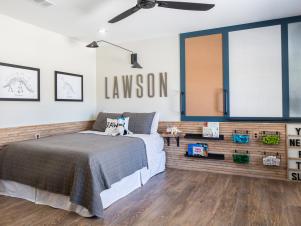 Jennifer Boomer/Verbatim Photo Agency
Moreover, for this project, there are surprises in store even before the long awaited final reveal. When some local organizations and neighborhood heroes catch wind of what's going on, they're eager to lend a hand. The Make-a-Wish Foundation, for example, pitches in to help create a truly amazing wheelchair-friendly backyard.
Jody Copp gets the final word in this particular Fixer Upper: "To see my boys, with all the hardships that they've gone through, and to know that Tim and Chip and Joanna — and everyone at Make A Wish — came together to let my boys just be boys...I'm so happy."
We can't wait for you to see this. The Fixer Upper episode titled "Touchdown for a Family in Need" premieres Tuesday, January 30 at 9pm/8c. Check here for additional air times, and keep checking back here to see the full makeover gallery and get more Fixer Upper updates.