Love Your Casper Mattress? Peep Their New Furniture Line!
This minimalist-style furniture collection will have you wanting Casper-everything.
Keep in mind: Price and stock could change after publish date, and we may make money from these affiliate links.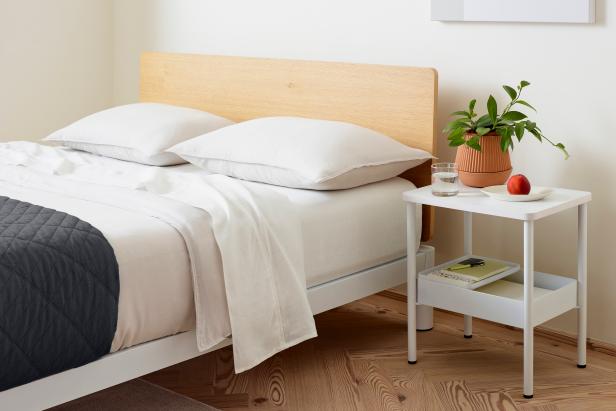 New Casper Furniture Launch
Casper just launched its first-ever furniture collection. The new collection features a minimalist-style design, including a bed frame, a headboard and a nightstand. The three furniture pieces all come in matching colors, white and slate gray, with the headboard coming in an additional oak color to mix and match. They also released a new bedding collection, which includes linens and duvets.
Casper's new collection launched this month, just in time for all the sleep-enthusiasts who couldn't wait to get their hands on a Casper-inspired room. If you're into a fresh, refined look, this is perfect for you. The best part? Easy assembly! Take a peek at our favorite pieces, which let's face it, is the whole collection.
This sophisticated frame is perfect for your Casper mattress. It allows you to have a good night's sleep, knowing your mattress is getting all the support it needs. Available in two colors, white and slate gray, this platform bed will match your room decor as if it was designed just for you.
Buy It
What's a Casper bed without a Casper headboard? This practical headboard design allows for an easy assembly, as well as that sharp look we all aspire for, right? It's available in white and slate gray, but also in oak—perfect for mix and matching!
Buy It
The nightstand represents all things tasteful—it's simple, chic and neat. Plus, you can assemble it right out of the box. Just take it out, and you're good to go for a full night's sleep. This also comes in the same two colors as the bed, white and slate gray, for a perfect match.
Buy It
Thought your new room couldn't get any cozier? Snuggle up with their soft, homey linens and duvets. View the full collection, here.