12 Stylish Ceiling Fans Under $500 to Keep You Cool
We get that you might need a ceiling fan to stay cool, but what about a fan that also looks cool?
Keep in mind: Price and stock could change after publish date, and we may make money from these links.
Even if you're lucky enough to have a competent AC system in your home, it's a good idea to consider adding some ceiling fans. Fans are great for a few reasons: They allow you to control the temperature in a specific room, they're more energy-efficient than running the AC and best of all, they'll allow you to save money on your monthly electricity bill.
Below, we've compiled a list of best-selling ceiling fans that are less than $500, organized from low to higher price points. Get ready for warm weather by shopping our top picks.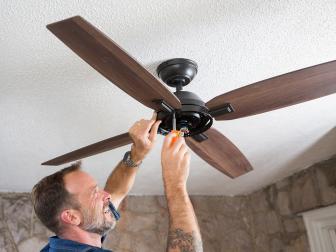 MORE TOP TIPS
MORE TOP TIPS
The process for installing a ceiling fan is similar to wiring a light fixture, with a few modifications to accommodate for the extra weight and wiggle of the fan. Follow these steps to replace a light fixture with a ceiling fan in your home.